Biotech Stock Roundup: AMGN to Buy CELG's Otezla, ALXN's Soliris Gets EC Nod & More
It was a busy week for the biotech sector with updates from quite a few players. While pharma bigwig Amgen AMGN agreed to buy Celgene's CELG Otezla, Alexion ALXN won European Commission's (EC) approval for the label expansion of Soliris. Meanwhile, Gilead GILD closed its deal with Galapagos.
Recap of the Week's Most Important Stories:
Amgen to Acquire Celgene's Otezla: Amgen announced that it will acquire global commercial rights to Celgene's blockbuster psoriasis drug, Otezla, which the latter had to divest to conclude its impending merger with Bristol-Myers. Amgen has agreed to pay Celgene $13.4 billion in cash or approximately $11.2 billion net of anticipated future cash tax benefits for the drug. Since Enbrel is reeling under pressure, Otzela will strengthen Amgen's portfolio of inflammatory drugs. Otezla, approved to treat psoriasis, psoriatic arthritis and oral ulcers associated with Behçet's disease, has been one of the key growth drivers for Celgene. The closing of this deal, however, is contingent on the U.S. Federal Trade Commission's (FTC) approval and meeting of other closing conditions of the merger.
Earlier, Amgen and partner Allergan's comparative clinical JASMINE study evaluating ABP 798, their biosimilar candidate to Roche's Rituxan, showed clinical equivalence of the candidate to the branded drug. The study evaluated the efficacy and safety of ABP 798 compared to Rituxan in patients with non-Hodgkin's lymphoma (NHL). Top-line data from the study showed that the primary endpoint, an assessment of overall response rate (ORR) by week 28, was within the prespecified margin for ABP 798 compared to Rituxan. This is the second study on ABP 798 that has shown positive top-line results.
Alexion Gets EC Approval for Label Expansion of Soliris: Alexion announced that the EC has approved the label expansion of lead drug, Soliris. The drug is now approved for the treatment of neuromyelitis optica spectrum disorder (NMOSD) in adult patients, who are anti-aquaporin-4 (AQP4) antibody-positive with a relapsing course of the disease. The approval was based on comprehensive results from the phase III randomized, double-blind, placebo-controlled PREVENT study and a long-term extension study (ECU-NMO-302), which is still underway. The drug is already approved in the United States for this indication. Soliris is already approved for the treatment of two severe and ultra-rare disorders— paroxysmal nocturnal hemoglobinuria and atypical hemolytic uremic syndrome — in the United States and Europe. The FDA has also approved the drug for the treatment of generalized myasthenia gravis.
Alexion currently carries a Zacks Rank #2 (Buy). You can see the complete list of today's Zacks #1 Rank (Strong Buy) stocks here.
Gilead Closes Research Deal With Galapagos: Gilead closed global research and development collaboration agreement with Galapagos NV GLPG. The agreement, which was signed on Jul 14, received clearance from the FTC under the Hart-Scott-Rodino Antitrust Improvements Act of 1976 and merger control approval from the Austrian Federal Competition Authority. Both companies entered a 10-year global research and development collaboration, whereby Gilead will gain access to an innovative portfolio of compounds, including six molecules currently in clinical trials, more than 20 preclinical programs and a proven drug discovery platform. Per the agreement, the closure leads to an upfront license fee payment of $3.95 billion by Gilead to Galapagos. Additionally, Gilead has made an equity investment of $1.1 billion in Galapagos by subscribing for new shares. Consequently, the company now owns 13,589,686 ordinary shares of Galapagos, representing approximately 22% of the currently outstanding share capital of Galapagos.
Retrophin Down on Study Failure: Shares of Retrophin, Inc. RTRX declined after it announced the failure of its late-stage study evaluating fosmetpantotenate in patients with pantothenate kinase-associated neurodegeneration (PKAN), a rare genetic neurological disorder. The phase III study, FORT, was evaluating the safety and efficacy of fosmetpantotenate compared to placebo in 84 PKAN patients. Patients received either three times daily dosing of fosmetpantotenate or placebo using a 1:1 randomization over 24 weeks. The primary endpoint of the study was the change from baseline in the PKAN-ADL scale through 24 weeks of treatment. After completing the 24-week treatment period, all patients were eligible to receive fosmetpantotenate as part of an open-label extension study.
However, neither did the study meet its primary endpoint nor did it demonstrate a difference between treatment groups. The study also did not meet its secondary endpoint. Fosmetpantotenate was a late-stage candidate and a potential approval would have boosted the company's top line significantly. Moreover, the failure of the study will most likely lead to the termination of the entire clinical program on this candidate.
Clearside Biomedical Plunges on Setback: Shares of Clearside Biomedical, Inc. CLSD plummeted after the company provided an update on its New Drug Application (NDA) for Xipere (triamcinolone acetonide suprachoroidal injectable suspension) to the FDA. The FDA's Office of Pharmaceutical Quality (OPQ) requested Clearside to provide stability data for the triamcinolone acetonide (TA) suspension produced utilizing an enhanced manufacturing process implemented by the company. Though the formulation of the TA suspension has not changed, the data was requested to verify the comparability of the stability profiles of the batches made using an enhanced manufacturing process with that of the batches originally submitted as part of the NDA.
Consequently, Clearside expects to receive a CRL from the FDA on or before its PDUFA (Prescription Drug User Fee Act) date of Oct 19, 2019. The company plans to re-submit the NDA in the first quarter of 2020 with the requested stability data.
Performance
Medical - Biomedical and Genetics Industry 5YR % Return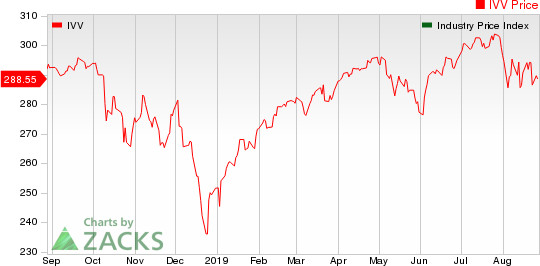 The Nasdaq Biotechnology index lost 2.64% in the last five trading sessions. Among the biotech giants, Amgen gained 1.63% in the period. Over the past six months, shares of Amgen have gained 9.57%, whereas Regeneron stock has declined 35.06%. (See the last biotech stock roundup here: Biotech Stock Roundup: CELG's Inrebic Gets FDA Nod, SRPT Suffers Setback & More)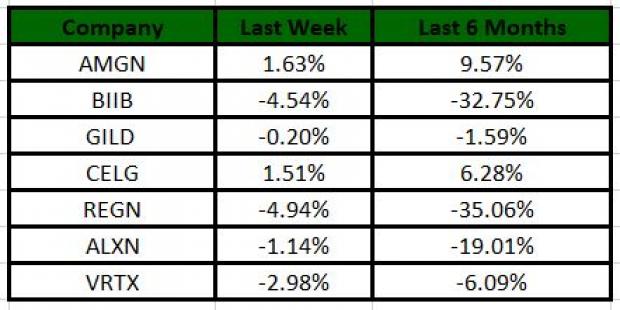 What's Next in Biotech?
Stay tuned for more pipeline updates.
Looking for Stocks with Skyrocketing Upside?
Zacks has just released a Special Report on the booming investment opportunities of legal marijuana.
Ignited by new referendums and legislation, this industry is expected to blast from an already robust $6.7 billion to $20.2 billion in 2021. Early investors stand to make a killing, but you have to be ready to act and know just where to look.
See the pot trades we're targeting>>
Want the latest recommendations from Zacks Investment Research? Today, you can download 7 Best Stocks for the Next 30 Days.
Click to get this free report
Celgene Corporation (CELG): Free Stock Analysis Report
Gilead Sciences, Inc. (GILD): Free Stock Analysis Report
Alexion Pharmaceuticals, Inc. (ALXN): Free Stock Analysis Report
Clearside Biomedical, Inc. (CLSD): Free Stock Analysis Report
Galapagos NV (GLPG): Free Stock Analysis Report
Amgen Inc. (AMGN): Free Stock Analysis Report
Retrophin, Inc. (RTRX): Free Stock Analysis Report
To read this article on Zacks.com click here.