Here's Why Southwest Declines 2.3% in Yesterday's Trading
Shares of Southwest Airlines LUV dipped 2.3% at the close of business on Mar 12 following worldwide groundings of the 737 Max aircraft. This mass-scale grounding was in response to the crash of an Ethiopian Airlines Boeing 737 MAX 8 aircraft. The fatal incident caused the death of 157 passengers, marking the second crash since last October on the same aircraft.

Despite the incident, this Zacks Rank #3 (Hold) company has decided to continue functioning the aircraft. Management stated that its fleet data did not show any warning signs. The airline is anticipated to utilize the 737 MAX on 8.8% of its capacity this year.

You can see the complete list of today's Zacks #1 Rank (Strong Buy) stocks here.
Southwest Airlines Co. Price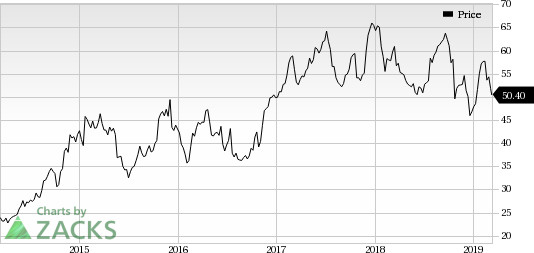 Unlike its nationwide counterparts, this U.S. aviation regulator is not yet looking to ground the aircraft as "no systemic performance issues" were detected and there is "no basis to order grounding the aircraft".

However, market watchers believe, in the event of the U.S. Federal Aviation Administration's order to ground the aircraft, Southwest will not find it difficult to cope by adjusting its flight schedules and resorting to other aircraft.

Apart from Southwest, other U.S. carriers with exposure to the 737 MAX model suffered the blow. Shares of American Airlines Group AAL, United Continental Holdings UAL and Alaska Air Group ALK slipped 3.5%, 3.1% and 2.4%, respectively, at yesterday's close.

Zacks' Top 10 Stocks for 2019

In addition to the stocks discussed above, wouldn't you like to know about our 10 finest buy-and-holds for the year?

From more than 4,000 companies covered by the Zacks Rank, these 10 were picked by a process that consistently beats the market. Even during 2018 while the market dropped -5.2%, our Top 10s were up well into double-digits. And during bullish 2012 – 2017, they soared far above the market's +126.3%, reaching +181.9%.

This year, the portfolio features a player that thrives on volatility, an AI comer, and a dynamic tech company that helps doctors deliver better patient outcomes at lower costs.

See Stocks Today >>
Want the latest recommendations from Zacks Investment Research? Today, you can download 7 Best Stocks for the Next 30 Days.
Click to get this free report
American Airlines Group Inc. (AAL): Free Stock Analysis Report
Alaska Air Group, Inc. (ALK): Free Stock Analysis Report
Southwest Airlines Co. (LUV): Free Stock Analysis Report
United Continental Holdings, Inc. (UAL): Free Stock Analysis Report
To read this article on Zacks.com click here.
Zacks Investment Research