AB InBev Withdraws 2020 Guidance on Coronavirus Disruptions
Anheuser-Busch InBev SA/NV BUD is facing the heat of the novel coronavirus, which has killed thousands of people sending jitters across the global economy. To curb its spread, authorities are ordering shutdown of manufacturing facilities, implementing social distancing and travel bans. Such preventive measures have dealt a big blow to many companies, including beer makers like AB InBev.
Keeping in these lines, AB InBev withdrew its 2020 outlook due to the unprecedented impact of COVID-19. In February, when the virus was confined to China alone, management estimated core profit (EBITDA) to decrease 10% in the first quarter and 2-5% in 2020.
During its fourth-quarter earnings call, management highlighted that the coronavirus outbreak has led to a significant decline in demand across China in both on-premise and in-home channels. Further, it witnessed soft demand during the Chinese New Year, which was lower than that in the prior years, as it coincided with the coronavirus outbreak. The company stated that the outbreak has caused nearly $285 million of lost revenues and $170 million of lost EBITDA in the first two months of 2020.
Additionally, in a recent move, the company has drawn $9 billion from its revolving credit facility to bolster its cash balance. Per sources, AB InBev is already reeling under high debt levels of $95 billion due to its aggressive acquisition strategy. However, it decided to tap into the credit facility to prepare for the crisis.
In the past three months, shares of this Zacks Rank #5 (Strong Sell) company have slumped 45.2% compared with the industry's decline of 39.8%. You can see the complete list of today's Zacks #1 Rank (Strong Buy) stocks here.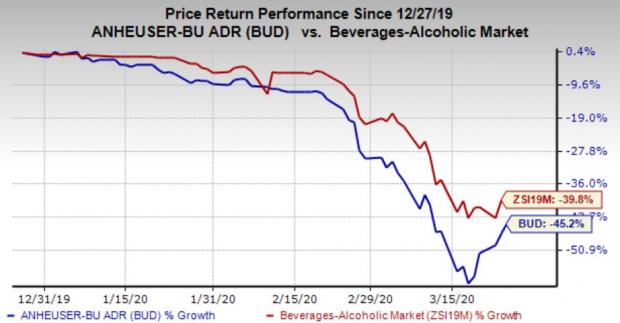 Moreover, the divestiture of AB InBev's Australian business to Asahi Group Holdings is on track. The company is awaiting regulatory approvals for the deal to close by the second quarter of 2020. Previously, the deal worth $11 billion was expected to conclude by the first quarter.
Amidst all negativities, the brewing company remains committed to play its part and serve the society in fighting the pandemic. Hence, management recently donated million liters of alcohol to make hand sanitizers and disinfectants. Moreover, it has produced roughly 50,000 liters of ready-to-use alcohol disinfectant, made with surplus alcohol from its alcohol-free beers, for several European hospitals as Europe has emerged to be the new epicenter of COVID-19. Particularly, the company will send shipments of 5 liters to Belgium, Britain, France, Italy and the Netherlands. In addition to this, 26,000 bottles of hand sanitizers coupled with 1,000 Beck's disinfectants are ready for use by pharmacies and healthcare workers in Germany.
Other alcohol companies, including Diageo DEO, Loius Vuitton LVMUY and Pernod Ricard PDRDY, have also stepped forward to combat this hurdle. Pernod Ricard is one of the first companies to have announced to donate 18,500 gallons of pure alcohol for making sanitizers. Also, Louis Vuitton is producing sanitizers and expected to source 40 million face masks from a Chinese supplier. Further, Diageo is donating 2 million liters of grain neutral spirit to make hand sanitizers for various countries facing a shortage of supplies.
Just Released: Zacks' 7 Best Stocks for Today
Experts extracted 7 stocks from the list of 220 Zacks Rank #1 Strong Buys that has beaten the market more than 2X over with a stunning average gain of +24.5% per year.
These 7 were selected because of their superior potential for immediate breakout.
See these time-sensitive tickers now >>
Want the latest recommendations from Zacks Investment Research? Today, you can download 7 Best Stocks for the Next 30 Days.
Click to get this free report
Diageo plc (DEO): Free Stock Analysis Report
Anheuser-Busch InBev SA/NV (BUD): Free Stock Analysis Report
Pernod Ricard SA (PDRDY): Free Stock Analysis Report
LVMH-Moet Hennessy Louis Vuitton SA (LVMUY): Free Stock Analysis Report
To read this article on Zacks.com click here.