Wells Fargo (WFC) Q3 Earnings in Line, Legal Costs Flare Up
Wells Fargo & Company's WFC third-quarter 2017 adjusted earnings of $1.04 per share were in line with the Zacks Consensus Estimate. Including previously disclosed mortgage-related discrete litigation accrual of 20 cents per share, earnings came in at 84 cents per share, comparing unfavorably with the prior-year quarter's earnings of $1.03 per share.

Though rise in rates provided some respite, lower revenues aided by a fall in non-interest income were recorded. Moreover, expenses soared. Further, reduction in loans acted as headwind for the quarter. Though the bank's commercial portfolio improved, consumer loans disappointed. Improvement in credit quality and steady capital deployment activities were experienced.

Third-quarter net income came in at $4.6 billion, down from $5.6 billion recorded in the prior-year quarter. Results included $1 billion worth of discrete litigation accrual.

The quarter's total revenues were $21.9 billion, lagging the Zacks Consensus Estimate as well as the prior-year quarter figure of $22.3 billion.

Furthermore, on a year-over-year basis, revenue generation at the business segments was mixed. Community Banking and Wholesale Banking segments' total quarterly revenue decreased around 2.4% and 1%, respectively, while Wealth and Investment Management revenues increased around 2.4%.

Loans Fall, Interest Income Rise, Costs Escalate

Wells Fargo's net interest income in the quarter came in at $12.5 billion, up 4% on a year-over-year basis. Increased interest income from trading assets, investment securities, loans held for sale and mortgages held for sale, along with higher other interest income, mainly drove results. Further, net interest margin expanded 5 basis points (bps) year over year to 2.87%, reflecting the rising interest-rate environment.

Non-interest income at Wells Fargo came in at around $9.5 billion, down 9% year over year, primarily due to low mortgage banking revenues, lower net gains from trading activities and reduced service charges on deposit accounts.

As of Sep 30, 2017, total loans were $951.9 billion, down around 1% year over year. Reduction in its consumer loan portfolio was recorded, partially offset by growth in commercial loans. Total deposits were $1.3 trillion, in line with the prior-year quarter.

Non-interest expense at Wells Fargo was $14.4 billion, up 8% from the year-ago quarter. The upsurge in expenses primarily stemmed from rise in almost all components of expenses. Nonetheless, Wells Fargo remains committed to achieve expense reductions of $4 billion by the end of 2019.

The company's efficiency ratio of 65.5% was above 59.4% recorded in the year-ago quarter. A rise in efficiency ratio indicates a fall in profitability.

Credit Quality Improved

Wells Fargo's credit quality metrics improved in the quarter. Allowance for credit losses, including the allowance for unfunded commitments, totaled $12.1 billion as of Sep 30, 2017, down 4.7% year over year.

Provision for credit losses was $717 million, declining 11% year over year. Net charge-offs were $717 million or 0.30% of average loans in the reported quarter, down 10.9% from the year-ago quarter net charge-offs of $805 million (0.33%). Non-performing assets were down 22.5% to $9.3 billion in the quarter under review from $12 billion in the prior-year quarter.

Strong Capital Position

Wells Fargo has maintained a sturdy capital position. In the reported quarter, the company returned $4 billion to shareholders through common stock dividends and net share repurchases.

Wells Fargo's Tier 1 common equity under Basel III (fully phased-in) increased to $152.8 billion from $147.8 billion in the prior-year quarter. The Tier 1 common equity to total risk-weighted assets ratio was estimated at 11.8% under Basel III (fully phased-in) as of Sep 30, 2017, compared with 10.7% recorded in the year-earlier quarter.

Book value per share advanced to $36.96 from $35.81 recorded in the comparable period last year.

Our Viewpoint

Wells Fargo reported a disappointing quarter. Top-line headwinds, aided by lower non-interest income, persist. Further, escalating expenses remained a major drag, along with slowdown in mortgage business. However, improved credit quality was a positive.

This banking giant has been much in the news following the sales scam that came into light in September 2016. The revelation of the fake account scandal that marked the beginning of numerous problems for the bank was followed by the disclosure of issues in its auto insurance business and online bill pay services. Wells Fargo's chief executive officer — Timothy Sloan — apologized for causing its customers trouble and promised to take appropriate steps to make it a better bank in the times to come.

We believe, over the long term, investors will not be disappointed with their investment in Wells Fargo, given its diverse geographic and business mix, which enables it to sustain consistent earnings growth. We also believe strategic acquisitions and the bank's efforts to address current adversities will help the company expand its business and enhance profitability.

Wells Fargo & Company Price, Consensus and EPS Surprise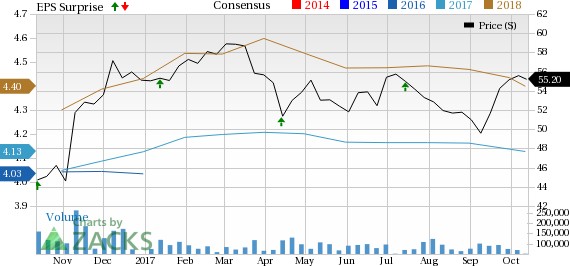 Wells Fargo & Company Price, Consensus and EPS Surprise | Wells Fargo & Company Quote
Currently, Wells Fargo carries a Zacks Rank #3 (Hold). You can see the complete list of today's Zacks #1 Rank (Strong Buy) stocks here.

Among other major banks, despite weak fixed income market revenues, Citigroup Inc. C delivered a positive earnings surprise of 7.6% in third-quarter 2017 on prudent expense management. Earnings per share of $1.42 for the quarter easily outpaced the Zacks Consensus Estimate of $1.32. Also, earnings compared favorably with the year-ago figure of $1.24 per share. Notably, results included after-tax gain related to the sale of a fixed income analytics business.

Amid an expected trading slump, rising rates and loan growth drove JPMorgan Chase & Co.'s JPM third-quarter 2017 earnings of $1.76 per share, easily surpassing the Zacks Consensus Estimate of $1.67. Also, the figure reflects an 11% rise from the year-ago period. Notably, the results included a legal benefit of $107 million.

Solid loan growth (driven mainly by improved credit card loans) and elevated interest rates supported net interest income. In addition, rise in advisory fees supported the top-line growth. A slight fall in operating expenses acted as a tailwind.

Among other Wall Street giants, U.S. Bancorp USB is scheduled to report third-quarter 2017 earnings on Oct 18.

4 Stocks to Watch after the Massive Equifax Hack

Cybersecurity stocks spiked on recent news of a data breach affecting 143 million Americans. But which stocks are the best buy candidates right now? And what does the future hold for the cybersecurity industry?

Equifax is just the most recent victim. Computer hacking and identity theft are more common than ever. Zacks has just released Cybersecurity! An Investor's Guide to inform Zacks.com readers about this $170 billion/year space. More importantly, it highlights 4 cybersecurity picks with strong profit potential.

Get the new Investing Guide now>>
Want the latest recommendations from Zacks Investment Research? Today, you can download 7 Best Stocks for the Next 30 Days.
Click to get this free report
J P Morgan Chase & Co (JPM): Free Stock Analysis Report
U.S. Bancorp (USB): Free Stock Analysis Report
Wells Fargo & Company (WFC): Free Stock Analysis Report
Citigroup Inc. (C): Free Stock Analysis Report
To read this article on Zacks.com click here.
Zacks Investment Research