Option Care Health (BIOS) Q3 Earnings Meet, Revenues Top
BioScrip has finally completed its long-awaited merger with Option Care to form a publicly traded infusion service provider, Option Care Health, Inc. BIOS. This consolidated entity is currently on course to become the nation's largest independent provider of infusion services in the alternate site setting.
Recently, Option Care Health came out with third-quarter earnings release along with certain updates related to the ongoing integration.
Q3 Results
Option Care Health incurred an adjusted loss of a penny per share in third-quarter 2019, in line with the Zacks Consensus Estimate. Meanwhile, the figure is narrower than the year-ago loss of 9 cents.
GAAP net loss was 7 cents per share, reflecting a significant drop from the break-even level a year ago.
Revenues
Net revenues of $615.9 million in the third quarter rose 24.7% year over year, up 2.3% on a comparable basis.The figure also exceeded the Zacks Consensus Estimate by 18%.
Margins
In the third quarter, gross profit improved 27.3% to $137.8 million. Also, gross margin expanded 45 basis points (bps) to 22.4%.Although the company is yet to start realizing the merger-related synergies to a material extent, the reporting of positive gross margin is an indication of its successful execution of operational efficiencies.
Option Care Health, Inc. Price, Consensus and EPS Surprise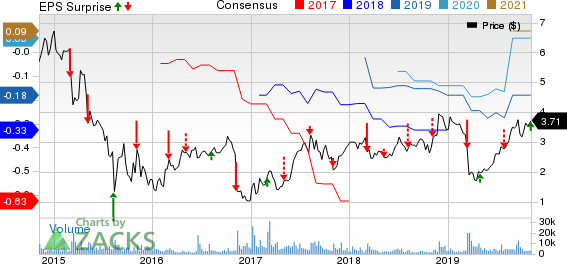 Option Care Health, Inc. price-consensus-eps-surprise-chart | Option Care Health, Inc. Quote
On account of a 55.3% surge in general and administrative costs, adjusted operating margin contracted 382 bps to 0.7%.
Financials
Option Care Health exited the third quarter with cash and cash equivalents of $52.7 million compared with $36.4 million at the end of 2018. Year to date, net cash provided by operating activities was $16.6 million compared the year-ago figure of $12.2 million.
Guidance
The combined entity is yet to provide any guidance for the balance of 2019 or for 2020. It expects to issue guidance for 2020 when it reports fourth-quarter 2019 results.
Integration Updates
Option Care Health announced that it has established an executive leadership team and a broader field and functional leadership for the company, retaining keys talents from both legacy BioScrip and Option Care.
The company is highly optimistic about the strategies and finances of this combination. The merged entity is expected to drive significant revenues. Through this consolidation, the therapies and strategic partnerships with preferred payers, hospital systems and drug manufacturers will be strengthened to a great extent, thus enabling the new company to attain goals of higher-quality patient outcomes.
With a network of more than 120 compounding pharmacies and 2900 clinicians, Option Care Health is currently licensed across all 50 states and has an ability to reach approximately 96% of the U.S. population.
Earlier, management stated that it is expected to generate revenues exceeding $2.6 billion.
Our Take
Option Care Health exited the third quarter with in-line loss but revenues ahead of the consensus mark. We are optimistic about the company's huge integration-related synergy benefits.
Zacks Rank & Key Picks
Option Care Health has a Zacks Rank of #3 (Hold). Some better-ranked companies, which posted solid results this earnings season, are Edwards Lifesciences EW, Thermo Fisher Scientific TMO and ResMed RMD, each carrying a Zacks Rank #2 (Buy). You can see the complete list of today's Zacks #1 Rank (Strong Buy) stocks here.
Edwards Lifesciences delivered third-quarter 2019 adjusted EPS of $1.41, outpacing the Zacks Consensus Estimate by 15.6%. Net sales of $1.09 billion also surpassed the Zacks Consensus Estimate by 5.5%.
Thermo Fisher delivered third-quarter 2019 adjusted EPS of $2.94, which surpassed the Zacks Consensus Estimate by 2.1%. Revenues of $6.27 billion too outpaced the consensus estimate by 1.3%.
ResMed reported first-quarter fiscal 2020 adjusted EPS of 93 cents, which beat the Zacks Consensus Estimate of 87 cents by 6.9%. Revenues of $681.1 million surpassed the Zacks Consensus Estimate by 3.6% as well.
Wall Street's Next Amazon
Zacks EVP Kevin Matras believes this familiar stock has only just begun its climb to become one of the greatest investments of all time. It's a once-in-a-generation opportunity to invest in pure genius.
Want the latest recommendations from Zacks Investment Research? Today, you can download 7 Best Stocks for the Next 30 Days.
Click to get this free report
Thermo Fisher Scientific Inc. (TMO): Free Stock Analysis Report
Edwards Lifesciences Corporation (EW): Free Stock Analysis Report
ResMed Inc. (RMD): Free Stock Analysis Report
Option Care Health, Inc. (BIOS): Free Stock Analysis Report
To read this article on Zacks.com click here.