Pharma Stock Roundup: PFE's Research Deal With BEAM & Other Updates
This week, Pfizer PFE signed a multi-target research collaboration with Beam Therapeutics BEAM. AbbVie ABBV maintained its long-term sales outlook for the two most promising new drugs, Skyrizi and Rinvoq. Merck's MRK blockbuster PD-L1 inhibitor, Keytruda reduced the risk of disease recurrence or death after surgery in a late-stage study in patients with stage IB-IIIA non-small cell lung cancer (NSCLC). GlaxoGSK and partner Vir Biotech announced a new U.S government order for their COVID-19 medicine, sotrovimab
Recap of the Week's Most Important Stories
Pfizer's Drug Development Deal With Beam Therapeutics: Pfizer signed an exclusive four-year agreement with gene editing company, Beam Therapeutics to develop in-vivo base editing therapies for three targets for rare genetic diseases of the liver, muscle and central nervous system. The potentially transformative base editing therapies will be developed by leveraging Beam Therapeutics' proprietary in-vivo messenger RNA (mRNA), lipid nanoparticles (LNP) delivery technologies. For the partnership, Beam will receive an upfront payment of $300 million, while also being eligible to receive future milestone payments of up to $1.05 billion.
Pfizer announced positive top-line data from a phase III study evaluating a combination of its newly approved 20-valent pneumococcal conjugate vaccine, Prevnar-20 with COVID-19 vaccine. The data showed that its COVID-19 vaccine or booster andPrevnar-20 given at the same time elicited the same responses.
AbbVie Retains Rinvoq/Skyrizi Combined Guidance: AbbVie retained its previously issued combined sales (risk-adjusted) guidance for Skyrizi and Rinvoq. It expects combined sales to be more than $15 billion by 2025. Sales of both Skyrizi and Rinvoq are expected to be greater than $7.5 billion each. For the JAK inhibitor drug, Rinvoq, higher anticipated sales in international markets and higher potential revenues from Crohn's disease and ulcerative colitis indications are expected to make up for lower-than-previously expected sales in the United States due to some warnings added on the U.S. label.
While regulatory applications have been filed in the United States and EU for the UC indication, Rinvoq is in late-stage development for Crohn's disease. Strong performance in psoriasis is expected to continue driving Skyrizi sales growth.
AbbVie has submitted regulatory applications to the FDA and European Medicines Agency (EMA) seeking approval of Rinvoq (upadacitinib) for the treatment of adults with active non-radiographic axial spondyloarthritis (nr-axSpA). The latest applications seeking approval of Rinvoq for nr-axSpA were based on data from the phase III SELECT-AXIS 2 (Study 2) study.
Axial spondyloarthritis is a chronic inflammatory disease that affects the spine and consists of two sub-groups, ankylosing spondylitis (AS) and nr-axSpA. Regulatory applications seeking approval of Rinvoq for AS are under review in the United States while the drug is approved for this indication in Europe.
Merck's Keytruda Study for Adjuvant Lung Cancer Meets One Goal: Merck's phase III study evaluating Keytruda for adjuvant stage IB-IIIA non-small cell lung cancer (NSCLC), regardless of PD-L1 expression, meets one of its dual primary endpoints of disease-free survival (DFS). Interim data from the study showed that treatment with Keytruda led to a statistically significant and clinically meaningful improvement in DFS compared with placebo in the all-comer population of patients with stage IB-IIIA NSCLC. At the interim analysis, conducted by an independent Data Monitoring Committee, an improvement in DFS was also observed in patients whose tumors express PD-L1 (tumor proportion score [TPS] ≥50%) who were treated with Keytruda versus placebo.
New U.S Government Order for Glaxo/Vir's Sotrovimab: Glaxo and partner Vir Biotech announced a new contract to supply an additional 600,000 doses of their monoclonal antibody treatment for COVID-19, sotrovimab to the U.S. government. The FDA granted EUA to Glaxo/Vir's sotrovimab in May 2021. The additional 600,000 doses will be delivered throughout the first quarter of 2022. Including the latest agreement, Glaxo and Vir have received binding orders for the sale of approximately 1.7 million doses of sotrovimab worldwide.
The NYSE ARCA Pharmaceutical Index declined 0.2% in the last five trading sessions.
Large Cap Pharmaceuticals Industry 5YR % Return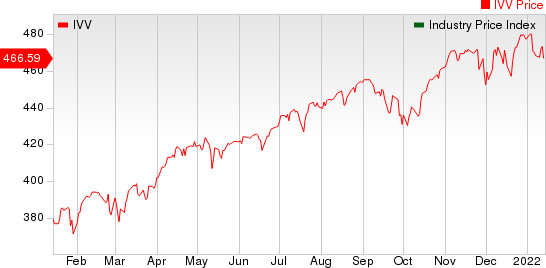 Here's how the eight major stocks performed in the last five trading sessions.

Image Source: Zacks Investment Research
In the last five trading sessions, Merck rose the most (2.9%) while Lilly declined the most (3.8%).
In the past six months, Pfizer recorded the maximum gain (40.7%) while Novartis declined the most (0.7%)
(See the last pharma stock roundup here: FDA Nod to PFE Booster for Age 12-15, Breakthrough Tag to ABBV Drug)
What's Next in the Pharma World?
Watch out for regular pipeline and regulatory updates next week.
Infrastructure Stock Boom to Sweep America
A massive push to rebuild the crumbling U.S. infrastructure will soon be underway. It's bipartisan, urgent, and inevitable. Trillions will be spent. Fortunes will be made.
The only question is "Will you get into the right stocks early when their growth potential is greatest?"
Zacks has released a Special Report to help you do just that, and today it's free. Discover 5 special companies that look to gain the most from construction and repair to roads, bridges, and buildings, plus cargo hauling and energy transformation on an almost unimaginable scale.
Download FREE: How to Profit from Trillions on Spending for Infrastructure >>
Want the latest recommendations from Zacks Investment Research? Today, you can download 7 Best Stocks for the Next 30 Days.
Click to get this free report
GlaxoSmithKline plc (GSK): Free Stock Analysis Report
Pfizer Inc. (PFE): Free Stock Analysis Report
Merck & Co., Inc. (MRK): Free Stock Analysis Report
Beam Therapeutics Inc. (BEAM): Free Stock Analysis Report
AbbVie Inc. (ABBV): Free Stock Analysis Report
To read this article on Zacks.com click here.
Zacks Investment Research