Marsh & McLennan (MMC) Unites With BitSight, Hikes Cyber Security
Marsh & McLennan Companies, Inc. MMC recently agreed to collaborate with cybersecurity ratings company BitSight to provide improved services to clients. The deal will likely enable Marsh & McLennan to help organizations make better judgment related to cyber risks.
The Cyber Risk Analytics Center of Marsh & McLennan will utilize the BitSight security ratings platform to provide clients with higher-quality information. This will allow organizations to better understand their cybersecurity performances, in turn enabling them to make more informed risk-management decisions. The Cyber Risk Analytics Center, which integrates the cyber risk data, analytics and mitigation proficiency of the four business units, namely Marsh, Guy Carpenter, Mercer, and Oliver Wyman, was unveiled last month.
With rising cybersecurity incidents in recent times, the demand for services provided by Marsh & McLennan is rapidly increasing. As such, the deal with BitSight is expected to boost the quality of services provided by MMC. It currently has customers in 130 countries. The move is expected to make the process of receiving information seamless for clients. This will allow them to identify risks and make strategies accordingly.
Marsh & McLennan is expected to commence joint research and analysis with BitSight. Thanks to deals like this, MMC's revenues will keep growing. Its diverse product offerings, wide geographic footprint and strong client retention are major growth drivers. In fact, in the first nine months of 2021, its revenues grew 14.6% from the prior-year level, courtesy of strong Risk & Insurances Services and Consulting segments.
Zacks Rank and Key Picks
The company currently has a Zacks Rank #3 (Hold). Some better-ranked players in the finance space include Alerus Financial Corporation ALRS, Ryan Specialty Group Holdings, Inc. RYAN and Blackstone Inc. BX. While Alerus Financial sports a Zacks Rank #1 (Strong Buy), Ryan Specialty and Blackstone have a Zacks Rank #2 (Buy). You can see the complete list of today's Zacks #1 Rank stocks here.
Based in Grand Forks, ND, Alerus Financial provides numerous financial services to clients. Rising investment securities will likely keep boosting the company's asset position in the coming quarters. ALRS's bottom line for 2021 is expected to jump 11.5% year over year to $2.81 per share. It has witnessed three upward estimates in the past 30 days and no movement in the opposite direction. Alerus Financial beat earnings estimates thrice in the past four quarters and missed once, with an average surprise of 23.6%.
Ryan Specialty Group's earnings per share estimates have increased 7% in the past 30 days. It has witnessed two upward estimate revisions during this time period compared with none in the opposite direction. Based in Chicago, IL, this leading international specialty insurance firm is witnessing strong organic growth, which is boosting sales figures. RYAN's focus on enhancing relationships with existing customers will keep improving cash-generating abilities. Also, its restructuring plan has improved operating efficiency and reduced costs.
Headquartered in New York, Blackstone is well poised to benefit from its fund-raising ability, revenue mix and inorganic expansion strategies. The company's fee-earning assets under management (AUM) and total AUM consistently demonstrate strong growth, aided by increasing net inflows. Blackstone's 2021 earnings are expected to rise 64.2% to $4.35 per share. It has witnessed five upward estimate revisions in the past 30 days compared with none in the opposite direction.
Price Performances
Marsh & McLennan has jumped 24% in the past six months compared with a 7.5% rise of the industry.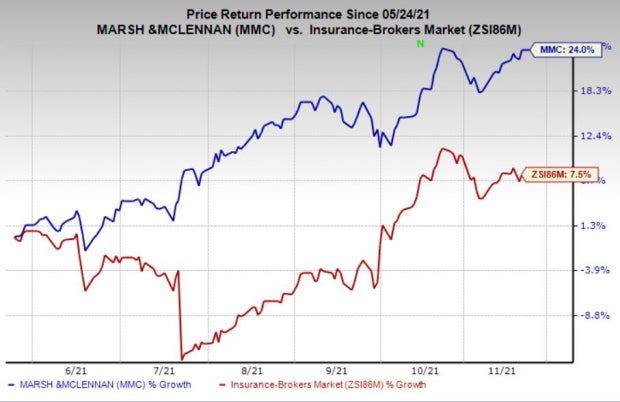 Image Source: Zacks Investment Research
In the past six months, Alerus Financial has increased 1.4%, while Ryan Specialty Group and Blackstone have jumped 45.8% and 58.2%, respectively.
Zacks' Top Picks to Cash in on Artificial Intelligence
In 2021, this world-changing technology is projected to generate $327.5 billion in revenue. Now Shark Tank star and billionaire investor Mark Cuban says AI will create "the world's first trillionaires." Zacks' urgent special report reveals 3 AI picks investors need to know about today.
See 3 Artificial Intelligence Stocks With Extreme Upside Potential>>
Want the latest recommendations from Zacks Investment Research? Today, you can download 7 Best Stocks for the Next 30 Days.
Click to get this free report
Blackstone Inc. (BX): Free Stock Analysis Report
Marsh & McLennan Companies, Inc. (MMC): Free Stock Analysis Report
Alerus Financial (ALRS): Free Stock Analysis Report
Ryan Specialty Group Holdings, Inc. (RYAN): Free Stock Analysis Report
To read this article on Zacks.com click here.