Colgate (CL) Up More Than 13% in a Year on Strategic Growth Plans
Colgate-Palmolive Company CL has been benefiting from increased investments in premium innovation, digital transformation and advertising. T the company's pricing efforts and productivity gains stemming from the funding-the-growth initiative have been paying off well. Also, its expansion strategy bodes well. This led to decent first-quarter 2021 results, wherein earnings were in line with the Zacks Consensus Estimate and sales beat the same. Moreover, both top and bottom lines improved year over year.

The Zacks Rank #3 (Hold) stock has gained 13.8% in a year's time, outperforming the industry's growth of 0.3%.

That said, let's delve deeper into the factors driving the stock.
Factors Narrating Colgate's Growth Story
Colgate remains focused on the premiumization of its Oral Care portfolio via product innovation. Backed by premium innovation, the company delivered high-single-digit growth in toothpaste in first-quarter 2021. This along with gains from innovation like Colgate Renewal in the United States, Colgate Enzyme Whitening toothpaste in China and the natural extracts line and Colgate Total Anti-Tartar Line in Latin America also helped it achieve high-single-digit growth in the Oral Care business. Some other notable innovations include the continued expansion of the Naturals and Therapeutics divisions, the Hello Products LLC buyout and the launch of electric toothbrushes in Latin America, in collaboration with Philips.

Further, it is aggressively expanding the geographic footprint of its brands along with enhanced distribution to faster growth channels. In 2019, the company expanded its portfolio by introducing pharmacy brands like elmex and meridol to newer markets. Moreover, its professional skincare businesses — Elta MD and PCA Skin — are performing well, in spas and dermatology clinics. Also, Colgate expanded its premium skincare portfolio with the buyout of the Filorga skincare business. Moreover, it is witnessing strong market share gains in North America and China, its two largest markets, with increased share gains across all other regions.

Apart from these, gains from Hill's, China and U.S. businesses further accelerated e-commerce growth in the first quarter. Speaking of its Hill's unit, the company recently revealed plans to invest in a new factory to meet customers' growing demand. This facility will enable Hill's Pet Nutrition to offer high-quality nutrition for pets. In another development, Hill's introduced a new small paws facility in Topeka to provide products for small dogs. Notably, first-quarter 2021 sales for Hill's grew 9.5% year over year on a reported basis and 7% on an organic basis, with a solid performance in the United States, Europe and Canada.

Management remains optimistic about its investments and growth strategies, including increased brand advertisement and a robust innovation pipeline. Based on these, the company predicts net sales growth of 4-7%, with a low-single-digit favorable currency impact. Organic sales are likely to rise 3-5%, which is within its long-term target range. Further, it expects gross margin expansion on both GAAP and adjusted basis, with an increase in advertising investments. Meanwhile, adjusted earnings per share are projected to grow in mid to high-single digits.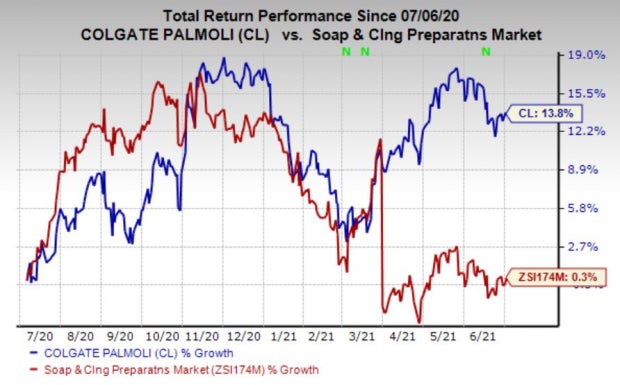 Image Source: Zacks Investment Research
Hurdles on the Path
Despite such upsides, Colgate continues to struggle with elevated costs stemming from investments related to product innovation and advertising as well as higher logistics costs. The company anticipates logistics costs to remain high, particularly in the United States where costs have risen faster than anticipated. Also, raw-material cost inflation is likely to remain a headwind in 2021.
Bottom Line
All said, we believe that Colgate remains well placed on the back of persistent customer demand, product innovation and expansion plans, which are likely to help offset cost headwinds. Topping it, a VGM Score of B and a long-term growth rate of 6% raise optimism in the stock.
Stocks to Consider
Chewy CHWY has a long-term earnings growth rate of 20% and currently, a Zacks Rank #2 (Buy). You can see the complete list of today's Zacks #1 Rank (Strong Buy) stocks here.

Archer Daniels Midland ADM currently has an expected long-term earnings growth rate of 6.2% and a Zacks Rank #2.

Kirin Holdings Co. KNBWY, also a Zacks Rank #2 stock, has an expected long-term earnings growth rate of 21.3%.
Time to Invest in Legal Marijuana
If you're looking for big gains, there couldn't be a better time to get in on a young industry primed to skyrocket from $17.7 billion back in 2019 to an expected $73.6 billion by 2027.

After a clean sweep of 6 election referendums in 5 states, pot is now legal in 36 states plus D.C. Federal legalization is expected soon and that could be a still greater bonanza for investors. Even before the latest wave of legalization, Zacks Investment Research has recommended pot stocks that have shot up as high as +285.9%

You're invited to check out Zacks' Marijuana Moneymakers: An Investor's Guide. It features a timely Watch List of pot stocks and ETFs with exceptional growth potential.

Today, Download Marijuana Moneymakers FREE >>
Want the latest recommendations from Zacks Investment Research? Today, you can download 7 Best Stocks for the Next 30 Days.
Click to get this free report
Archer Daniels Midland Company (ADM): Free Stock Analysis Report
ColgatePalmolive Company (CL): Free Stock Analysis Report
Kirin Holdings Co. (KNBWY): Free Stock Analysis Report
Chewy Inc. (CHWY): Free Stock Analysis Report
To read this article on Zacks.com click here.
Zacks Investment Research