Leidos (LDOS) Wins $53M Deal to Upgrade U.S. Army's UASGCS-V4
Leidos Holdings, Inc. LDOS recently secured a contract to develop and refresh software as well as upgrade capabilities for the Army's Unmanned Aircraft System Ground Control Station – Version 4 (UASGCS-V4). The contract holds a total value of approximately $53 million, provided all options are exercised.

The contract was awarded by the General Services Administration (GSA) and the work related to the deal will be executed in Huntsville, AL.

Details of the Deal

Per the deal terms, Leidos Holdings will provide engineering services for technical and logistics support, including next-generation software development.

The company's software solution will maximize reusable efficiencies for the existing unmanned aircraft system. The use of the software will reduce the burden of training and provide maximum concept of operations (CONOP) flexibility. It will also be essential for unmanned aircraft ground control station operators to locate enemies and execute their mission.

Our View

With increasing acts of terrorism across the globe, the demand for UAVs has risen. With UAVs, one can sneak up on activities of enemies without their knowledge. Notably, the increasing use of UAVs in various military applications, such as intelligence, surveillance and reconnaissance (ISR), and electronic warfare, has been boosting the military segment of the global UAV market.

Notably, such prospects seem favorable for companies like Leidos Holdings, Boeing BA and AeroVironment AVAV, which engage in the development of UAV and other related applications.

Looking ahead, per a report published by ASD News, the global UAV software market is estimated to be valued at $6.2 billion in 2020 and is projected to see a CAGR of 22.6% to reach a valuation of $47.5 billion by 2030. Factors driving growth of the global UAV software market primarily include increasing use of unmanned aerial vehicles for commercial applications.

Evidently, Leidos Holdings and other UAV players will significantly benefit from such favorable projections, when it comes to developing UAV software and other applications.

Price Movement

Leidos Holdings' stock has gained 32.3% in a year against the industry's decline of 30.1%.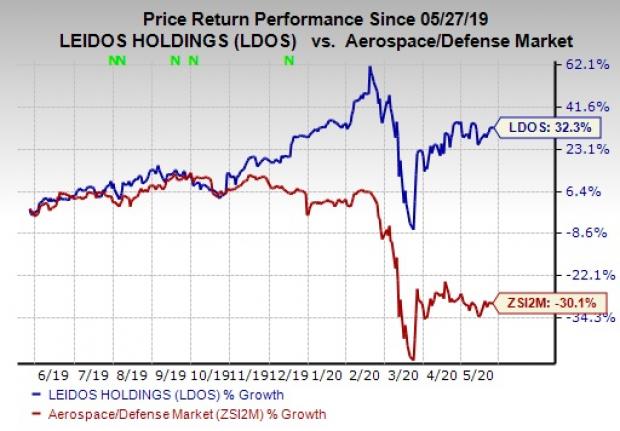 Zacks Rank & A Key Pick

Leidos Holdings currently carries a Zacks Rank #3 (Hold). You can see the complete list of today's Zacks #1 Rank (Strong Buy) stocks here.

A better-ranked stock in the same sector is Elbit Systems Ltd ESLT, which has a Zacks Rank #2 (Buy).

Elbit Systems delivered a four-quarter earnings beat of 11.26%, on average. The Zacks Consensus Estimate for 2021 earnings indicates an annual improvement of 2.48% over the past 90 days.

Biggest Tech Breakthrough in a Generation

Be among the early investors in the new type of device that experts say could impact society as much as the discovery of electricity. Current technology will soon be outdated and replaced by these new devices. In the process, it's expected to create 22 million jobs and generate $12.3 trillion in activity.

A select few stocks could skyrocket the most as rollout accelerates for this new tech. Early investors could see gains similar to buying Microsoft in the 1990s. Zacks' just-released special report reveals 8 stocks to watch. The report is only available for a limited time.

See 8 breakthrough stocks now>>
Want the latest recommendations from Zacks Investment Research? Today, you can download 7 Best Stocks for the Next 30 Days.
Click to get this free report
The Boeing Company (BA): Free Stock Analysis Report
Elbit Systems Ltd. (ESLT): Free Stock Analysis Report
AeroVironment, Inc. (AVAV): Free Stock Analysis Report
Leidos Holdings, Inc. (LDOS): Free Stock Analysis Report
To read this article on Zacks.com click here.