Rite Aid (RAD) Stock Dips 13% YTD: Can It Get Back on Track?
Rite Aid Corporation RAD has been reeling under a drab bottom line stemming from weak adjusted EBITDA and the loss of assets due to the sale of CMS receivable. In second-quarter fiscal 2022, adjusted EBITDA declined nearly 30% year over year due to higher SG&A expenses, costs related to the Bartell acquisition, and other costs incurred to drive COVID-19 vaccines.

The company has been witnessing elevated expenses for the past few quarters. This is mainly due to a rise in wages and increased investments to drive revenues. Notably, SG&A expenses grew 13.6% year over year to $1,267.8 million in the fiscal second quarter.

Consequently, management slashed the bottom-line view for fiscal 2022. The adjusted net loss is envisioned to be 90-53 cents, which compares unfavorably with the previously mentioned loss of 79-24 cents.

Shares of this Zacks Rank #3 (Hold) stock declined 13.9% year to date against the industry's growth of 33.4%. You can see the complete list of today's Zacks #1 Rank (Strong Buy) stocks here.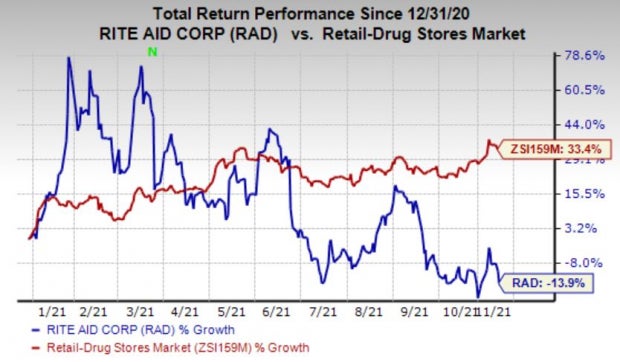 Image Source: Zacks Investment Research
Efforts to Overcome Hurdles
Rite Aid is leaving no stone unturned to get back on track. Continued strength in its underlying business, accelerated COVID-19 vaccine program, and enhanced retail and digital experiences bode well. It also witnessed higher COVID-19 testing demand. This led to year-over-year revenue growth of 2.2% in second-quarter fiscal 2022, with a solid performance in Retail Pharmacy, driven by gains from the acquisition of Bartell and same-store sales growth. Prescription count at same-store sales, adjusted to 30-day-equivalent, rose 7.1% on the back of COVID-19 vaccinations, higher acute prescriptions (up 1.5%) and maintenance prescriptions (up 2.4%).

Management remains focused on strengthening its foothold in mid-market PBM, innovation across its retail and mail-order pharmacy channels, enhancing the in-store experience by curated digital offerings, improved merchandises, and rebranding its image with a new logo. The company is progressing well with its exterior refresh program, with nearly 2,200 stores updated, representing 90% of its store chain.

Rite Aid launched the first three Stores of the Future and concluded the acquisition of Bartell, which will help expand its customer base. The company continues to witness solid performance in PBM, in terms of mail orders. Its new RxEvolution strategy, with the help of which Rite Aid is expected to become a leader in mid-market PBM, remains on track. Management expects PBM revenues of $7.7-$7.8 million for fiscal 2022.

The company has long been benefiting from the expansion of delivery services to its customers. It has been providing home delivery service to customers with an eligible prescription, with the benefit of zero delivery fees. Rite Aid is also providing pick-up and drive services for prescriptions and over-the-counter products at its stores. The company launched the Buy Online Pickup In Store initiative to offer better drive-through and curbside pick-up options. Rite Aid remains on track with plans to invest in its online scheduling platform, which will allow customers to schedule appointments for COVID-19, flu and other vaccines.

Rite Aid also expanded the Instacart delivery facility and made partnerships with Amazon, Postmates and Instacart for home delivery, which are contributing to digital sales growth. Online revenues skyrocketed 183% year over year in the fiscal second quarter on continued strength in on-demand delivery, third-party marketplaces, and buy online, pick up at store options.

The company partnered with DoorDash to offer same-day delivery of non-prescription health, convenience and wellness essentials, along with ScriptDrop, to expedite the prescription delivery process. Shipt and Rite Aid have entered a partnership to provide same-day delivery of health and wellness products to Rite Aid's retail footprint across 17 states.

Other notable retailers partnering with DoorDdash to improve delivery facilities are Walmart WMT, Macy's M and Casey's General Stores CASY.

Walmart was one of the first companies to unveil an alliance with DoorDash for its online grocery delivery program. It has also extended its partnership to deliver prescriptions from pharmacies of Sam's Club.

Macy's tie-up with DoorDash will not only expedite delivery service but also enable the retailer to offer on-demand and same-day delivery service at roughly 500 Macy's stores throughout the nation. Casey's also expanded its delivery capabilities by bringing DoorDash to 890 stores.

Shares of WMT, M and CASY have risen 4.2%, 167% and 12.8%, respectively, year to date.
Conclusion
Despite cost headwinds, we hope that Rite Aid will get back in the right direction on continued and rising customer demand for COVID-19 vaccines, strength in mid-market PBM and expanded delivery services.
Tech IPOs With Massive Profit Potential: Last years top IPOs surged as much as 299% within the first two months. With record amounts of cash flooding into IPOs and a record-setting stock market, this year could be even more lucrative.
See Zacks' Hottest Tech IPOs Now >>
Want the latest recommendations from Zacks Investment Research? Today, you can download 7 Best Stocks for the Next 30 Days.
Click to get this free report
Rite Aid Corporation (RAD): Free Stock Analysis Report
Macy's, Inc. (M): Free Stock Analysis Report
Walmart Inc. (WMT): Free Stock Analysis Report
Casey's General Stores, Inc. (CASY): Free Stock Analysis Report
To read this article on Zacks.com click here.
Zacks Investment Research