Louisiana-Pacific (LPX) Q2 Earnings & Sales Miss, Stock Down
Louisiana-Pacific Corporation's or LP LPX shares fell 4.2% in the pre-market trading session on Aug 9, after it reported lackluster results for second-quarter 2022. Both the top and the bottom line missed their respective Zacks Consensus Estimate and decreased on a year-over-year basis.

LP chairman and CEO Brad Southern, stated, "Despite ongoing raw material inflation and logistics challenges, LP's teams consistently executed our strategy to meet sustained customer demand. The new Siding mill in Houlton, Maine, is ramping up ahead of schedule, and contributed to Siding reaching a quarterly sales record of $356 million. With Structural Solutions mix exceeding 50% for the first six months of 2022, we believe LP is now the leading producer of specialty OSB, offering the widest array of specialty OSB building solutions."

On Aug 1, LPX completed the sale of the Engineered Wood Products (EWP) segment. Second-quarter results reflect the EWP segment as discontinued operations.
Detailed Discussion
Louisiana-Pacific reported adjusted earnings of $4.19 per share, missing the Zacks Consensus Estimate of $4.38 by 4.3%. The bottom line declined 9.5% from the year-ago quarter's reported figure of $4.63 per share.
LouisianaPacific Corporation Price, Consensus and EPS Surprise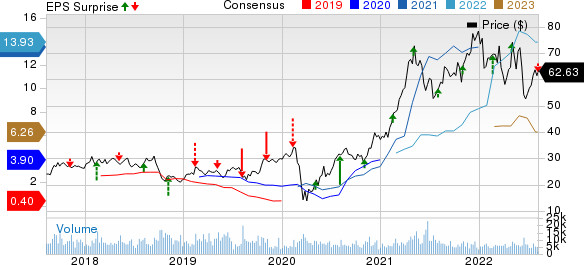 LouisianaPacific Corporation price-consensus-eps-surprise-chart | LouisianaPacific Corporation Quote
Net sales of $1.13 billion also lagged the consensus estimate of $1.26 billion by 10.5% and declined 3% from the year-ago period.

Single-family housing starts fell 3.2% year over year, but multi-family starts rose 19.8%.
Segmental Analysis
Siding: The segment's sales of $358 million were up 23% from the prior-year period. A 24% increase in Siding Solutions (formerly known as SmartSide) revenues, backed by a 12% rise in average net selling price and a 10% increased volume from the prior-year levels. The average net selling price benefited from list price increases and an improved mix of innovative products. Volume increased on the back of the pre-scheduled production ramp-up of the Houlton facility.

Adjusted EBITDA inched up slightly to $78 million. Price and volume growth was offset by raw material and freight inflation and discretionary investments, including siding mill conversions and sales and marketing costs.

OSB: Sales in the segment decreased 14% year over year to $673 million, owing to 22% lower OSB prices. Volume increased 10%, driven by the Peace Valley mill restart. The company's adjusted EBITDA fell 29% year over year to $403 million due to lower prices and increased raw material inflation.

South America: Sales of $70 million rose 5% and adjusted EBITDA declined 23% from the year-ago quarter to $26 million due to 6% lower sales volume.
Operating Highlights
The gross margin contracted to 45.8% from 58.6% reported a year ago. Adjusted EBITDA of $491 million was down 26.2% from the prior year's figure of $665 million.
Financials
As of Jun 30, 2022, Louisiana-Pacific had cash and cash equivalents of $503 million compared with $358 million at the 2021-end. Long-term debt was in line with the 2021-level of $346 million.

For the second quarter, net cash provided by operations was $483 million, up from $457 million reported in the year-ago period.
Guidance
For third-quarter 2022, the company expects Siding Solutions revenue growth to be 20% from the year-ago period. OSB revenues are expected to be sequentially low by 40% (based on Random Lengths' report published on Aug 5, 2022). It anticipates a consolidated adjusted EBITDA of $200 million.

For 2022, Louisiana-Pacific expects Siding Solutions revenue growth of more than 20%. Also, the company projects capital expenditures for 2022 to be $400-$430 million, indicating an increase from $254 million in 2021.
Zacks Rank
Louisiana-Pacific currently carries a Zacks Rank #4 (Sell). You can see the complete list of today's Zacks #1 Rank (Strong Buy) stocks here.
Some Recent Construction Releases
D.R. Horton, Inc.'s DHI third-quarter fiscal 2022 earnings beat the Zacks Consensus Estimate, but revenues missed the same.

DHI also lowered its revenue guidance for the full year, given the expected completion dates of homes under construction and current market conditions.

UFP Industries, Inc. UFPI reported stellar second-quarter 2022 results.

Both UFPI's earnings and net sales beat the Zacks Consensus Estimate and increased on a year-over-year basis.

Acuity Brands, Inc. AYI reported solid third-quarter fiscal 2022 results. The top and the bottom line surpassed the Zacks Consensus Estimate and improved from the prior-year quarter's levels.

The upside in AYI's quarterly result was backed by higher sales from both of its segments and price increases and product and productivity improvement.
Want to Know the #1 Semiconductor Stock for 2022?
Few people know how promising the semiconductor market is. Over the last couple of years, disruptions to the supply chain have caused shortages in several industries. The absence of one single semiconductor can stop all operations in certain industries.
This year, companies that create and produce this essential material will have incredible pricing power. For a limited time, Zacks is revealing the top semiconductor stock for 2022. You'll find it in our new Special Report, One Semiconductor Stock Stands to Gain the Most.
Today, it's yours free with no obligation.
>>Give me access to my free special report.
Want the latest recommendations from Zacks Investment Research? Today, you can download 7 Best Stocks for the Next 30 Days.
Click to get this free report
UFP Industries, Inc. (UFPI): Free Stock Analysis Report
LouisianaPacific Corporation (LPX): Free Stock Analysis Report
D.R. Horton, Inc. (DHI): Free Stock Analysis Report
Acuity Brands Inc (AYI): Free Stock Analysis Report
To read this article on Zacks.com click here.
Zacks Investment Research