Here's Why You Should Hold on to NextGen Healthcare Stock Now
NextGen Healthcare, Inc. NXGN is well poised for growth backed by growing RCM (Revenue Cycle Management) and electronic health record (EHR) markets, and solid demand for other NextGen solutions. However, intense competition in the healthcare information technology market remains a concern.

Shares of NextGen Healthcare have lost 57.3%, compared with the industry's decline of 20% in a year's time. Meanwhile, the S&P 500 Index has fallen 18.3% in the same timeframe.

The company, with a market capitalization of $467.8 million, is a developer and marketer of healthcare information systems. It anticipates earnings to improve 7.7% over the next five years. Moreover, it has beat estimates in the trailing four quarters by 2.2%, on average.

Let's take a closer look at the factors that substantiate the company's Zacks Rank #3 (Hold).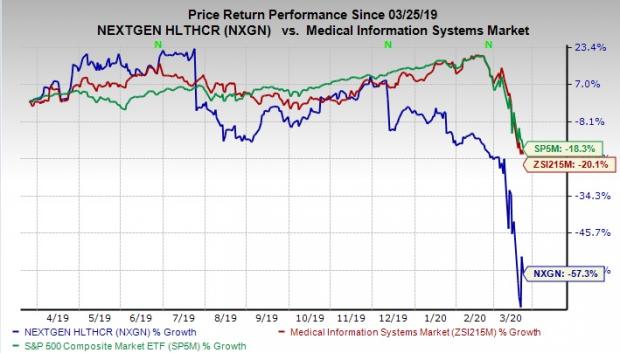 What's Deterring the Stock?

The company operates in the intensely competitive healthcare information technology (HCIT) market, which in turn increases pricing pressure.

Further, the company has been witnessing margin pressure for a considerable period of time and the trend is likely to persist in the near term.

In fact, the gross margin in the fiscal third quarter was 50.5%, down 240 bps. Moreover, adjusted operating margin, as a percentage of revenues, was 2.4%, down 230 bps.

What's Favoring the Stock?

Being a major player in the U.S. RCM space, the company continues to benefit from this market. The global RCM market is anticipated to reach $73.2 billion by 2026 witnessing a CAGR of 12.0%.

Given the popularity of the RCM solution, the company intends to expand into dental and hospital markets. This, in turn, will drive the top line.

With EHR services gaining prominence in the U.S. MedTech space, the company is expected to benefit from the growing global EHR market.

According to Transparency Market Research, the global EHR market is estimated to reach $38.29 billion by 2025 at a CAGR of 5.7%. Further, reports indicate that MedTech companies with significant exposure to big data automated EHRs will excel with respect to operations and margins.

Apart from RCM, NextGen Healthcare will continue to benefit from strong demand for its other NextGen solutions that include Hospitals, EHR and practice management. The company's Inpatient Clinicals, Lab and Patient Portal EHR solutions have also been gaining traction.

Strength in the company's NextGen division is driving revenues. Moreover, recurring revenue stream and growing base of physicians, dentists and hospitals are other tailwinds.

Which Way Are Estimates Headed?

For fiscal 2020, the Zacks Consensus Estimate for revenues is pegged at $543.4 million, indicating an improvement of 2.7% from the prior-year period. The same for earnings stands at 82 cents per share, reflecting a decline of 4.7% from the year-ago reported figure.

Stocks to Consider

Some better-ranked stocks from the broader medical space include Accuray Incorporated ARAY, West Pharmaceutical Services, Inc. WST and The Cooper Companies, Inc. COO, each currently carrying a Zacks Rank #2 (Buy). You can see the complete list of today's Zacks #1 Rank (Strong Buy) stocks here.
Accuray has an expected earnings growth rate of 200% for third-quarter fiscal 2020.

West Pharmaceutical has an estimated earnings growth rate of 3.4% for first-quarter 2020.

Cooper Companies has a projected long-term earnings growth rate of 10.8%.
Free: Zacks' Single Best Stock Set to Double
Today you are invited to download our latest Special Report that reveals 5 stocks with the most potential to gain +100% or more in 2020. From those 5, Zacks Director of Research, SherazMian hand-picks one to have the most explosive upside of all.
This pioneering tech ticker had soared to all-time highs and then subsided to a price that is irresistible. Now a pending acquisition could super-charge the company's drive past competitors in the development of true Artificial Intelligence. The earlier you get in to this stock, the greater your potential gain.
Want the latest recommendations from Zacks Investment Research? Today, you can download 7 Best Stocks for the Next 30 Days.
Click to get this free report
Accuray Incorporated (ARAY): Free Stock Analysis Report
The Cooper Companies, Inc. (COO): Free Stock Analysis Report
West Pharmaceutical Services, Inc. (WST): Free Stock Analysis Report
NEXTGEN HEALTHCARE, INC (NXGN): Free Stock Analysis Report
To read this article on Zacks.com click here.
Zacks Investment Research