Arthur J. Gallagher (AJG) Boosts Capabilities With TCS Buyout
Arthur J. Gallagher & Co.'s AJG risk management services subsidiary, Gallagher Bassett Services, has purchased Terrier Claims Services, Inc. (TCS) and its affiliate, MT Investigations, LLC. The terms of the transaction have not been revealed yet.

Pleasantville, NY-based Terrier Claims Services, founded in 1996, is a full-service claims investigation firm. It only caters to clients from insurance defense, third-party administrators, defense attorneys and government agencies.

Terrier Claims Services undertakes elaborate field investigations, trial preparation and property adjusting services in New York, New Jersey, Pennsylvania and Connecticut apart from nationwide desktop investigations. Thus, its addition to the acquirer's portfolio will boost field investigative and property adjusting capabilities, particularly with complex construction claims.

Arthur J. Gallagher boasts an impressive inorganic growth story with prudent buyouts. While this marks the first buyout in the second quarter of 2021, this Zacks Rank #3 (Hold) insurance broker has made six acquisitions in the first quarter. The company's merger and acquisition pipeline is quite strong with about $300 million of revenues, associated with about 30 term sheets either agreed upon or being prepared. The company expects a very active 2021.

A strong capital position enables Arthur J. Gallagher to engage in strategic initiatives that position it for growth. The company targets about $2.5 billion of mergers and acquisitions with free cash and debt in 2021.

Arthur J. Gallagher remains focused on long-term growth strategies for delivering organic revenue improvement, apart from making strategic mergers and acquisitions. It is also focused on productivity improvements and quality enhancements that should help it deliver sustained operational excellence.

Shares of Arthur J. Gallagher have gained 2.3% year to date compared with the industry's 6.2% increase. Nonetheless, efforts to ramp up its growth profile and capital position should drive share price higher.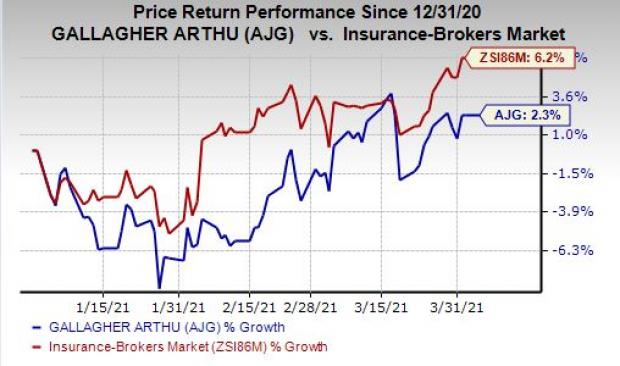 There have been a host of acquisitions in the insurance space of late, given significant capital availability. Assurant AIZ acquired TRYGLE Co. Ltd. to maximize the daily usage of mobile devices, electronics and home appliances. In the first quarter of 2021, Brown & Brown, Inc.'s BRO subsidiary, Brown & Brown of Ohio, LLC acquired substantially all Berry Insurance Group assets as well as O'Leary Insurances. Marsh & McLennan Companies, Inc.'s MMC unit Marsh & McLennan Agency LLC ("MMA") recently acquired Compass Financial Partners, a Greensboro, NC-based retirement consulting and investment advisory company.

You can see the complete list of today's Zacks #1 Rank (Strong Buy) stocks here.
Bitcoin, Like the Internet Itself, Could Change Everything
Blockchain and cryptocurrency has sparked one of the most exciting discussion topics of a generation. Some call it the "Internet of Money" and predict it could change the way money works forever. If true, it could do to banks what Netflix did to Blockbuster and Amazon did to Sears. Experts agree we're still in the early stages of this technology, and as it grows, it will create several investing opportunities.

Zacks' has just revealed 3 companies that can help investors capitalize on the explosive profit potential of Bitcoin and the other cryptocurrencies with significantly less volatility than buying them directly.

See 3 crypto-related stocks now >>

Want the latest recommendations from Zacks Investment Research? Today, you can download 7 Best Stocks for the Next 30 Days.
Click to get this free report
Marsh & McLennan Companies, Inc. (MMC): Free Stock Analysis Report
Assurant, Inc. (AIZ): Free Stock Analysis Report
Arthur J. Gallagher & Co. (AJG): Free Stock Analysis Report
Brown & Brown, Inc. (BRO): Free Stock Analysis Report
To read this article on Zacks.com click here.
Zacks Investment Research