EMA Accepts Moderna's (MRNA) Filing for Omicron BA.4, BA.5 Booster
Moderna MRNA announced that the European Medicines Agency accepted its conditional marketing authorization (CMA) application seeking approval to use a 50-µg booster dose of its bivalent BA.4/BA.5 Omicron-targeting COVID-19 vaccine, mRNA-1273.222, in individuals 12 years of age and older.
This bivalent vaccine is a combination of 25-µg Spikevax (mRNA-1273), Moderna's currently marketed COVID vaccine and 25-µg of another vaccine candidate targeting the Omicron BA.4 and BA.5 subvariants.
The filing is supported by data based on preclinical studies conducted on mRNA-1273.222 and data from the phase II/III study, which evaluated mRNA-1273.214, another bivalent candidate developed by Moderna to target the Omicron BA.1 subvariant.
The phase II/III study on the Omicron BA.1 targeting vaccine has achieved all its primary endpoints. Data from the study showed that a 50-µg dose of mRNA-1273.214 generated superior antibodies against the Omicron variant compared with those who received a 50-µg booster dose of Spikevax. mRNA-1273.214 (irrespective of prior infection or age) also generated potent neutralizing antibody responses against the Omicron subvariants BA.4 and BA.5 compared with those who received abooster dose of Spikevax.
Shares of Moderna have declined 51.9% so far this year compared with the industry's 28.0% fall.


Image Source: Zacks Investment Research
Earlier this month, the European Commission (EC) authorized mRNA-1273.214 as well as Pfizer PFE/BioNTech's BNTX Omicron BA.1-adapted bivalent vaccine for use in individuals aged 12 years and above.
The authorization for the BA.1 targeted bivalent boosters came in anticipation of a surge in COVID-19 infections in the upcoming winter. The original vaccines developed by Pfizer/BioNTech and Moderna helped countries combat the pandemic in record time. However, their lack of efficacy against emerging variants of the virus was a concern. Hence, the regulatory bodies had urged the COVID-19 vaccine makers to advance a bivalent vaccine candidate to make an Omicron-adapted vaccine available to various countries as soon as possible.
On Sep 12, the EC authorized Pfizer/BioNTech's Omicron BA.4/BA.5-adapted bivalent vaccine in individuals aged 12 years and older. Pfizer/BioNTech have also submitted a variation to the marketing authorization for the BA.4/BA.5-adapted bivalent vaccine earlier this week, seeking to expand the use of the booster vaccine to include children aged 5 through 11 years.
This August, the FDA granted emergency use authorization (EUA) to Pfizer/BioNTech and Moderna's Omicron BA.4/BA.5-adapted bivalent vaccines for a single booster dose. The Pfizer/BioNTech and Moderna booster vaccines can be given at least two months following primary or booster vaccination. While Moderna's Omicron booster is authorized for use in adults aged 18 years and older, Pfizer/BioNTech's version is approved for people 12 and older.
Moderna, Inc. Price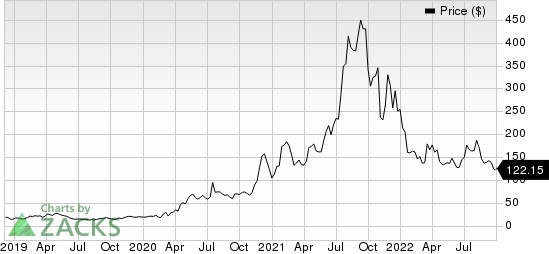 Zacks Rank & Key Pick
Moderna currently carries a Zacks Rank #3 (Hold). A better-ranked stock in the overall healthcare sector is Morphic MORF, which sports a Zacks Rank #1 (Strong Buy) at present. You can see the complete list of today's Zacks #1 Rank stocks here.
In the past 60 days, estimates for Morphic's 2022 loss per share have narrowed from $3.38 to $1.80. Loss estimates for 2023 have narrowed from $3.91 to $3.62 during the same period. Shares of Morphic have lost 39.3% in the year-to-date period.
Earnings of Morphic beat estimates in three of the last four quarters and missed the mark just once, witnessing a surprise of 48.29%, on average. In the last reported quarter, MORF delivered an earnings surprise of 183.95%.
FREE Report: The Metaverse is Exploding! Don't You Want to Cash In?
Rising gas prices. The war in Ukraine. America's recession. Inflation. It's no wonder why the metaverse is so popular and growing every day. Becoming Spider Man and fighting Darth Vader is infinitely more appealing than spending over $5 per gallon at the pump. And that appeal is why the metaverse can provide such massive gains for investors. But do you know where to look? Do you know which metaverse stocks to buy and which to avoid? In a new FREE report from Zacks' leading stock specialist, we reveal how you could profit from the internet's next evolution. Even though the popularity of the metaverse is spreading like wildfire, investors like you can still get in on the ground floor and cash in. Don't miss your chance to get your piece of this innovative $30 trillion opportunity - FREE.
>>Yes, I want to know the top metaverse stocks for 2022>>
Want the latest recommendations from Zacks Investment Research? Today, you can download 7 Best Stocks for the Next 30 Days.
Click to get this free report
Pfizer Inc. (PFE): Free Stock Analysis Report
Moderna, Inc. (MRNA): Free Stock Analysis Report
Morphic Holding, Inc. (MORF): Free Stock Analysis Report
BioNTech SE Sponsored ADR (BNTX): Free Stock Analysis Report
To read this article on Zacks.com click here.
Zacks Investment Research