Canadian Solar's (CSIQ) Arm Inks Cooperation Agreement With CATL
Canadian Solar Inc.'s CSIQ subsidiary CSI Solar recently inked an agreement with Contemporary Amperex Technology Co., Ltd. ("CATL"), a developer of new energy innovative technologies. The move is in sync with Canadian Solar's aim to rapidly expand in the battery storage businesses.
As part of the agreement, CSI Solar and CATL will work together to supply lithium-ion battery modules to their customers, and provide operational and maintenance services of battery storage projects. The deal also entails providing innovative renewable energy technology and efficient battery storage system solutions.
Benefits of the Agreement
The growing importance of a carbon-neutral environment has been bolstering the solar market's prospects of late. In this context, the battery storage system has been gaining significant popularity as it supports the clean energy generation by storing the excess electricity produced during peak hours from solar units and then supplying to customers in off-peak hours.
Canadian Solar caters to a geographically-diverse customer base spread across key markets in the United States, China, Japan, the U.K. and Canada as well as emerging markets in Brazil, India, Mexico, Italy, Germany, South Africa and the Middle East. Meanwhile, CATL is known for its expertise in providing highly innovative, efficient, competitive, and safe batteries across various applications. Undoubtedly, the partnership will enhance the battery storage product and aid in expanding the global footprint. This, in turn, will bolster Canadian Solar's revenues from the battery storage solution segment.
Battery Storage Market Supports Solar Market
With countries transitioning to renewable sources of energy, there has been a surge in demand for solar energy for electricity purposes. However, the key issue withthe solar powered units is its inability to generate electricity 24x7 due to natural causes. In this context, the battery storage market has been gaining momentum of late as it is directly correlated to the penetration of renewable energy. Battery storage solution reduces the dependence on the grid, thus supporting the growth of renewable sources of energy.
Per the report from Mordor Intelligence, the global battery storage market is expected to witness a CAGR of 24% over the period of five years. It is worth mentioning that Canadian Solar has ample growth opportunities underway and the aforementioned partnership will be accretive to its growth momentum going forward.
Considering the boom in the battery solar market, other solar majors have started to foray into the lucrative battery solar market.
For instance, in November 2021, SolarEdge Technologies, Inc. SEDG launched its SolarEdge Energy Bank residential battery and SolarEdge Energy Hub inverter with enhanced backup power in the United States. Both the SolarEdge Energy Hub inverter and SolarEdge Energy Bank battery are part of SolarEdge Technologies' "SolarEdge Home" — a smart energy management system that makes energy monitoring and maintaining systems simple and easy for homeowners.
Additionally, SolarEdge reported third-quarter adjusted earnings of $1.45 per share, which surpassed the Zacks Consensus Estimate of $1.38 by 5.1%. Shares of SEDG have gained 26.2% in the past one year.
Similarly, in October 2021, Enphase Energy, Inc. ENPH announced the launch of its Encharge battery storage systems in Belgium, thus further expanding its footprint in the European residential solar market. Apart from the IQ7 family of microinverters, Encharge battery storage system comes with an all-in-one solution that aids in optimizing energy usage while reducing energy bills for customers, thereby making energy monitoring and maintenance easy.
Interestingly, Enphase Energy reported third-quarter 2021 adjusted earnings of 60 cents per share, which surpassed the Zacks Consensus Estimate of 47 cents by 27.7%. In the past one year, ENPH stock has rallied a solid 83.2%.
Likewise, SunPower Corporation's SPWR Brightbox comes with a top-notch innovator in lithium-ion battery technology, representing the highest quality products available. Brightbox can provide a buffer from increasing energy costs. SunPower's Brightbox solar battery service enables consumption of more of the clean energy that the solar panels produce.
SunPower reported third-quarter 2021 adjusted earnings of 6 cents per share, which surpassed the Zacks Consensus Estimate of 2 cents by a whopping 200%. Shares of SPWR have returned 28.5% in the past one year.
Price Movement
In a year's time, shares of Canadian Solar have lost 8.5% compared with the industry's decline of 3.7%.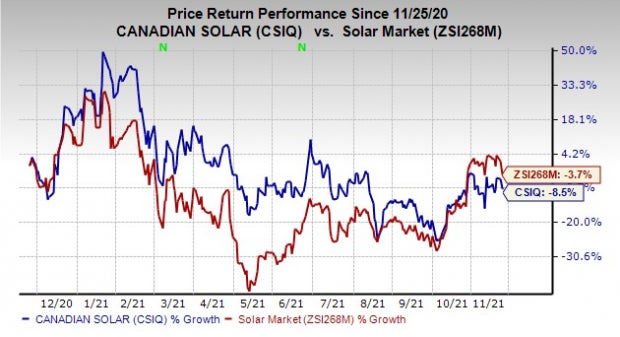 Image Source: Zacks Investment Research
Zacks Rank
Canadian Solar currently carries a Zacks Rank #3 (Hold). You can see the complete list of today's Zacks #1 Rank (Strong Buy) stocks here.
Breakout Biotech Stocks with Triple-Digit Profit Potential
The biotech sector is projected to surge beyond $2.4 trillion by 2028 as scientists develop treatments for thousands of diseases. They're also finding ways to edit the human genome to literally erase our vulnerability to these diseases.
Zacks has just released Century of Biology: 7 Biotech Stocks to Buy Right Now to help investors profit from 7 stocks poised for outperformance. Recommendations from previous editions of this report have produced gains of +205%, +258% and +477%. The stocks in this report could perform even better.
See these 7 breakthrough stocks now>>
Want the latest recommendations from Zacks Investment Research? Today, you can download 7 Best Stocks for the Next 30 Days.
Click to get this free report
Canadian Solar Inc. (CSIQ): Free Stock Analysis Report
SunPower Corporation (SPWR): Free Stock Analysis Report
Enphase Energy, Inc. (ENPH): Free Stock Analysis Report
SolarEdge Technologies, Inc. (SEDG): Free Stock Analysis Report
To read this article on Zacks.com click here.
Zacks Investment Research