Ionis (IONS) Q2 Earnings & Revenues Fall Short of Estimates
Ionis Pharmaceuticals, Inc. IONS reported second-quarter 2021 loss per share of 57 cents, which was wider than the Zacks Consensus Estimate of a loss of 56 cents. Loss per share was 18 cents per share in the year-ago period.
The bottom line includes expenses related to the Akcea acquisition and restructured European and North American operations and other items. Excluding these non-recurring expenses, loss per share was 26 cents per share. In the year-ago quarter, earnings totaled 11 cents per share.
In October 2020, Ionis acquired the remaining stake in Akcea Therapeutics and the latter became a wholly owned subsidiary of Ionis. Prior to completing its acquisition of Akcea, Ionis owned approximately 76% of Akcea. In 2020, the company also signed a distribution agreement with Swedish Orphan Biovitrum AB, or Sobi for commercializing Tegsedi (hereditary TTR amyloidosis, or hATTR) and Waylivra (genetically confirmed familial chylomicronemia syndrome, or FCS)in Europe.
In the first quarter, the company had expanded the distribution agreement to include North American Tegsedi operations. In the second quarter, Ionis successfully completed the transition of operations of Tegsedi in North America to Sobi. With these deals, its European and North American operations for Tegsedi and Waylivra were restructured from direct sales to a distribution model.
Ionis reported total revenues of $126 million, down 13.7% year over year due to lower R&D revenues. Sales missed the Zacks Consensus Estimate of $139 million.
This year so far, Ionis' shares have declined 33.1% compared with the industry's decrease of 10.7%.


Image Source: Zacks Investment Research
Quarter in Detail
Ionis has licensed Spinraza to Biogen BIIB. Biogen is responsible for commercializing Spinraza, approved for treating spinal muscular atrophy, or SMA, worldwide. Ionis receives royalties from Biogen on Spinraza's sales.
Ionis earns commercial revenues, primarily royalty payments on net sales of Spinraza and R&D revenues, from partnered medicines.
Commercial revenues were $86 million in the second quarter, down 4.4% year over year.
Commercial revenues from Spinraza royalties were $72 million, flat year over. Revenues from Tegsedi and Waylivra from distribution fees were $12 million compared with $16 million in the year-ago quarter. License and royalty revenues were $2 million in the quarter same as in the year-ago quarter.
R&D revenues of $40 million declined 28.6% from the year-ago quarter due to higher milestone payments in the year-ago quarter. Ionis expects R&D revenues to be higher in the second half as its partnered programs are advancing.
Adjusted operating costs rose 2.7% year over year to $154 million in the second quarter mainly driven by higher R&D costs as the company rapidly advances its wholly-owned late-stage pipeline. SG&A expenses decreased in the quarter due to cost efficiencies realized from integrating Akcea and restructuring commercial operations.
Pipeline Update
Ionis has some pivotal phase III studies ongoing for medicines (internal as well as partnered), which include tofersen for SOD1-ALS (amyotrophic lateral sclerosis); pelacarsen for cardiovascular disease due to elevated Lp(a) levels; IONIS-APOCIII-LRx for FCS and eplontersen (formerly IONIS-TTR-LRx) for TTR polyneuropathy. Biogen and Novartis NVS are its partners for tofersen and pelacarsen. Data from the phase III VALOR study of tofersen in patients with SOD1-ALS is expected later this year.
Ionis is developing IONIS-APOCIII-LRx for FCS and eplontersen for TTR on its own in pivotal late-stage studies. It has completed enrollment in the phase III NEURO-TTRansform study of eplontersen in TTR polyneuropathy with data expected in mid-2022. Ionis is also developing eplontersen for the treatment of cardiomyopathy in the phase III CARDIO-TTRansform study. Ionis expects to begin a second phase III study of APOCIII-LRx for severe hypertriglyceridemia in the second half of 2021.
Ionis is advancing and expanding its wholly-owned pipeline to drive future revenue growth and data from several of these programs is expected in 2021/2022. The acquisition of Akcea and the restructured EU operation for Tegsedi/Waylivra has strengthened Ionis' financial position to allow it to focus on progressing its own pipeline.
Ionis is planning to advance IONIS-PKK-LRx for hereditary angioedema or HAE into a phase III study later in 2021 or early 2022. Also, Ionis initiated pivotal late-stage studies with two wholly-owned neurological disease medicines, ION363 and ION373 for patients with FUS-ALS and Alexander disease, respectively.
Ionis also has several other candidates in phase II development, which it is developing in partnership with Biogen, Roche or on its own.
Ionis expects to have 12 or more products on the market in 2026 with over half from its wholly-owned pipeline.
In July, Ionis signed an exclusive worldwide deal with small biotech Bicycle Therapeutics BCYC for exclusive access to Bicycle's proprietary platform chemistry for oligonucleotide drugs focused primarily on targeted delivery to skeletal and cardiac muscle.
2021 Guidance
Ionis maintained its 2021 total revenue guidance of more than $600 million. However, it widened its adjusted net loss expectations to less than $100 million from less than $75 million expected previously.
Adjusted operating expense are expected to be in the range of $710 million to $750 million versus $675 million to $725 million previously. R&D costs are expected to increase in the second half of the year.
Ionis currently carries a Zacks Rank #4 (Sell).
You can see the complete list of today's Zacks #1 Rank (Strong Buy) stocks here.
Ionis Pharmaceuticals, Inc. Price, Consensus and EPS Surprise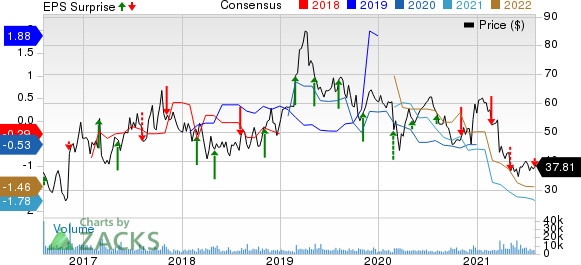 Ionis Pharmaceuticals, Inc. price-consensus-eps-surprise-chart | Ionis Pharmaceuticals, Inc. Quote
Bitcoin, Like the Internet Itself, Could Change Everything
Blockchain and cryptocurrency has sparked one of the most exciting discussion topics of a generation. Some call it the "Internet of Money" and predict it could change the way money works forever. If true, it could do to banks what Netflix did to Blockbuster and Amazon did to Sears. Experts agree we're still in the early stages of this technology, and as it grows, it will create several investing opportunities.
Zacks' has just revealed 3 companies that can help investors capitalize on the explosive profit potential of Bitcoin and the other cryptocurrencies with significantly less volatility than buying them directly.
See 3 crypto-related stocks now >>
Want the latest recommendations from Zacks Investment Research? Today, you can download 7 Best Stocks for the Next 30 Days.
Click to get this free report
Novartis AG (NVS): Free Stock Analysis Report
Biogen Inc. (BIIB): Free Stock Analysis Report
Ionis Pharmaceuticals, Inc. (IONS): Free Stock Analysis Report
Bicycle Therapeutics PLC Sponsored ADR (BCYC): Free Stock Analysis Report
To read this article on Zacks.com click here.
Zacks Investment Research