Hewlett Packard Introduces AI-Based HPE Primera Platform
Hewlett Packard Enterprise HPE recently launched its new platform — HPE Primera — based on its AI and machine learning platform, the HPE InfoSight.

The new intelligent platform will aid businesses by delivering autonomous, self-managing data storage, providing capabilities to predict and prevent issues, and accelerate application performance. The new platform will be available for order from August this year.

The HPE Primera platform seeks to eliminate the challenges faced by businesses, which strive to bring new mission-critical applications to market and innovate on existing ones.

Over the past 10 years, HPE InfoSight has analyzed application patterns across 1,250 trillion data points to prevent obstruction across storage, servers and virtual machines. This has helped it salvage more than 1.5 million hours of loss of productivity due to downtime.

What It Means for HPE

The platform will help Hewlett Packard boost the company's Storage business, which saw a revenue rise of 3.3% to $942 million in second-quarter fiscal 2019. Big data also witnessed a strong quarter, recording 25% year-over-year improvement. The company expects the recently announced acquisition of BlueData to ramp up the metric further.

With the launch of HPE Primera, the company extends its HPE Intelligent Data Platform, which helps customers transition from delivering storage to increasing business value with intelligent data. Moreover, the launch also extends Hewlett Packard's focus on SMBs (small and medium businesses).

The increase in IT spending by businesses, and the ongoing digital transformation across most industries, are fueling the continued efforts by Hewlett Packard to stay relevant in this space.

Per IDC, by the end of 2023, two-thirds of SMBs will embrace digital transformation as a key component of their IT strategies.

Moreover, Gartner expects worldwide IT spending to reach $3.8 trillion in 2019, representing an expected 3.2% increase year over year. The growth will be mainly driven by increased spending by companies toward digitization and infrastructure build-up.

In its earlier report, Gartner had indicated that major technology trends that include IoT, Big Data, AI and blockchain have been driving overall IT spending.

Currently, Hewlett Packard is the world's second-largest IT services company after Accenture ACN, generating revenues of approximately $25 billion annually.
Hewlett Packard Enterprise Company Revenue (TTM)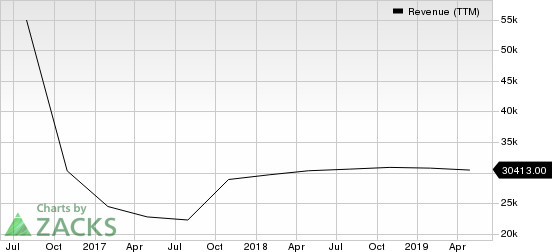 Hewlett Packard Enterprise Company revenue-ttm | Hewlett Packard Enterprise Company Quote
Zacks Rank & Other Key Picks

Hewlett Packard currently has a Zacks Rank #2 (Buy).

A couple of other top-ranked stock in the broader Computer and Technology sector are eGain Corp. EGAN and Cirrus Logic, Inc. CRUS, sporting a Zacks Rank #1 (Strong Buy). You can see the complete list of today's Zacks #1 Rank stocks here.

Long-term earnings growth for eGain and Cirrus is projected to be 30% and 15%, respectively.

This Could Be the Fastest Way to Grow Wealth in 2019

Research indicates one sector is poised to deliver a crop of the best-performing stocks you'll find anywhere in the market. Breaking news in this space frequently creates quick double- and triple-digit profit opportunities.

These companies are changing the world – and owning their stocks could transform your portfolio in 2019 and beyond. Recent trades from this sector have generated +98%, +119% and +164% gains in as little as 1 month.

Click here to see these breakthrough stocks now >>
Want the latest recommendations from Zacks Investment Research? Today, you can download 7 Best Stocks for the Next 30 Days.
Click to get this free report
Hewlett Packard Enterprise Company (HPE): Free Stock Analysis Report
eGain Corporation (EGAN): Free Stock Analysis Report
Cirrus Logic, Inc. (CRUS): Free Stock Analysis Report
Accenture PLC (ACN): Free Stock Analysis Report
To read this article on Zacks.com click here.
Zacks Investment Research