L Brands (LB) Beats on Q4 Earnings, Victoria's Secret a Drag
L Brands, Inc.'s LB fourth-quarter fiscal 2019 earnings beat the Zacks Consensus Estimate but net sales fell short of the same for the third straight quarter. Again, both the top and bottom lines continued to decline year over year.

Management highlighted that better-than-expected results at Bath & Body Works were more than offset by dismal performance at Victoria's Secret business. Further, the company provided a disappointing bottom-line view for first-quarter fiscal 2020.

As a result, shares of this specialty retailer of women's intimate and other apparel, beauty and personal care products company fell 3.4% during the after-market trading session on Feb 26. This Zacks Rank #5 (Strong Sell) stock has fallen 13% compared with the industry's decline of 37% in a year.

Weakness in the Victoria's Secret brand, which once dominated the U.S. lingerie market, has been marring the company's overall performance. L Brands is struggling to make a comeback in the wake of rising competition from intimate apparel brands like ThirdLove and Aerie.

Notably, the company has entered into a deal to sell 55% stake in the business to private equity firm Sycamore Partners for roughly $525 million. This will help simplify the company's organizational structure and focus on Bath & Body Works brand that sustained its impressive performance in the quarter under review. The company will utilize the proceeds from the sale to lower debt burden.
L Brands, Inc. Price, Consensus and EPS Surprise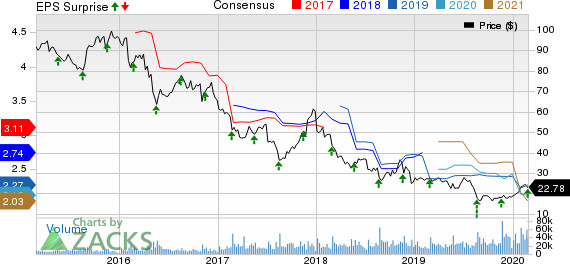 L Brands, Inc. price-consensus-eps-surprise-chart | L Brands, Inc. Quote
Detailed Quarterly Discussion

L Brands reported adjusted earnings of $1.88 per share that beat the Zacks Consensus Estimate by a couple of cents. However, the bottom line declined 12% from $2.14 reported in the prior-year period. We note that lower net sales and contraction in margins hurt the bottom line.

Net sales came in at $4,707.1 million, down 3% from $4,852.3 million reported in the prior-year period. The top line also missed the Zacks Consensus Estimate $4,709.5 million. Comparable sales declined 2% against the prior-year quarter's growth of 3%.

Total Victoria's Secret sales declined 10% to $2,275.8 million. Comparable sales fell 10% while comparable store sales declined by an equivalent rate owing to lower traffic and average unit retails. Further, total digital sales registered a decline of 8%. Comps were down mid-teens in both the lingerie business and at PINK. Victoria's Secret Beauty comps improved in the low-single digit range. We note that the segment's merchandise margin rate declined significantly.

Meanwhile, Bath & Body Works put up a stellar show. Total sales grew 11% to $2,174.8 million, with 10% rise in comparable sales and 5% improvement in comparable store sales. Management stated that the segment benefited from growth across main categories body care, home fragrance and soaps. Bath & Body Works direct channel remained sturdy, with sales up 33%. Further, merchandise margin rate declined on account of impact of tariffs and other production and sourcing pressures.

We note that L Brands' International sales came in at $177.1 million, down 7% year over year. The Bath & Body Works franchise business sustained the impressive run. However, performance at the Victoria's Secret company-owned outlets in the U.K. and China remains challenging.

L Brands' adjusted gross profit declined 7% to $1,829.1 million during the quarter. We note that gross margin contracted 170 bps to 38.9% on account of decline in the merchandise margin rate. Adjusted operating income fell 10% from the year-ago period to $806.7 million, while operating margin shriveled 140 bps to 17.1%.

SG&A expenses declined 4% to $1,022.4 million due to fall in store selling and marketing expense at Victoria's Secret and the absence of the Henri Bendel and La Senza businesses. As a percentage of net sales, SG&A expenses decreased 30 bps to 21.7%.

Store Update

As of Feb 1, 2020, company-owned stores were 2,920 including 1,091 Victoria's Secret stores, 1,739 Bath & Body Works, 21 Victoria's Secret U.K./Ireland, five PINK U.K., 41 Victoria's Secret Beauty and Accessories and 23 Victoria's Secret China.

Total non-company-owned stores were 722, including 207 Victoria's Secret Beauty & Accessories, 72 Victoria's Secret, 12 Pink and 262 Bath & Body Works stores. Further, non company-owned stores comprised 153 and 16 Travel Retail stores of Victoria's Secret Beauty & Accessories and Bath & Body Works, respectively.

Other Financial Details

L Brands ended the quarter with cash and cash equivalents of $1,498.7 million, up from the prior-year quarter's figure of $1,413.5 million. Long-term debt decreased to $5,486.9 million from $5,739.4 million a year ago. Shareholders' deficit was $1,495 million. Management incurred capital expenditures of $66.7 million in the quarter under review.

Outlook

L Brands envisions adjusted loss of 5 cents a share for first-quarter fiscal 2020. Notably, the Zacks Consensus Estimate for earnings stands at 11 cents. The company had reported earnings of 14 cents in the year-ago period. Management expects continued challenges at Victoria's Secret with flat to modest improvement in operating income at Bath & Body Works due to occupancy and supply chain pressures. The company's projection also takes into account an adverse impact of approximately 3 cents on account store closures in China due to the coronavirus outbreak.

Management forecasts low-single digit decline in first-quarter comps. Further, gross margin is expected to be almost flat year over year with deleverage in buying and occupancy to be offset by an improvement in the merchandise margin rate. SG&A expense rate is anticipated to increase considerably.

L Brands expects new product launches in Lingerie, PINK and Beauty throughout the Spring. Further, industry experts believe that Bath & Body Works brand is likely to experience another solid year. However, management has hinted that occupancy costs are likely to be under pressure in fiscal 2020 due to real estate initiative and expansion of direct channel capacity and capability. Further, the company expects margin to remain strained due to ongoing supply chain impacts related to global trade tariffs and sourcing costs.

Don't Miss These Solid Bets

Chico's FAS CHS has a long-term earnings growth rate of 15% and a Zacks Rank #1 (Strong Buy). You can see the complete list of today's Zacks #1 Rank stocks here.

Zumiez ZUMZ has a long-term earnings growth rate of 12% and a Zacks Rank #1.

Stitch Fix SFIX has a long-term earnings growth rate of 15% and a Zacks Rank #1.

Today's Best Stocks from Zacks

Would you like to see the updated picks from our best market-beating strategies? From 2017 through 2019, while the S&P 500 gained and impressive +53.6%, five of our strategies returned +65.8%, +97.1%, +118.0%, +175.7% and even +186.7%.

This outperformance has not just been a recent phenomenon. From 2000 – 2019, while the S&P averaged +6.0% per year, our top strategies averaged up to +54.7% per year.

See their latest picks free >>
Want the latest recommendations from Zacks Investment Research? Today, you can download 7 Best Stocks for the Next 30 Days.
Click to get this free report
Chico's FAS, Inc. (CHS): Free Stock Analysis Report
Zumiez Inc. (ZUMZ): Free Stock Analysis Report
L Brands, Inc. (LB): Free Stock Analysis Report
Stitch Fix, Inc. (SFIX): Free Stock Analysis Report
To read this article on Zacks.com click here.