Why CommScope (COMM) is an Enticing Pick Post Q2 Earnings
Shares of CommScope Holding Company, Inc. COMM have surged 68.4% over the past month, driven by healthy revenues on the back of a flexible business model and solid market response for cost-effective solutions. The company reported strong second-quarter 2022 results, with both the top line and the bottom line beating the respective Zacks Consensus Estimate. Backed by robust order trends, the company expects this growth momentum to continue despite supply chain headwinds, driven by industry tailwinds such as 5G and mobile network densification, indoor coverage and expansion of optical fiber networks. With healthy fundamentals, this Zacks Rank #2 (Buy) infrastructure solutions provider appears to be a promising investment option at the moment. You can see the complete list of today's Zacks #1 Rank (Strong Buy) stocks here.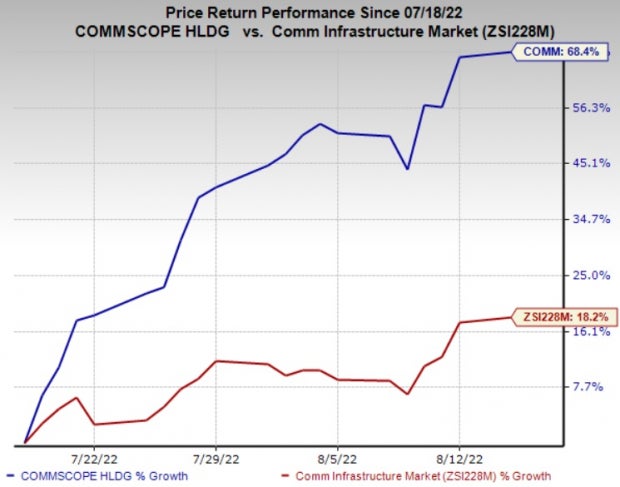 Image Source: Zacks Investment Research
Growth Drivers
Headquartered in Hickory, NC, CommScope offers wireless and fiber optic solutions for the core, access and edge layers of communication networks. Since its inception in 1976, the company has created a niche market for itself, helping customers scale network capacity, delivering better network response time and performance, and simplifying technology migration.

CommScope is focused on sound technology, a highly efficient supply chain and is committed to continuous improvement, making it a preferred partner for all telecommunications businesses as the entire industry moves toward 5G. With operators moving toward converged or multi-use network structures, combining voice, video and data communications into a single network, the company is dedicatedly developing solutions designed to support wireline and wireless network convergence, which will be essential for the success of 5G technology.

The acquisition of ARRIS has better positioned CommScope to capitalize on long-term industry growth trends, including network convergence, fiber and mobility everywhere, the Internet of Things and demand for additional bandwidth, low latency and ultra-high reliability. The combined company has created numerous cross-selling opportunities to expand into adjacent markets, offering potential revenue synergies. The buyout of the patent portfolio from Phluido, a leading provider of high-performance wireless communications, also comes as a boon, especially at a time when operators are gradually shifting from legacy networks to automated networks to address exponential data growth with an optimized infrastructure.

The company has embarked on an initiative dubbed CommScope NEXT — a multi-faceted program to drive future growth that outpaces the market, optimize business processes and unlock shareholder value. As part of this strategy, CommScope intends to separate its Home Networks business to create an independent publicly traded entity. Markedly, the tax-free spin-off will enable both CommScope and Home Networks to drive innovation while enabling the latter to focus more on go-to-market strategy and develop its own technologies for home and consumer products on the back of a resilient manufacturing model. The restructuring will also provide enough flexibility to Home Networks business with a dedicated research & development team that will be responsible for stimulating growth in a "Connected Home" future. Due to the ongoing supply chain adversities, the company has currently decided to suspend the separation plan and take an appropriate call later, depending on the market conditions.

The stock delivered an earnings surprise of 16.2%, on average, in the trailing four quarters. With a long-term earnings growth expectation of 23.9%, the stock appears to be an enticing investment option for the volatile market.
Other Key Picks
TESSCO Technologies Incorporated TESS, carrying a Zacks Rank #2, delivered an earnings surprise of 61.9%, on average, in the trailing four quarters. Earnings estimates for TESSCO for the current year have moved up 49.4% since August 2021.

TESSCO offers products to the industry's top manufacturers in mobile communications, Wi-Fi, wireless backhaul and related products. With more than three decades of experience, it delivers complete end-to-end solutions to the wireless industry.

Spirent Communications plc SPMYY carries a Zacks Rank #2. Earnings estimates for the current year for the stock have moved up 10.8% since August 2021, while that for the next year is up 11.8%.

Founded in 1936 and headquartered in Crawley, the United Kingdom, Spirent offers a comprehensive, end-to-end solution that validates forwarding performance, latency and functional capabilities in an integrated approach that reduces the cost of ownership. It is a leading provider of Ethernet validation solutions in the market.

Harmonic Inc. HLIT, sporting a Zacks Rank #1, delivered an earnings surprise of 79.8%, on average, in the trailing four quarters. Earnings estimates for Harmonic for the current year have moved up 17.1% since February 2022.

Harmonic provides video delivery software, products, system solutions and services worldwide. With more than three decades of experience, it has revolutionized cable access networking via the industry's first virtualized cable access solution, enabling cable operators to more flexibly deploy gigabit Internet service to consumers' homes and mobile devices.
Want the latest recommendations from Zacks Investment Research? Today, you can download 7 Best Stocks for the Next 30 Days.
Click to get this free report
Harmonic Inc. (HLIT): Free Stock Analysis Report
TESSCO Technologies Incorporated (TESS): Free Stock Analysis Report
CommScope Holding Company, Inc. (COMM): Free Stock Analysis Report
Spirent Communications PLC (SPMYY): Free Stock Analysis Report
To read this article on Zacks.com click here.
Zacks Investment Research