What's in Store for Northern Trust's (NTRS) Q3 Earnings?
Northern Trust Corporation's NTRS third-quarter 2021 results, scheduled for an Oct 20 release, are expected to reflect year-over-year growth in revenues and earnings.
In the last-reported quarter, the company's earnings surpassed the Zacks Consensus Estimate on the release of credit reserves. Results were positively impacted by an increase in trust, investment and other servicing fees. A rise in assets under custody and assets under management was also a driving factor. However, lower net interest income (NII) on the contraction of margin was a negative. Rising operating expenses were a major drag.
Northern Trust uses a lag effect to calculate its corporate custody and investment management fees, i.e., the computations are based on the prior-quarter end valuations. Since the performance of equity markets was impressive in the second quarter, the company might have registered gains in custody, servicing and management fees during the third quarter.
Notably, Northern Trust had a mixed earnings surprise history. It surpassed estimates in two of the trailing four quarters for as many misses, delivering an earnings surprise of 1.37%, on average.
Northern Trust Corporation Price and EPS Surprise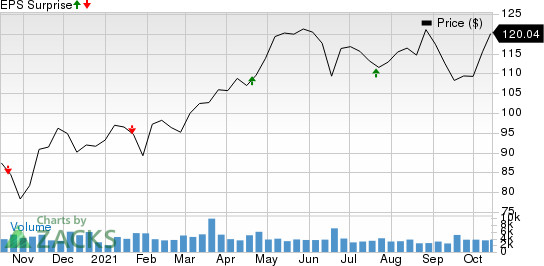 Northern Trust Corporation price-eps-surprise | Northern Trust Corporation Quote
Prior to the third-quarter earnings release, the company is witnessing downward estimate revision, indicating analysts' bearish sentiments. The earnings estimate for the current quarter has moved marginally south in the past 30 days. Nonetheless, the Zacks Consensus Estimate for the third-quarter earnings is pegged at $1.67 per share, which suggests a 26.5% increase from the year-ago reported number. Also, the consensus estimate for revenues of $1.61 billion indicates an 8.4% rise.
Here are the other factors that are likely to have influenced the company's quarterly performance:
Net Interest Income: Per the Fed's latest data, the overall lending scenario was soft during the July-September period, with weak home equity, and commercial and industrial loans. Conversely, the real estate, commercial real estate as well as consumer loan portfolios are anticipated to have offered support.
The steepening of the yield curve (the difference between short and long-term interest rates) is likely to have supported the bank's net interest margin. Though the yield on 10-year U.S. Treasury Bond of 1.49% at September-end was relatively stable on a sequential basis, the figure expanded 57 basis points from 0.92% at the end of 2020. Thus, the NII will likely get some support.
Excess liquidity, low loan yields, and low reinvestment rates on securities might have put downward pressure on earning asset yields. However, low deposit costs are expected to have been the offsetting factor.
The Zacks Consensus Estimate for average interest earning assets of $142.9 million for the quarter indicates a 10.5% year-over-year improvement, while the NII is expected to rise 2.7% to $338 million.
Fee Income: Notably, the company provides majority of its asset-management services through the Corporate and Institutional Services unit, which generates more than 50% of total revenues. An increase in revenues in this segment is anticipated to have offered some support to Northern Trust's overall top line during the to-be-reported quarter. Per the Zacks Consensus Estimate, the C&I segment's trust, investment and other servicing fees will likely go up 9.1% year over year to $638 million.
Moreover, the Zacks Consensus Estimate for security commissions and trading income as well as treasury management fees, at $31.5 million and $12 million, respectively, are likely to have moved up 21% and 3.5%, respectively, on a year-over-year basis.
Controlled Expenses: Northern Trust's expenses in the quarter are anticipated to have been under control, aided by its continued cost-saving initiatives.
Let's have a look at what our quantitative model predicts:
Northern Trust does not have the right combination of the two key ingredients — a positive Earnings ESP and Zacks Rank #3 (Hold) or higher — for increasing the odds of an earnings beat.
You can uncover the best stocks to buy or sell before they're reported with our Earnings ESP Filter.
Earnings ESP: The Earnings ESP for Northern Trust is 0.00%.
Zacks Rank: Northern Trust currently carries a Zacks Rank of 3.
Banks Worth a Look
Here are a few bank stocks that you might want to consider as these have the right combination of elements to post earnings beat in their upcoming releases, per our model.
Zions Bancorporation ZION is slated to report quarterly results on Oct 18. The company has an Earnings ESP of +2.49% and currently carries a Zacks Rank of 3. You can see the complete list of today's Zacks #1 Rank (Strong Buy) stocks here.
Fifth Third Bancorp FITB is slated to report quarterly earnings on Oct 19. The company, which carries a Zacks Rank of 2 (Buy) at present, has an Earnings ESP of +0.46%.
BankUnited, Inc. BKU is scheduled to release third-quarter results on Oct 21. The company currently carries a Zacks Rank #3 and has an Earnings ESP of +1.90%.
Infrastructure Stock Boom to Sweep America
A massive push to rebuild the crumbling U.S. infrastructure will soon be underway. It's bipartisan, urgent, and inevitable. Trillions will be spent. Fortunes will be made.
The only question is "Will you get into the right stocks early when their growth potential is greatest?"
Zacks has released a Special Report to help you do just that, and today it's free. Discover 7 special companies that look to gain the most from construction and repair to roads, bridges, and buildings, plus cargo hauling and energy transformation on an almost unimaginable scale.
Download FREE: How to Profit from Trillions on Spending for Infrastructure >>
Want the latest recommendations from Zacks Investment Research? Today, you can download 7 Best Stocks for the Next 30 Days.
Click to get this free report
Fifth Third Bancorp (FITB): Free Stock Analysis Report
Northern Trust Corporation (NTRS): Free Stock Analysis Report
Zions Bancorporation, N.A. (ZION): Free Stock Analysis Report
BankUnited, Inc. (BKU): Free Stock Analysis Report
To read this article on Zacks.com click here.