Pfizer (PFE) Inks $5.3B COVID Pill Supply Deal With U.S.
Pfizer PFE announced that it has signed a contract agreement with the U.S. government for the supply of 10 million treatment courses of its investigational oral COVID-19 drug, Paxlovid, subject to regulatory authorization from the FDA. The company has already submitted an application to the FDA seeking Emergency Use Authorization ("EUA") for the oral candidate for the treatment of mild-to-moderate COVID-19 in patients at increased risk of hospitalizations or death.
Pfizer has also initiated rolling submission seeking authorization/approval for Paxlovid in several other countries and planning to submit regulatory applications in countries across the globe.
Per the agreement with the U.S. government, Pfizer will deliver the contracted 10 million treatment courses of Paxlovid in the next few weeks of this year, following a potential EUA, as well as in 2022. In exchange, the company will receive $5.29 billion from the U.S. government.
We note that Pfizer's EUA application for Paxlovid is backed by clinical data from an interim analysis of a phase II/III study, EPIC-HR, that demonstrated that treatment with Paxlovid reduced the risk of hospitalization or death by 89% in non-hospitalized adult patients with COVID-19 at high risk of progressing to severe illness compared to placebo within three days of symptom onset.
Pfizer's Paxlovid treatment course includes its SARS-CoV-2 3CL protease inhibitor, PF-07321332, co-administered with a low dose of AbbVie's ABBV antiviral drug, ritonavir that is available under the trade name of Norvir. While Pfizer's PF-07321332 helps in inhibiting the replication of coronavirus, AbbVie's Norvir helps slow the breakdown of PF-07321332. Co-administration of PF-07321332 with Norvir allows the latter to remain active in the body for longer periods of time at higher concentrations.
AbbVie received first approval for Norvir in 1996 for treating HIV-1 infection in combination with other antiretroviral agents. AbbVie's Norvir is available in two options — oral solution and oral powder.
Pfizer's shares gained more than 1% on Thursday following the purchase deal for Paxlovid. Pizer's stock has risen 39.7% this year so far compared with an increase of 16.1% for the industry.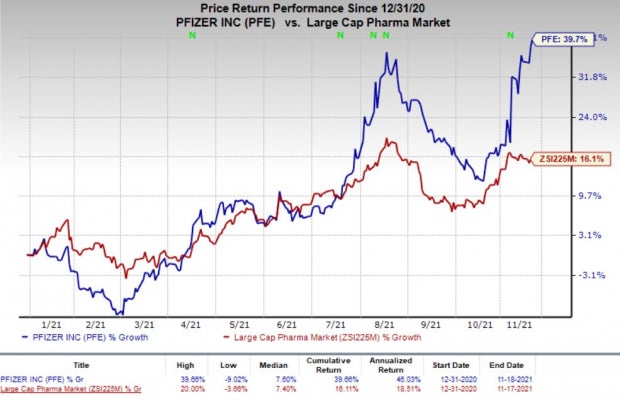 Image Source: Zacks Investment Research
Several pharma companies have joined the COVID-19 treatment space over the past year.
Glaxo GSK and Vir Biotechnology VIR are also developing a monoclonal antibody for the early treatment of COVID-19, sotrovimab. We note that Glaxo and Vir Biotechnology's sotrovimab, as an intravenous administration, was granted emergency use authorization ("EUA") by the FDA for treating mild-to-moderate COVID-19 in adult and pediatric patients in May. The intravenous drug is available with the trade name of Xevudy.
Glaxo and Vir Biotechnology also signed a contract agreement with the U.S. government for the supply of sotrovimab earlier this week for the supply of more than 750,000 doses. Meanwhile, Glaxo and Vir Biotechnology have developed an intramuscular administration option for sotrovimab and are planning to seek EUA for the same soon.
In a separate press release, Pfizer announced that the European Commission has approved a label expansion of its oral JAK inhibitor, Xeljanz, to include adults with active ankylosing spondylitis who have responded inadequately to conventional therapy. With this approval, the drug is now approved for five auto-immune disorders in Europe.
Pfizer Inc. Price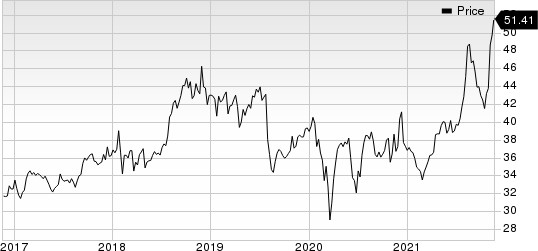 Zacks Rank
Pfizer currently has a Zacks Rank #3 (Hold). You can see the complete list of today's Zacks #1 Rank (Strong Buy) stocks here.
More Stock News: This Is Bigger than the iPhone!
It could become the mother of all technological revolutions. Apple sold a mere 1 billion iPhones in 10 years but a new breakthrough is expected to generate more than 77 billion devices by 2025, creating a $1.3 trillion market.
Zacks has just released a Special Report that spotlights this fast-emerging phenomenon and 4 tickers for taking advantage of it. If you don't buy now, you may kick yourself in 2022.
Click here for the 4 trades >>
Want the latest recommendations from Zacks Investment Research? Today, you can download 7 Best Stocks for the Next 30 Days.
Click to get this free report
GlaxoSmithKline plc (GSK): Free Stock Analysis Report
Pfizer Inc. (PFE): Free Stock Analysis Report
AbbVie Inc. (ABBV): Free Stock Analysis Report
Vir Biotechnology, Inc. (VIR): Free Stock Analysis Report
To read this article on Zacks.com click here.
Zacks Investment Research