MDU Resources (MDU) Arm Buys Mt. Hood Rock, Expands in Portland
The construction materials subsidiary of MDU Resources Group, Inc. MDU, Knife River Corporation, completed the acquisition of Mt. Hood Rock on Apr 1. Shares of the company have gained 0.4% ever since the announcement was made.

Mt. Hood Rock provides construction aggregates in the eastern Portland and has an estimated 20 years of reserves, which will enhance Knife River's presence in the market. The buyout is likely to create efficiencies and growth opportunities immediately. Producing high-quality construction aggregates, enabling vertical integration and expanding in the growing markets are essential elements of the unit's business strategy.

Prior to this, in December 2020, Knife River acquired the assets of Casper, WY-based aggregates and concrete supplier McMurry Ready-Mix Co. The deal expanded the unit's footprint in the Intermountain Region.
Capital Investment Plans
The capital expenditure of MDU Resources in 2020 was $648 million, up 1.9% year over year. The company anticipates investing $826 million in 2021 and another $3 billion from 2021 through 2025, which is properly distributed among the two platforms, namely the regulated energy delivery, and the construction materials and services.

These investments will be aimed at enhancing the reliability of the company's services, thus enabling it to serve an increasing customer base, effectively. MDU Resources anticipates its electric and natural gas utility segment to see a CAGR of 5% and expects its customer base to expand 1-2%, annually.

On the construction materials and services platform, the company will target organic growth and make opportunistic acquisitions, which will supplement its existing operations as well as boost earnings. Knife River continues to expand its operation inorganically and already completed nine acquisitions in the last three years.

Other gas distribution utilities are also expanding their operations on the back of strategic capital investment plans. These include National Fuel Gas Company NFG and Atmos Energy Corporation ATO. National Fuel Gas Company plans to invest in the range of $720-$830 million during fiscal 2021. Atmos Energy remains on track to invest in the $2-$2.2 billion band in fiscal 2021.
Zacks Rank & Another Key Pick
MDU Resources currently has a Zacks Rank #2 (Buy). You can see the complete list of today's Zacks #1 Rank (Strong Buy) stocks here.

Another stock worth considering from the same industry is Spire Inc. SR, which is carrying the same Zacks Rank as MDU Resources, currently. The company has a long-term (three-five years) earnings growth rate of 5%. Also, the Zacks Consensus Estimate for fiscal 2021 earnings has moved 2% north in the past two months.
Price Performance
In the past three months, shares of the utility have rallied 17.6%, outperforming the industry's 13.7% growth.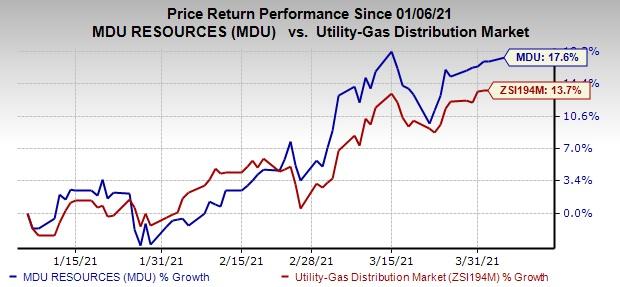 Zacks Top 10 Stocks for 2021
In addition to the stocks discussed above, would you like to know about our 10 best buy-and-hold tickers for the entirety of 2021?

Last year's 2020 Zacks Top 10 Stocks portfolio returned gains as high as +386.8%. Now a brand-new portfolio has been handpicked from over 4,000 companies covered by the Zacks Rank. Don't miss your chance to get in on these long-term buys.

AccessZacks Top 10 Stocks for 2021 today >>
Want the latest recommendations from Zacks Investment Research? Today, you can download 7 Best Stocks for the Next 30 Days.
Click to get this free report
National Fuel Gas Company (NFG): Free Stock Analysis Report
MDU Resources Group, Inc. (MDU): Free Stock Analysis Report
Atmos Energy Corporation (ATO): Free Stock Analysis Report
Spire Inc. (SR): Free Stock Analysis Report
To read this article on Zacks.com click here.
Zacks Investment Research