Signet's (SIG) Q3 Loss Narrower Than Expected, Sales Beat
Signet Jewelers Limited SIG reported third-quarter fiscal 2020 results, wherein adjusted loss was narrower than the Zacks Consensus Estimate. Moreover, the quarter marked the eighth straight sales beat. Notably, the company raised its top and bottom-line guidance for fiscal 2020. These positives seemed to have boosted investors' spirits, as is evident from the stock's 7.5% gain during the trading session on Dec 5.
Fiscal Q3 in Detail
The company reported adjusted loss of 76 cents per share, which was narrower than the Zacks Consensus Estimate of a loss of $1.07. Moreover, the figure was narrower than the year-ago quarter's reported loss of $1.06.
This jewelry retailer generated total revenues of $1,187.7 million that surpassed the Zacks Consensus Estimate of $1,138 million. However, the top line dipped 0.3% year over year. On a constant-currency (cc) basis, revenues inched up 0.2%. Although robust same-store sales contributed to the top line to some extent, adverse foreign currency movements and store closures acted as deterrents.
The company's same-store sales increased 2.1% year over year. E-commerce sales grew 11.4% from the prior-year quarter to $139.3 million. Markedly, e-commerce constituted 11.7% of total sales. Meanwhile, brick-and-mortar same-store sales inched up 0.9% from the year-ago quarter.
Adjusted gross profit fell 0.6% to $369.1 million, while adjusted gross margin remained flat with the prior-year figure of 31.1%. Cost savings related to transformation plan and increase in credit revenues offset lower merchandise margin.
Selling, general & administrative expenses were down 2.9% from the prior-year period to $398.4 million in the quarter, courtesy of reduced store staff expenses (owing to the closure of a few stores) and transformation cost savings. However, these were partly offset by higher advertising costs.
It posted adjusted operating loss of $29.3 million, narrower than a loss of $38.9 million reported in the year-ago quarter. The year-over-year improvement was driven by transformation cost savings.
Segment Discussion
Sales at the North America segment grew 0.6% on a reported basis (or 0.7% at cc) to $1,070.7 million. Same-store sales increased 2.9% from the year-ago period, owing to solid performance of Kay and Piercing Pagoda. Also, James Allen returned on growth track, recording double-digit sales improvement.
Further, same-store sales rose 2.8% in Zales, 3.8% in Kay, 12.4% in Piercing Pagoda and 15.8% in James Allen. Meanwhile, the metric declined 4.2% and 2.9% in Peoples and Jared, respectively.
Sales at the International segment declined 12.4% on a reported basis and 8.4% at cc to $106.4 million. Same-store sales at the segment dipped 5.2% from a year ago, with ATV and transaction declining 1.4% and 4.3%, respectively. Dismal same-store sales performance mainly stemmed from softness across all categories and a tough operating environment in the U.K.
Signet Jewelers Limited Price, Consensus and EPS Surprise
Financial Details
Signet — which shares space with Tiffany (TIF) in the industry — ended the quarter with cash and cash equivalents of $188.6 million, accounts receivables of $20.8 million, as well as inventories worth $2,519.4 million. Long-term debt and total shareholders' equity were $788.8 million and $1,050.7 million, respectively.
On a year-to-date basis, free cash flow amounted to $18.2 million.
For fiscal 2020, the company plans to close roughly 150 stores, with 86 store closures already completed on a year-to-date basis. Also, it intends to open 35 new stores.
Signet currently operates 3,300 stores. Further, the company anticipates capital expenditure within $135-$150 million for the fiscal year.
Markedly, the company has entered into a new senior asset-based credit facility worth nearly $1.6 billion. This five-year facility will be used to refinance all of Signet's outstanding amounts under current senior credit facilities. The new facility is likely to enhance the company's financial flexibility and entail slightly reduced interest costs.
Outlook
Management is encouraged about Signet's holiday season opportunities. The company has made significant investments across stores and websites. Moreover, it remains optimistic about strength in merchandising and marketing strategies for the holiday season. However, adverse impact owing to a shorter holiday season and ongoing challenges in the U.K. retail space remain concerns. Encouragingly, Signet is on track with its Path to Brilliance plan to improve sales and profitability in the long term.
Signet noted that tariffs will not have any impact on fiscal 2020 results, as it anticipates reduced exposure to Chinese goods by the end of the fiscal year. Further, the company still envisions inventory to be lower than fiscal 2019. Meanwhile, adjusted free cash flow is estimated to be higher than the prior year.
In March 2018, the company had announced its three-year Path to Brilliance transformation plan. In this regard, Signet continues to anticipate cost savings in the $70-$80 million band for fiscal 2020. Additionally, it continues to project cost savings within $200-$225 million from this program by the end of fiscal 2021, including savings of $85 million in fiscal 2019.
Fiscal 2020 View
For fiscal 2020, the company expects same-store sales to decline 1-1.7% year over year. Sales for the fiscal year are now projected within $6.01-$6.05 billion compared with $6-$6.03 billion expected earlier.
Adjusted operating income is anticipated in the range of $270-$280 million. The company now anticipates adjusted earnings within $3.11-$3.29 per share, up from the previous guidance range of $2.91-$3.23. Notably, the updated guidance is above the Zacks Consensus Estimate of $2.96.
Fiscal Q4 View
Signet also provided fourth-quarter fiscal 2020 guidance. Sales are projected in the band of $2.03-$2.07 billion. This view includes a negative impact of $55 million owing to store closures. Also, same-store sales are projected to decline 2-4% year over year. Moreover, the company envisions adjusted operating income within $222-$232 million. Finally, Signet anticipates adjusted earnings per share in the $3.01-$3.16 range, indicating a decline from $3.96 reported in the year-ago period. The current consensus mark for the same is pegged at $3.09. .
The guidance for both fourth quarter and fiscal 2020 includes adverse revenue impact of store closures and pre-tax charges related to the company's transformation plan.
Price Performance
Notably, shares of this Zacks Rank #3 (Hold) company have gained 12.8% compared with the industry's 45.1% rally.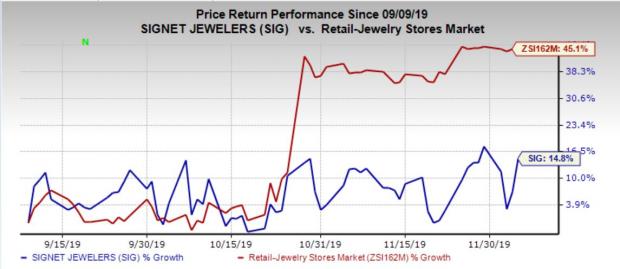 Don't Miss These Solid Retail Stocks
Boot Barn Holdings BOOT has an expected long-term earnings growth rate of 15%. It currently sports a Zacks Rank #1 (Strong Buy). You can see the complete list of today's Zacks #1 Rank stocks here.
DICK'S Sporting Goods DKS, also a Zacks Rank #1 stock, has an expected long-term earnings growth rate of 6.5%.
Just Released: Zacks' 7 Best Stocks for Today
Experts extracted 7 stocks from the list of 220 Zacks Rank #1 Strong Buys that has beaten the market more than 2X over with a stunning average gain of +24.6% per year.
These 7 were selected because of their superior potential for immediate breakout.
See these time-sensitive tickers now >>
Want the latest recommendations from Zacks Investment Research? Today, you can download 7 Best Stocks for the Next 30 Days.
Click to get this free report
Tiffany & Co. (TIF): Free Stock Analysis Report
Signet Jewelers Limited (SIG): Free Stock Analysis Report
DICK'S Sporting Goods, Inc. (DKS): Free Stock Analysis Report
Boot Barn Holdings, Inc. (BOOT): Free Stock Analysis Report
To read this article on Zacks.com click here.