Buy Walmart (WMT) Stock After Q1 Earnings on Delivery & E-commerce Strength?
Walmart WMT released its first-quarter fiscal 2020 financial results before the opening bell on Thursday. The retail powerhouse topped earnings estimates and posted its strongest Q1 comparable sales growth in nine years. Yet, the possibility of higher, more wide-ranging tariffs on China could force Walmart to raise prices. With that said, let's see if investors should consider buying WMT stock as Walmart ramps up its fight against Amazon AMZN.
Quick Q1 Overview
Walmart posted adjusted Q1 earnings of $1.13 per share, which easily beat our $1.02 a share Zacks Consensus Estimate. Investors should note that the company's earnings slipped from the year-ago period's $1.14 per share, but Wall Street was expecting a drop off as its Flipkart acquisition and growth-focused spending eats into profits. The company's first-quarter fiscal 2020 revenue climbed 1.2% to reach $123.9 billion and fall short of our $125.33 billion estimate.
Meanwhile, Walmart's U.S. comp sales jumped 3.4%. This represented the firm's strongest Q1 growth in this vital retail category in nine years, and the fourth straight period of 3% or greater comps expansion.
Furthermore, the Bentonville, Arkansas-based company's U.S. e-commerce sales soared 37% on the back of impressive online grocery sales, along with its home and fashion units. Walmart's first-quarter e-commerce strength came after the company posted 40% growth in fiscal 2019. Last quarter, executives said they expect U.S. e-commerce sales to climb around 35% in 2020.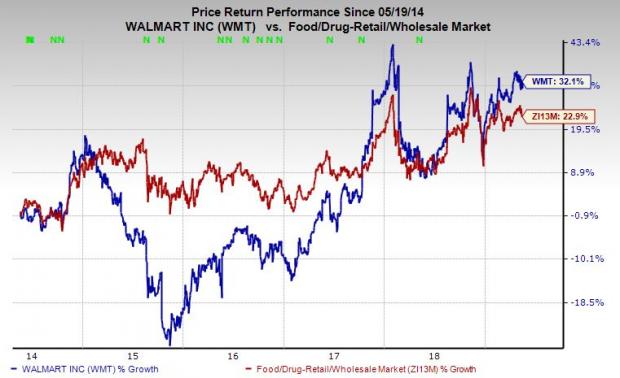 Growth Plans
Over the last serval years, Walmart has revved up its digital commerce business alongside rivals such as Target TGT, Costco COST, and Kroger KR. This includes an array of delivery and at-store pick-up options. Walmart currently offers free two-day shipping and is on track to offer same-day grocery delivery from 1,600 stores by end of this year. Walmart also announced earlier this week, ahead of earnings, that it will roll out a free next-day delivery option, with no membership fee on eligible orders of $35 or more.
Walmart.com shoppers will be able to select from up to 220,000 of the most commonly purchased items through its NextDay program. The company is set to introduce the offering in Phoenix and Las Vegas, before expanding to Southern California. "It will roll out gradually over the coming months, with a plan to reach approximately 75% of the U.S. population this year, which includes 40 of the top 50 major U.S. metro areas," CEO of Walmart eCommerce U.S. Marc Lore wrote in a blog post Tuesday.
The move follows Amazon's recent commitment to reduce its free two-day shipping for Prime members to one-day. Aside from its delivery expansion, Walmart has bought up smaller e-commerce companies and retail brands in an effort to expand its consumer base. This list includes Jet.com, ModCloth, Bonobos, and Moosejaw. Not to mention, Walmart now owns roughly 77% of one of India's largest e-commerce sites. Walmart's Flipkart-heavy push into India might help the company expand even further down the road.
Outlook
Walmart, like other retailers, has benefitted from a strong U.S. economy and the firm had largely been able to avoid any real negative impact from the U.S. and China trade war since the initial tariffs focused more so on industrial and agricultural products. But company executives had to address new concerns as President Trump talks about broadening the scope of tariffs on nearly all Chinese imports. "We're monitoring the tariff discussions and are hopeful that an agreement can be reached," CFO Brett Biggs said in prepared remarks. However, he told reporters, "Increased tariffs will lead to increased prices for our customers."
Obviously, higher prices would be bad news for Walmart because its customers are more price-sensitive than some of its peers. With that said, it's still too early to speculate on the situation. Let's instead look ahead.
Walmart's adjusted full-year earnings are projected to slip roughly 3% to $4.76 per share, despite an expected 2.7% top-line expansion. With that said, these figures could climb—especially based on its strong bottom-line beat—as analysts update their outlooks over the next several days.

Bottom Line
Walmart stock closed regular trading Thursday up 1.43% at $101.31 per share, down only slightly from its 52-week intraday trading high of $106.21. Overall, shares of WMT are up over 9% in 2019, to outpace its industry's 5% average climb.
Walmart is currently a Zacks Rank #2 (Buy) that also sports an "A" grade for Growth and "Bs" for Value and Momentum in our Style Scores system. WMT is currently trading at 20.7X forward 12-month Zacks Consensus EPS estimates, which represents a premium compared to its industry's 17.4X average and is far above its own ten-year median of 14.2X. And its 0.57 price/sales ratio comes in well above its industry's 0.24 average. Therefore, Walmart's valuation picture appears somewhat stretched at the moment.
Nonetheless, Walmart is a dividend payer that has constantly raised its payout. The company currently pays an annualized dividend of $2.12 a share, with a 2.12% yield. In the end, Walmart is one of the largest companies in the world and has made many moves that should help it remain a giant for years to come.
Radical New Technology Creates $12.3 Trillion Opportunity

Imagine buying Microsoft stock in the early days of personal computers… or Motorola after it released the world's first cell phone. These technologies changed our lives and created massive profits for investors.

Today, we're on the brink of the next quantum leap in technology. 7 innovative companies are leading this "4th Industrial Revolution" - and early investors stand to earn the biggest profits.

See the 7 breakthrough stocks now>>
Want the latest recommendations from Zacks Investment Research? Today, you can download 7 Best Stocks for the Next 30 Days.
Click to get this free report
Amazon.com, Inc. (AMZN): Free Stock Analysis Report
Costco Wholesale Corporation (COST): Free Stock Analysis Report
Target Corporation (TGT): Free Stock Analysis Report
Walmart Inc. (WMT): Free Stock Analysis Report
The Kroger Co. (KR): Free Stock Analysis Report
To read this article on Zacks.com click here.
Zacks Investment Research