Exelon (EXC) Gets Nod to Continue Illinois Nuclear Plants
Exelon Corporation EXC announced that its unit Exelon Generation is preparing to refuel Byron and Dresden nuclear plants and continue their operation, courtesy of positive action taken by the Illinois legislature. The new legislation will strengthen Illinois' clean energy leadership by approving $700 million in subsidies to the company over five years for generating carbon-free power from its nuclear power plants.

Exelon was scheduled to shut down the Byron nuclear plant in September 2021 and Dresden Generating Station in November 2021 as it was facing a revenue shortfall of millions of dollars because of energy market rules that allow fossil fuel plants to underbid clean resources in regional electricity markets. These two nuclear power plants together produce more than 4,300 megawatts (MW) of clean energy. Competition from natural gas and renewables along with low energy prices were making it difficult for Exelon to operate the nuclear power plants.

Per Chicago Tribune, this package is expected to increase power bills for the average residential customer of Illinois by $4.50 per month. This decision will no doubt increase the monthly utility bills of customers but at the same time will ensure the continuation of emission-free generation from the power plants, which will assist Illinois to become a carbon emission-free electric grid by 2045.
Clean Power Generation
While the operation of nuclear power plants creates toxic wastes, it is environment friendly as these generate emission-free electricity. More than 60% of Illinois' electricity consumption and approximately 90% of its carbon-free energy comes from Exelon Generation's six nuclear plants in the state.

Since the nuclear power plants produce emission-free electricity, the shut-down of the same will mean adding more fossil fuel-based power units to the system that will create emissions. So, the decision taken by the Illinois legislature to support the troubled nuclear power plants can encourage other states of the United States to support their nuclear power units, much the same way it supports renewable power production through Investment Tax Credits and Production Tax Credits.

Another utility Entergy Corporation ETR, among others, is producing 7,000 MW of nuclear power from its national ¬feet of seven reactors in six locations and providing clean energy to more than 3.5 million homes across the United States.
Future of Nuclear Power Plants
Per the U.S. Energy Information Administration ("EIA"), at December 2020-end, the United States had 94 operating commercial nuclear reactors at 56 nuclear power plants in 28 states. Per EIA, the nuclear power plants operating in the United States contributed nearly 20% to total electricity generated in the country.

In February 2012, the U.S. Nuclear Regulatory Commission (NRC) voted to approve The Southern Company's SO application to build and operate two new reactors, Units 3 and 4, at its Vogtle plant in Georgia. These reactors are expected to start operation between 2021 and 2022. The new Vogtle reactors are the first new reactors to receive construction approval from NRC in more than three decades.

Per Clean Air Task Force, nine nuclear reactors have prematurely retired in the United States in 2012 due to competition, and low prices of energy offered from natural gas and renewables. Nonetheless, if the government continues to support the nuclear power plants, these can provide 24x7 reliable emission-less electricity to millions of customers across the United States.
Price Performance
In the past six months, Exelon's shares have gained 16.6% compared with the industry's growth of 4.2%.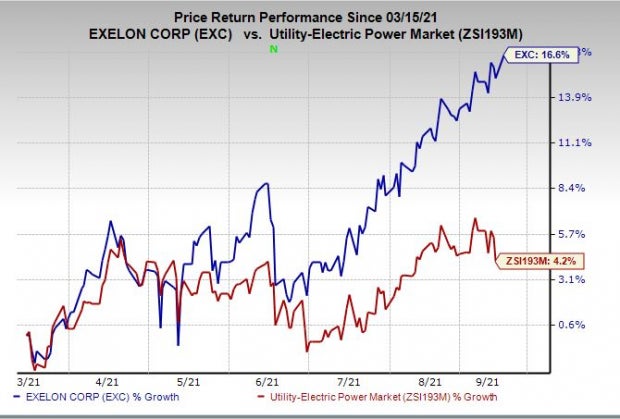 Image Source: Zacks Investment Research
Zacks Rank & Another Key Pick
Exelon currently sports a Zacks Rank of 1 (Strong Buy). Another top-ranked stock in the same industry is Otter Tail Corporation OTTR, sporting a Zacks Rank #1 at present. You can see the complete list of today's Zacks #1 Rank stocks here.

Otter Tail delivered an average positive surprise of 31.8% in the last four quarters. The Zacks Consensus Estimate for 2021 earnings moved up 39.2% in the past 60 days to $3.55 per share.
Tech IPOs With Massive Profit Potential
In the past few years, many popular platforms and like Uber and Airbnb finally made their way to the public markets. But the biggest paydays came from lesser-known names.
For example, electric carmaker X Peng shot up +299.4% in just 2 months. Think of it this way…
If you had put $5,000 into XPEV at its IPO in September 2020, you could have cashed out with $19,970 in November.
With record amounts of cash flooding into IPOs and a record-setting stock market, this year's lineup could be even more lucrative.
See Zacks Hottest Tech IPOs Now >>
Want the latest recommendations from Zacks Investment Research? Today, you can download 7 Best Stocks for the Next 30 Days.
Click to get this free report
Exelon Corporation (EXC): Free Stock Analysis Report
Southern Company The (SO): Free Stock Analysis Report
Entergy Corporation (ETR): Free Stock Analysis Report
Otter Tail Corporation (OTTR): Free Stock Analysis Report
To read this article on Zacks.com click here.