Prologis (PLD) Surpasses Q1 FFO Estimates, Raises 2021 View
Prologis, Inc. PLD has reported first-quarter 2021 core funds from operations (FFO) per share of 97 cents, beating the Zacks Consensus Estimate of 94 cents. Results also compare favorably with the year-ago quarter's figure of 83 cents.

The better-than-expected performance was driven by decent growth in rental income. Further, the industrial REIT has raised its 2021 outlook on the strength of its results and the market.

Prologis generated rental revenues of $1,021.7 million, up from $878.8 million in the prior-year quarter. The Zacks Consensus Estimate for the same was pegged at $994.9 million. Total revenues were $1.15 billion, up from $978.2 million in the year-ago quarter.

Per Hamid R. Moghadam, chairman and CEO of the company, "The robust demand from the fourth quarter has carried into 2021." He also added, "Global supply chains are pushing to keep pace with accelerating economic activity, retooling for faster fulfillment and resilience. With our well-positioned portfolio, differentiated customer offerings and abundant investment capacity, we expect to continue to outperform while delivering exceptional customer service."

With respect to the company's guidance, Thomas S. Olinger, the chief financial officer noted, "Year-over-year Core FFO growth, excluding promotes, is sector-leading at 12.0 percent at the midpoint, while generating $1.25 billion of free cash flow after dividends."
Quarter in Detail
Average occupancy level in Prologis' owned-and-managed portfolio was 95.4% in the first quarter, down 40 basis points (bps) from fourth-quarter 2020 but it is consistent with seasonality. In the quarter under review, 43.9 million square feet of leases commenced in the company's owned and managed portfolio, with 39.0 million square feet in the operating portfolio and 4.8 million square feet in the development portfolio. Retention level was 69.1% in the quarter, marking a contraction of 930 bps from the prior quarter.

Prologis' share of net effective rent change was 27.0% in the January-March quarter, driven by the United States at 32.0%. Cash rent change was 12.5%. Cash same-store net operating income (NOI) grew 4.5% and was driven by the United States at 4.8%.

The company's share of building acquisitions amounted to $71 million, with a weighted average stabilized cap rate of 5.0% in the reported quarter. Development stabilization aggregated $396 million, while development starts totaled $575 million, with 60.6% being build-to-suit. Furthermore, the company's total dispositions and contributions were at $654 million, with a weighted average stabilized cap rate (excluding land and other real estates) of 4.5%.
Liquidity
Prologis exited first-quarter 2021 with cash and cash equivalents of $676.07 million, up from $598.1 million at the end of fourth-quarter 2020. Debt, as a percentage of total market capitalization, was 18.6%. The company's weighted average rate on its share of total debt was 1.8%, with a weighted average term of 10.6 years.

Prologis's strategic measures in the first quarter helped it lower the weighted average interest rate by 20 bps and address its unsecured bond maturities through 2026.

Notably, the company and its co-investment ventures issued $3.5 billion of debt in first-quarter 2021, at a weighted average interest rate of 0.96% and a weighted average term of roughly 11 years. This included $2.6 billion in global bond raises and a €500-million green bond.

The combined investment capacity of Prologis and its open-ended vehicles, in line with their current credit ratings, is now at $14 billion.
Outlook
Prologis has revised its 2021 core FFO per share guidance to $3.96-$4.02 from $3.88-$3.98 mentioned earlier. Notably, the Zacks Consensus Estimate for the same is pegged at $3.95.

The company expects average occupancy of 96.25-96.75%, up 50 bps at the mid-point from the previously stated range. Cash same-store NOI (Prologis share) is projected at 4.5-5.0%, up 75 bps at the mid-point from the previously mentioned figure.

Moreover, the company anticipates $600-$800 million of building acquisitions at Prologis share compared with $400-$800 million stated earlier. Development starts are expected to be $2,750-$3,050 million compared with $2,300-$2,700 million mentioned earlier.

Prologis currently carries a Zacks Rank #3 (Hold). You can see the complete list of today's Zacks #1 Rank (Strong Buy) stocks here.
Prologis, Inc. Price, Consensus and EPS Surprise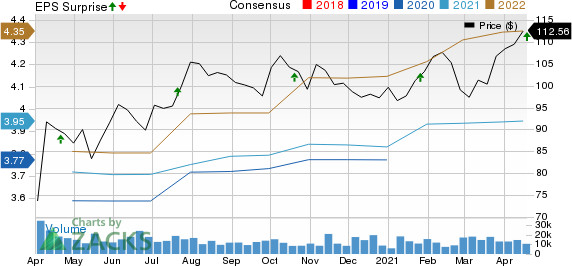 Prologis, Inc. price-consensus-eps-surprise-chart | Prologis, Inc. Quote
We now look forward to the earnings releases of other REITs, including Crown Castle International Corp. CCI, SL Green Realty Corp. SLG and Alexandria Real Estate Equities, Inc. ARE. While Crown Castle and SL Green are slated to release their first-quarter 2021 results on Apr 21, Alexandria Real Estate is scheduled to post its earnings on Apr 26.

Note: Anything related to earnings presented in this write-up represents funds from operations (FFO) — a widely used metric to gauge the performance of REITs.
Zacks Top 10 Stocks for 2021
In addition to the stocks discussed above, would you like to know about our 10 best buy-and-hold tickers for the entirety of 2021?

Last year's 2020 Zacks Top 10 Stocks portfolio returned gains as high as +386.8%. Now a brand-new portfolio has been handpicked from over 4,000 companies covered by the Zacks Rank. Don't miss your chance to get in on these long-term buys.

Access Zacks Top 10 Stocks for 2021 today >>
Want the latest recommendations from Zacks Investment Research? Today, you can download 7 Best Stocks for the Next 30 Days.
Click to get this free report
Prologis, Inc. (PLD): Free Stock Analysis Report
Crown Castle International Corporation (CCI): Get Free Report
SL Green Realty Corporation (SLG): Get Free Report
Alexandria Real Estate Equities, Inc. (ARE): Free Stock Analysis Report
To read this article on Zacks.com click here.
Zacks Investment Research