MarketAxess (MKTX) Unveils MKTX 400 Index With High Liquidity
MarketAxess Holdings Inc. MKTX recently launched its first tradable index to present its traders with actionable data solutions for the fixed income market. The company introduced the MKTX U.S. investment grade 400 corporate bond index or MKTX 400 Index.
The index will track 400 U.S. dollar-denominated investment grade corporate bond performance. These bonds are expected to have more liquidity than the market average. MKTX is utilizing its Relative Liquidity Score combined with an A.I. powered predictive pricing engine, Composite+™, in this new index.
The company expects this move to boost transparency, leveraging its proprietary data sources, while presenting an index with better liquidity in a fixed income market that is relatively less liquid. This can be a gamechanger for the market, which is traditionally fragmented in nature. The new MKTX 400 Index can reduce costs and enhance market participation and tradability with the help of its real-time pricing capabilities, liquidity assessment, and valuation.
MarketAxess keeps introducing new products and modifying the existing ones to expand the product portfolio, which can lead to higher bond trading volumes. With the ongoing economic revival and lower credit market volatility, bond trading is somewhat tapered down, which can weigh on the company's commission revenues. As such, the recent move will likely help MKTX boost volumes. As increasing costs are putting pressure on its profits, furnishing new and unique products will provide MarketAxess with a competitive advantage, which in turn can benefit the bottom line.
Earlier this month, it launched Axess All Prints, adding to its existing intra-day fixed income tape with real-time transacted price service. Axess All Prints will work with the most actively traded debt instruments in the United Kingdom and the European Union. This new addition will provide real-time trade-by-trade pricing data and publish prices on more than 15,000 executed trades across almost 4,250 unique instruments for a day of trading.
Price Performance
MarketAxess' shares have declined 30.9% in the past year against the 7% rise of the industry it belongs to.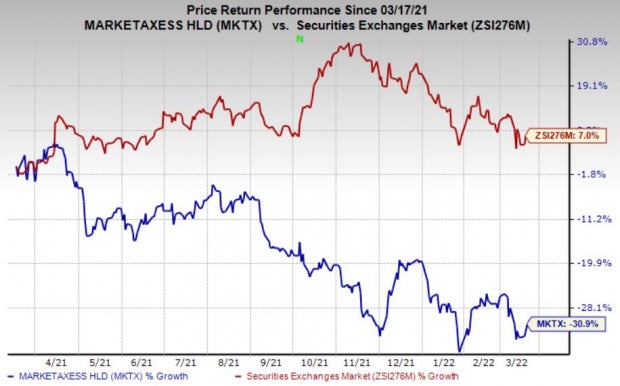 Image Source: Zacks Investment Research
Zacks Rank & Key Picks
MarketAxess currently has a Zacks Rank #3 (Hold). Some better-ranked stocks in the broader Finance space include Gladstone Capital Corporation GLAD, Alerus Financial Corporation ALRS and PhenixFIN Corporation PFX, each carrying a Zacks Rank #2 (Buy). You can see the complete list of today's Zacks #1 Rank (Strong Buy) stocks here.
Gladstone Capital operates as a business development company and works with small and medium-sized companies. Based in McLean, VA, Gladstone Capital's bottom line for the current year is expected to rise 8.9% year over year to 86 cents per share. GLAD beat earnings estimates once, met twice and missed on one occasion in the last four quarters, with an average surprise of 7.6%.
Alerus Financial delivers financial products and services to businesses and consumers. Based in Grand Forks, ND, ALRS' bottom line for 2022 has witnessed three upward revisions and no movement in the opposite direction in the past 60 days. Alerus Financial beat earnings estimates in each of the last four quarters, with an average of 34.6%.
PhenixFIN invests in debt and equity securities of small and middle-market companies. The consensus mark for PFX's 2022 earnings has improved 93.3% in the past 30 days. Headquartered in New York, PhenixFIN beat earnings estimates thrice in the last four quarters.
7 Best Stocks for the Next 30 Days
Just released: Experts distill 7 elite stocks from the current list of 220 Zacks Rank #1 Strong Buys. They deem these tickers "Most Likely for Early Price Pops."
Since 1988, the full list has beaten the market more than 2X over with an average gain of +25.4% per year. So be sure to give these hand-picked 7 your immediate attention.
See them now >>
Want the latest recommendations from Zacks Investment Research? Today, you can download 7 Best Stocks for the Next 30 Days.
Click to get this free report
MarketAxess Holdings Inc. (MKTX): Free Stock Analysis Report
Gladstone Capital Corporation (GLAD): Free Stock Analysis Report
Alerus Financial (ALRS): Free Stock Analysis Report
PhenixFIN Corporation (PFX): Free Stock Analysis Report
To read this article on Zacks.com click here.
Zacks Investment Research