Bristol-Myers (BMY) Down 11.6% YTD: What Lies Ahead in 2H19?
Shares of Bristol-Myers Squibb Company BMY have declined 11.6% in the year so far against the industry growth of 2.3%.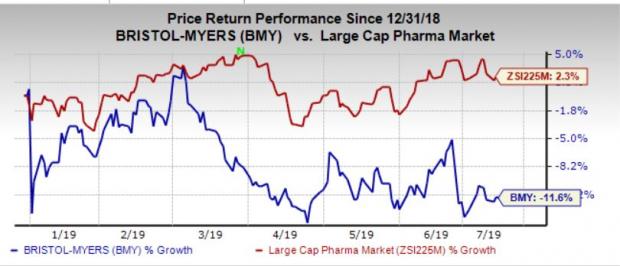 The year started off on an impressive note for the company as it announced the acquisition of biotech company Celgene Corp. CELG for $74 million.
However, the acquisition earlier was being opposed by a few large shareholders (Wellington and Starboard) of Bristol-Myers, expressing multiple concerns regarding growth of the company following the acquisition. These shareholders were of the opinion that the acquisition will increase shareholders' risk significantly, without generating enough rewards. They were concerned that Celgene's major revenue generator drug, Revlimid, will lose patent protection in 2026, which is likely to dent its sales.
Lack of any other blockbuster drug in the company's portfolio was another major concern for the shareholders. Moreover, Starboard raised questions on the performance of Bristol-Myers' management. The acquisition was finally given a green signal a couple of months back.
Meanwhile, Bristol-Myers now needs to sell one of Celgene's blockbuster drugs, Otezla, to complete the impending merger on a timely basis in light of concerns expressed by the U.S. Federal Trade Commission (FTC).
We remind investors that the company has a tyrosine kinase 2 (TYK2) inhibitor, BMS-986165, in its pipeline, which is being evaluated in several autoimmune diseases, including psoriasis. The regulatory agency was concerned about a possible overlap between Otezla and BMS-986165 in the pipeline.
The news was not welcomed by the investors as Otezla raked in more than $1.6 billion of sales in 2018 and was one of the key growth drivers for Celgene. Sales of the drug are expected to come in around $1.9 billion in 2019 and retaining the same would have enabled Bristol-Myers to develop a strong inflammation portfolio along with its rheumatoid arthritis drug, Orencia.
Hence, Bristol-Myers decided to sell Otezla.
Moreover, the company now expects to complete the merger by the end of 2019 or beginning of 2020.
The divestiture of the drug also puts a question mark on the targeted synergies and anticipated sales of the combined company, per Bristol-Myers.
The company was on the lookout for an acquisition for quite some time now to bolster its portfolio. Bristol-Myers' top drug, Opdivo, competes with Merck's MRK Keytruda in the anti PD-1/PD-L1 category.
Additionally, competition is rising in this category with the presence of Roche's RHHBY Tecentriq. Both Keytruda and Tecentriq are approved for first-line non-small cell lung cancer ("NSCLC"), which has the largest patient population among all cancer indications.
The uncertainty and delay of the Celgene merger will likely remain an overhang on the shares until completion.
Zacks Rank
Bristol-Myers currently has Zacks Rank #4 (Sell). You can see the complete list of today's Zacks #1 Rank (Strong Buy) stocks here.
More Stock News: This Is Bigger than the iPhone!
It could become the mother of all technological revolutions. Apple sold a mere 1 billion iPhones in 10 years but a new breakthrough is expected to generate more than 27 billion devices in just 3 years, creating a $1.7 trillion market.
Zacks has just released a Special Report that spotlights this fast-emerging phenomenon and 6 tickers for taking advantage of it. If you don't buy now, you may kick yourself in 2020.

Click here for the 6 trades >>
Want the latest recommendations from Zacks Investment Research? Today, you can download 7 Best Stocks for the Next 30 Days.
Click to get this free report
Roche Holding AG (RHHBY): Free Stock Analysis Report
Merck & Co., Inc. (MRK): Free Stock Analysis Report
Bristol-Myers Squibb Company (BMY): Free Stock Analysis Report
Celgene Corporation (CELG): Free Stock Analysis Report
To read this article on Zacks.com click here.
Zacks Investment Research