Cognizant (CTSH) Expands Partnership With Centrica in UK
Cognizant Technology Solutions CTSH recently announced that it has extended its partnership with the U.K's energy service provider Centrica to provide services such as application testing and management of its IT infrastructure landscape.
Cognizant partnered with Centrica back in 2005 with a broad range of consulting, Artificial Intelligence (AI) and Analytics Practice, data, cloud and digital engineering services. The two companies recently signed a new contract, under which Cognizant will provide a combination of application, non-production environment management and testing, and cloud infrastructure support. This will address Centrica's need for accelerated digital transformation, agility, speed and infrastructure security.
Cognizant has been constantly expanding its partner base by signing multi-year deals with firms like Organon and Albertsons Companies. This has helped CTSH to drive its revenue growth with constant client acquisitions.
The energy market is facing extreme volatility, specifically in Europe due to Russia cutting gas supplies. Amidst such volatility, Cognizant has extended its partnership with Centrica to provide a cost-effective digital solutions service, which will aid in the reduction of operating costs.
Cognizant Technology Solutions Corporation Price and Consensus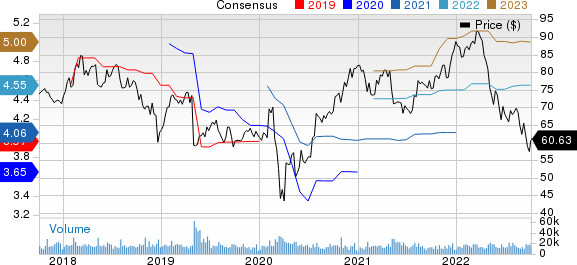 Cognizant Technology Solutions Corporation price-consensus-chart | Cognizant Technology Solutions Corporation Quote
Cognizant Expanding Partner Base to Drive Top Line
Cognizant is experiencing significant growth in its digital business operations, which is outgrowing the BPO market, thus reflecting momentum in AI, alternate reality, automation, blockchain, IoT, quantum computing and as-a-service solutions.
Cognizant's recent investments in building its digital business model have provided a lofty return on investments, which contributed to its top-line growth.
In the second quarter of 2022, revenues of $4.9 billion grew 9.5% at constant currency (cc). The growth was led by digital revenues, which accounted for 50% of revenues and increased 13% year over year.
However, Cognizant's shares have been negatively impacted by the current macroeconomic situation and geopolitical tensions. Various factors like labor cost inflationary pressure, interest rate hikes by the U.S. Federal Reserve and the Russia-Ukraine war have negatively impacted its outlook.
Shares of Cognizant have lost 31.7% year to date compared with the Zacks Business-Software Servicesindustry's decline of 36.3%.
Further complicating the situation, Cognizant is also facing a significant threat in the AI industry and the cloud space from companies like International Business Machines IBM and Accenture ACN.
IBM is poised to benefit from strong demand for hybrid cloud and AI, which will drive its top-line growth. IBM recently expanded its collaboration with the U.S. federal government to address current problems like cybersecurity and supply chain sustainability via its data fabric solutions and IBM Watson.
Accenture is improving its market share in the industry with its recent acquisition of digital engineering and operational technology from Trancom ITS. This will help Accenture provide customers with cloud-based logistics systems and merge warehouse operations with IoT and sensor technology.
However, Cognizant, currently carrying Zacks Rank #2 (Buy), has reflected solid growth in its Product and Resources, Communications, Media & Technology and Healthcare business segments, specifically in the U.K. You can see the complete list of today's Zacks #1 Rank (Strong Buy) stocks here.
The company has been building a strong partner base to develop solutions to bring digitization to industries that have been slow in adopting digitization, automation and cloud services, like the healthcare industry.
Cognizant has been strategically partnering with tech giant Microsoft MSFT to capitalize on the opportunity of intersection between health and cloud services.
Cognizant has collaborated with Microsoft to leverage its Cloud for Healthcare solution and build a new solution to aid in remote patient monitoring for improved medical care.
In the product and resources business segment, revenues grew 11.6% year over year in cc driven by automotive, logistics and retail. Cognizant's recent partnership expansion with Centrica reflects the company's strategy to benefit from the rising demand for its services in the U.K. In the second quarter, growth was led internationally by the U.K. which grew 25% year over year.
Cognizant expects third-quarter 2022 revenues to be between $4.98 billion and $5.03 billion, indicating growth of 7.5-8.5% on a cc basis. For the third quarter, the Zacks Consensus Estimate for revenues is pegged at $5.01 billion, indicating year-over-year growth of 5.64%.
Zacks Names "Single Best Pick to Double"
From thousands of stocks, 5 Zacks experts each have chosen their favorite to skyrocket +100% or more in months to come. From those 5, Director of Research Sheraz Mian hand-picks one to have the most explosive upside of all.
It's a little-known chemical company that's up 65% over last year, yet still dirt cheap. With unrelenting demand, soaring 2022 earnings estimates, and $1.5 billion for repurchasing shares, retail investors could jump in at any time.
This company could rival or surpass other recent Zacks' Stocks Set to Double like Boston Beer Company which shot up +143.0% in little more than 9 months and NVIDIA which boomed +175.9% in one year.
Free: See Our Top Stock And 4 Runners Up
Want the latest recommendations from Zacks Investment Research? Today, you can download 7 Best Stocks for the Next 30 Days.
Click to get this free report
Microsoft Corporation (MSFT): Free Stock Analysis Report
Accenture PLC (ACN): Free Stock Analysis Report
International Business Machines Corporation (IBM): Free Stock Analysis Report
Cognizant Technology Solutions Corporation (CTSH): Free Stock Analysis Report
To read this article on Zacks.com click here.
Zacks Investment Research