Is Cisco (CSCO) Still a Buy After Hitting 18-Year High?
Shares of Cisco CSCO surged as much as 5.1% higher on Thursday, the day after the storied multinational conglomerate reported its Q4 earnings. The firm beat estimates on both the top and bottom line, helping bring its stock price to an 18-year high.
After this solid run, some investors may want to realize their gains, but it seems that this old dog truly can learn new tricks. But does this mean Cisco is still a compelling buy at this new high? Let's take a closer look.
By the Numbers
Wednesday's results marked its third-straight quarter of revenue growth, a welcome trend for Cisco, which had previously endured a two-year decline in topline performance. Cisco posted non-GAAP earnings of $0.70 per share, beating our Zacks Consensus Estimate by a penny and representing 14.7% year-over-year growth. Revenues rose 6% YoY to $12.84 billion, surpassing our estimate of $12.76 billion. Moreover, Cisco saw an 8% YoY net income boost to $3.3 billion.
Product sales, which account for 54% of Cisco's total revenue, jumped 7% to reach $9.64 billion. Sales in Cisco's services segment, which represented the remaining 46%, grew 3% to hit $3.2 billion.
Geographically, Cisco saw an 8% revenue jump in the Europe, Middle East, and Africa region, 6% in the Asia-Pacific, Japan, & Greater China, and 5% in the Americas.
Cisco's product revenue was a key highlight. The company posted a 12% surge in security growth, along with 10% in applications, and 7% in infrastructure platforms. Investors should note that infrastructure platforms makeup Cisco's largest segment, and accounted for about 58% of Q4 revenues.
(For more a detailed breakdown of Cisco's earnings release, also read: Cisco Surpasses Q4 Earnings & Revenues Estimates)
Bright Future Prospects
Cisco has continuined to expand through strategic investments, acquisitions, and other key initiatives. In Q4, Cisco closed its transaction with Accompany, a private AI-driven relationship intelligence platform. Moreover, Cisco announced its plans to acquire July Systems and Duo Security, moves that will bolster its cloud and security capabilities.
Cisco is the largest player in the networking space, maintaining a solid foothold in the router and switch market, as well as in the data center business. Cisco is currently focusing on wireless carrier network development, making multiple acquisitions as it positions itself to become a leading provider of mobile network management services.
Another solid future-proofing move was its creation of the Unified Computing System. It does not require as many computers and servers to operate, reducing costs for Cisco and its clients, which makes it more compelling to enterprise clients. Cisco's current client portfolio already includes big names such as Intel INTC, Microsoft MSFT, Oracle ORCL, Apple AAPL, and Alphabet GOOGL, to name a few.
The chart below is a testament to Cisco's strong operational performance compared to industry peers.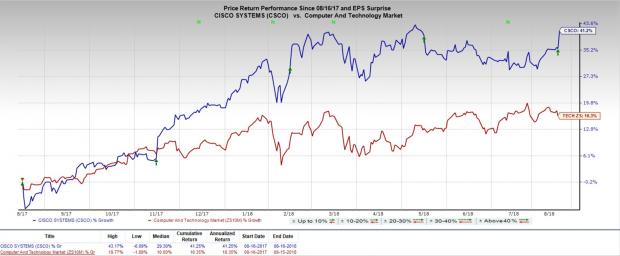 Cisco's extensive global partnership network also plays a big role in its continued growth and is expected to help the company attract new customers. Still, investors should also note that this leaves Cisco vulnerable to unfavorable macroeconomic conditions, including a budding trade war with China. As the WSJ notes, the list of proposed tariffs by the White House includes switches and routers, some of which Cisco makes in China and imports to the US.
But another important point is management's continued optimism. Management now expects Q1 2019 revenue to grow between 5% and 7% year-over-year, along with non-GAAP EPS of $0.70-$0.72, and a non-GAAP gross margin of 63% - 64%, compared to the current level of 62.9%.
These values are higher than our current Zacks Consensus Estimates, which has Cisco pegged at $12.59 billion in revenues, which would mark a 3.7% YoY increase. Our EPS estimate stands at $0.69, or 13.1% in YoY growth.
Key Metrics
Investors should take note of Cisco's 12-Month Forward P/E Ratio of 15.2x, which represents a discount compared to the "Computer and Technology" industry's average of 19.8x. This is lower than the ratio has been in recent months, and signifies that the firm could still be undervalued.

Here is another point that investors may find interesting:

While Cisco's margins consistently fell from 2003 to 2014, they have started to rebound. Although Cisco faces stiff competition, margins are trending upward, and management's most recent guidance would mark a return to 2010 levels.

The company returned $7.5 billion to shareholders in Q4 through stock repurchases, and is currently sitting on $46.5 billion in cash. Cisco completed $17.55 billion in stock repurchases during its fiscal 2017, compared to just $3.69 billion the year before. The firm has $19 billion remaining under the current repurchase program, with no termination date. It also issued $6 billion in dividends.
While Cisco has made a particularly large amount of acquisitions, it has more than enough capital to do so. Moreover, it is well-positioned to continue utilizing its capital for new growth initiatives.
Outlook
The stock currently sits at a Zacks Rank #3 (Hold), although this could change as analysts continue to digest Wednesday's news and revise estimates. While some investors may not like the firm's current stock price, it seems that there is still enough gas in the tank to maintain its current bullish trend.
Investors should still note that Cisco's valuation, while appealing from a Forward 12-Month P/E perspective, appears stretched based on its Price/Book ratio. In other words, it is also possible that optimism about the firm's future has already been baked into the price. But even if investors are not interested in making a play here, Cisco is worth keeping on the radar.
Today's Stocks from Zacks' Hottest Strategies

It's hard to believe, even for us at Zacks. But while the market gained +21.9% in 2017, our top stock-picking screens have returned +115.0%, +109.3%, +104.9%, +98.6%, and +67.1%.

And this outperformance has not just been a recent phenomenon. Over the years it has been remarkably consistent. From 2000 - 2017, the composite yearly average gain for these strategies has beaten the market more than 19X over. Maybe even more remarkable is the fact that we're willing to share their latest stocks with you without cost or obligation.

See Them Free>>
Want the latest recommendations from Zacks Investment Research? Today, you can download 7 Best Stocks for the Next 30 Days.
Click to get this free report
Cisco Systems, Inc. (CSCO): Free Stock Analysis Report
Alphabet Inc. (GOOGL): Free Stock Analysis Report
Apple Inc. (AAPL): Free Stock Analysis Report
Microsoft Corporation (MSFT): Free Stock Analysis Report
Oracle Corporation (ORCL): Free Stock Analysis Report
Intel Corporation (INTC): Free Stock Analysis Report
To read this article on Zacks.com click here.
Zacks Investment Research