Ubiquiti (UI) Down 29.4% in 3 Months: Should You Buy the Dip?
Shares of Ubiquiti Inc. UI have lost 29.4% compared with 22.3% decline recorded by the industry in the past three months.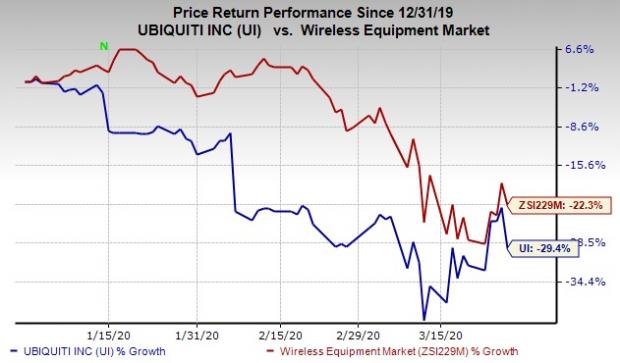 The Zacks Rank #2 (Buy) stock, with a market cap of nearly $8.7 billion, has impressed investors with its recent earnings streak. Ubiquiti topped estimates twice in the last four quarters. The company has trailing four-quarter positive earnings surprise of 5.7%, on average. It has a long-term earnings growth expectation of 12.5% compared with 14.5% for the industry. The stock currently has a VGM Score of B.

Buy Low, Sell High Strategy

Investors who are looking for an opportunity to buy low and sell high may find UI to be a great choice. Buying low means trying to determine when stocks have hit bottom price and purchasing shares in the hope of a bounce back. Conversely, selling high relies on figuring out when the market has hit its peak.

Once stocks have hit their maximum value, investors sell their shares and book profits. During a bear market, stock prices go down and investors tend to sell off shares as panic takes over. This is the time to buy at a discount as long as you have the resource and knowledge to evaluate the best stocks to purchase. Always remember, the price of a stock at any given time is determined by the supply and demand factors in the market. As the equation fluctuates, so does the asset price.

Business Model

Ubiquiti's excellent global business model, which is flexible and adaptable to evolving changes in markets, helps it to steer challenges and maximize growth. The New York-based computer networking company has several growth drivers in place and boasts a strong foothold in its served markets. The company upgraded the UniFi ecosystem, which includes hotspot analytics and high-density WLAN improvements, and added new features to the AmpliFi product family.

Further, Ubiquiti's strategic product launches at disruptive prices help it outdo rivals to a great extent. Its operating model is backed by a rapidly growing and highly-engaged community of service providers, distributors, value-added resellers, systems integrators and corporate IT professionals (referred to as the Ubiquiti Community). Reduction in labor costs is also one of the chief highlights of its R&D activities.

Trend in Estimate Revisions

The Zacks Consensus Estimate for Ubiquiti's next-fiscal earnings has been revised 5.4% upward in the past 60 days to $6.47.

Ubiquiti Inc. Price and Consensus
Fiscal Q2 Performance

In the last reported quarter, Ubiquiti's net income (on a GAAP basis) was $85.8 million or $1.32 per share compared with $77.8 million or $1.09 per share in the prior-year quarter. The improvement was primarily attributable to lower operating expenses and a reduction in share count.

Non-GAAP earnings came in at $91.4 million or $1.40 per share compared with $95.1 million or $1.33 per share in the year-ago quarter. The bottom line met the Zacks Consensus Estimate.

Hence, it's prudent to buy and hold the stock in your portfolio for garnering profits.

Other Key Picks

A few other top-ranked stocks in the broader industry that are well positioned to grow include Qualcomm Incorporated QCOM, Viasat, Inc. VSAT and Cogent Communications Holdings, Inc. CCOI, each carrying a Zacks Rank #2. You can see the complete list of today's Zacks #1 Rank (Strong Buy) stocks here.

Qualcomm has trailing four-quarter positive earnings surprise of 10%, on average.

Viasat has trailing four-quarter positive earnings surprise of 402%, on average.

Cogent has trailing four-quarter positive earnings surprise of 15.9%, on average. The company's earnings beat the Zacks Consensus Estimate in three of the last four quarters.

The Hottest Tech Mega-Trend of All

Last year, it generated $24 billion in global revenues. By 2020, it's predicted to blast through the roof to $77.6 billion. Famed investor Mark Cuban says it will produce "the world's first trillionaires," but that should still leave plenty of money for regular investors who make the right trades early.

See Zacks' 3 Best Stocks to Play This Trend >>
Want the latest recommendations from Zacks Investment Research? Today, you can download 7 Best Stocks for the Next 30 Days.
Click to get this free report
QUALCOMM Incorporated (QCOM): Free Stock Analysis Report
Viasat Inc. (VSAT): Free Stock Analysis Report
Cogent Communications Holdings, Inc. (CCOI): Free Stock Analysis Report
Ubiquiti Inc. (UI): Free Stock Analysis Report
To read this article on Zacks.com click here.