Fresenius Medical's (FMS) Deal to Boost Home Dialysis in Japan
Fresenius Medical Care AG & Co. KGaA FMS recently entered into a strategic distribution deal with JMS Co. Ltd. — a medical devices and pharmaceuticals provider in Japan. Per the agreement, Fresenius Medical's innovative home dialysis therapies will be distributed by JMS Co. Ltd. in the Japanese market, including automatic peritoneal dialysis system.

The partnership intends to offer a broader range of dialysis choices to Japan's aging population that will align with their lifestyle, improve wellbeing and help acknowledge their home healthcare needs.

This collaboration is likely to provide a boost to Fresenius Medical's Health Care Services business.
Rationale Behind the Collaboration
It is worth mentioning that Japan has been grappling with the problem of rapidly aging population, with the number of people needing dialysis continuing to grow every year, thereby putting pressure on the country's healthcare system.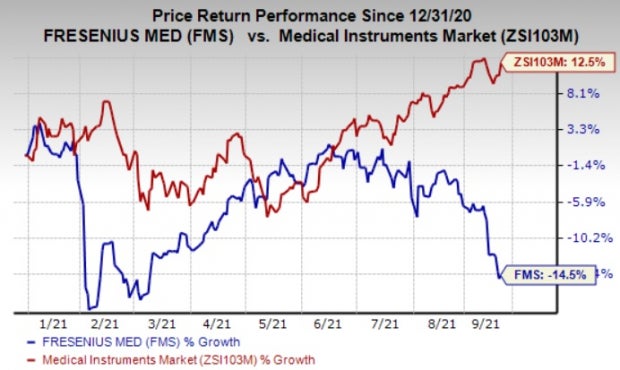 Image Source: Zacks Investment Research
With expansion of opportunities for home dialysis, patients can get clinical benefits and better treatment flexibility, which will enhance quality of life.

Per management, on the back of robust expertise in chronic kidney disease management, Fresenius Medical remains focused on boosting patients' health. Apart from this, the deal is likely to provide significant benefits to the Japanese community as both the companies share the common vision when it comes to the future of home therapy in the country.
Market Prospects
Per a report by Fortune Business Insights, the global dialysis market size was worth $90.33 billion in 2019 and is expected to reach $177.56 billion by 2027, witnessing a CAGR of 7.7% during the forecast period (2020-2027). Hence, this announcement is a well-timed one for Fresenius Medical.
Recent Developments
In August, the company announced that it has began utilizing virtual reality (VR) technology to train patients to perform peritoneal dialysis. Initially, this will be offered in Germany and extended to other countries in Fresenius Medical's Europe, Middle East and Africa region later in 2021.

In July, the company's Xenios AG company received National Medical Products Administration ("NMPA") authorization for the entire Xenios system for extracorporeal membrane oxygenation ("ECMO") therapy in China. Xenios AG offers a broad range of products for extracorporeal heart and lung support.
Price Performance
Shares of the Zacks Rank #5 (Strong Sell) company have lost 14.5% on a year-to-date basis, against the industry's growth of 12.5%.
Stocks to Consider
Some better-ranked stocks from the broader medical space are Henry Schein, Inc. HSIC, Envista Holdings Corporation NVST and Merit Medical Systems, Inc. MMSI, each currently carrying a Zacks Rank #2 (Buy). You can see the complete list of today's Zacks #1 Rank (Strong Buy) stocks here.

Henry Schein's long-term earnings growth rate is estimated at 13.9%.

Envista Holdings' long-term earnings growth rate is estimated at 27.4%.

Merit Medical's long-term earnings growth rate is projected at 13.6%.
Breakout Biotech Stocks with Triple-Digit Profit Potential
The biotech sector is projected to surge beyond $2.4 trillion by 2028 as scientists develop treatments for thousands of diseases. They're also finding ways to edit the human genome to literally erase our vulnerability to these diseases.
Zacks has just released Century of Biology: 7 Biotech Stocks to Buy Right Now to help investors profit from 7 stocks poised for outperformance. Recommendations from previous editions of this report have produced gains of +205%, +258% and +477%. The stocks in this report could perform even better.
See these 7 breakthrough stocks now>>
Want the latest recommendations from Zacks Investment Research? Today, you can download 7 Best Stocks for the Next 30 Days.
Click to get this free report
Henry Schein, Inc. (HSIC): Free Stock Analysis Report
Fresenius Medical Care AG & Co. KGaA (FMS): Free Stock Analysis Report
Merit Medical Systems, Inc. (MMSI): Free Stock Analysis Report
Envista Holdings Corporation (NVST): Free Stock Analysis Report
To read this article on Zacks.com click here.
Zacks Investment Research