Raytheon Wins Navy Deal for MK-31 Guided Missile Program
Raytheon Company's RTN Missile Systems unit recently secured a $72.2-million modification contract to provide engineering services for the upgraded Rolling Airframe Missile (RAM) MK-31 Guided Missile Weapon System Improvement program. The contract was awarded by the Naval Sea Systems Command, Washington, DC.

Per the agreement, Missile Systems unit will provide support for the maintenance of current weapon system capability. Additionally, the unit will resolve issues through design, systems, software maintenance, reliability, maintainability, quality assurance and logistics engineering services. Majority of the contract-related work will be executed in Tucson, AZ, which is scheduled to get completed by September 2022.

Note on MK-31 Guided Missile Weapon System

The MK-31 RAM Guided Missile Weapon System is a cooperative development and production program, conducted jointly by the United States and Germany. Manufactured by Raytheon, this weapon system is the most modern self-defense weapon system, deployed from ships, to destroy anti-ship missiles. It has been specifically designed to provide protection to ships of all sizes.

What's Favoring Raytheon?

Increasing geo-political tensions across the globe prompted nations to strengthen their defense systems manifold. With rapid technological upgrades, missile defense steadily emerged to play a pivotal role in a nation's defense strategy. With the United States being the world's largest weapons supplier, it is a golden era for premier defense contractors like Raytheon.

Interestingly, the U.S. government proposed its fiscal 2020 defense budget recently, under which the Department of Defense would receive $718 billion, reflecting a 4.9% increase from the prior year. Furthermore, the proposed budget includes a spending plan of $13.6 billion on missile defense. If approved, this increased spending provision should usher in more contracts for Raytheon's MK- 31 Guided Missile program along with other major missiles program.

Looking Ahead

Per Markets and Markets, the rocket and missile market is projected to grow from $55.5 billion in 2017 to $70 billion by 2022, at a CAGR of 4.74%. Such massive growth projections, thereby, offer Raytheon ample opportunities to enhance its share in the global missile market.

Price Performance

Shares of Raytheon have plunged about 20.2% in a year compared with the industry's decline of 4.6%.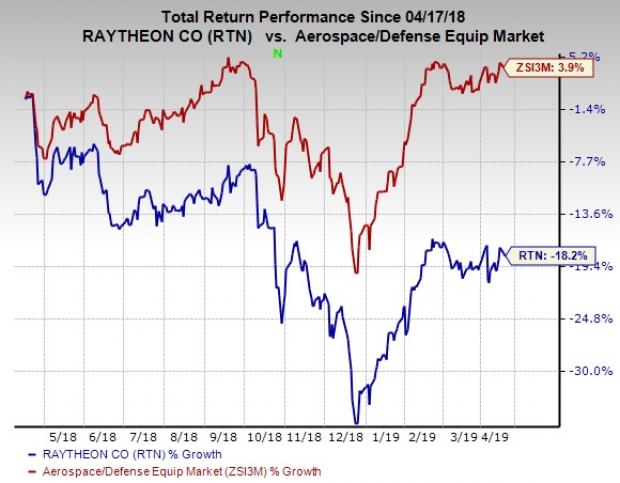 Zacks Rank & Key Picks

Raytheon currently carries a Zacks Rank #3 (Hold).

A few better-ranked stocks in the same sector are Astronics Corporation ATRO, AeroVironment, Inc. AVAV and Heico Corporation HEI, each currently carrying a Zacks Rank #2 (Buy). You can see the complete list of today's Zacks #1 Rank (Strong Buy) stocks here.

Astronics' long-term growth estimates currently stand at 10%. The Zacks Consensus Estimate for 2019 earnings has risen 2.4% to $1.71 in the past 60 days.

AeroVironment's long-term growth estimates currently stand at 25%. The Zacks Consensus Estimate for 2019 earnings has increased 16.67% to $1.75 in the past 60 days.

Heico Corporation came up with average positive earnings surprise of 4.8% in the last four quarters. The Zacks Consensus Estimate for 2019 earnings has risen 2.9% to $2.14 in the past 60 days.

Radical New Technology Creates $12.3 Trillion Opportunity

Imagine buying Microsoft stock in the early days of personal computers… or Motorola after it released the world's first cell phone. These technologies changed our lives and created massive profits for investors.

Today, we're on the brink of the next quantum leap in technology. 7 innovative companies are leading this "4th Industrial Revolution" - and early investors stand to earn the biggest profits.

See the 7 breakthrough stocks now>>
Want the latest recommendations from Zacks Investment Research? Today, you can download 7 Best Stocks for the Next 30 Days.
Click to get this free report
AeroVironment, Inc. (AVAV): Free Stock Analysis Report
Heico Corporation (HEI): Free Stock Analysis Report
Astronics Corporation (ATRO): Free Stock Analysis Report
Raytheon Company (RTN): Free Stock Analysis Report
To read this article on Zacks.com click here.
Zacks Investment Research