Anadarko Petroleum Makes FID on Mozambique LNG Project
Anadarko Petroleum Corporation APC and the co-venturers in Mozambique's Offshore Area 1 made a final investment decision (FID) on the Mozambique LNG project. The facility will be Mozambique's first onshore LNG unit.
The project comprises two LNG train with total initial capacity of 12.88 million tonnes per annum (MTPA). Of the total capacity, 86% is committed by the key LNG buyers in Asia and Europe. Moreover,the project is expected to boost Mozambique's in-country consumption as well as contribute to domestic economic development.
Development in Mozambique LNG project
Anadarko's asset portfolio comprises a natural-gas discovery in Mozambique. Anadarko Petroleum continued to make significant progress with the Mozambique LNG project. Recently, Mozambique LNG1 has signed a Sale and Purchase Agreement with JERA Co., Inc (JERA) and CPC Corporation, Taiwan (CPC) for 17 years for ex-ship supply of 1.6 million tonnes per annum MTPA).
Shifting to Liquid Composition in Production Mix
Anadarko Petroleum is gradually shifting to a greater liquid composition in its total production mix.The transition towards high-quality domestic onshore assets has started to yield results. In the first quarter, average daily sales volume increased 11.2% year over year to 715,000 barrels of oil equivalent per day (boe/d). Onshore assets generated sales volume of 465,000 boe/d, up 15% from the prior-year quarter's figure.
Acquisition Agreement
The company has a strong asset base in the Permian Basin and premium shale properties, which include the Delaware and Denver-Julesburg basins, the Deepwater Gulf of Mexico as well as Powder River basin. These assets are well placed to boost stakeholders' value over the long term.
Initially, Chevron Corp. CVX made a bid for Anadarko Petroleum. However, Occidental Petroleum OXY raised its bid, and Chevron decided to move out with $1-billion breakup fee. Moreover, TOTAL S.A. TOT has entered into a binding agreement with Occidental to acquire Anadarko Petroleum's assets in Africa (for a consideration of $8.8 billion), which includes Mozambique holdings.
Zacks Rank & Price Performance
Anadarko Petroleum currently sports a Zacks Rank #1 (Strong Buy). You can see the complete list of today's Zacks #1 Rank stocks here.
Shares of the company have surged 59.4%, compared with the industry's gain of 1.1% year to date.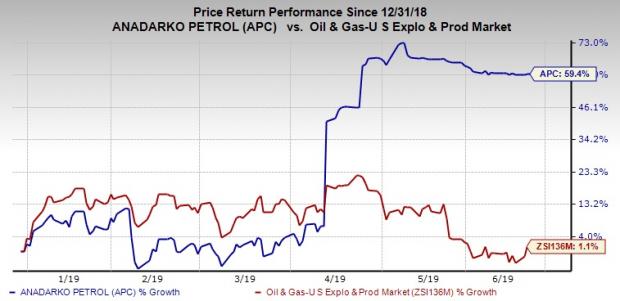 This Could Be the Fastest Way to Grow Wealth in 2019

Research indicates one sector is poised to deliver a crop of the best-performing stocks you'll find anywhere in the market. Breaking news in this space frequently creates quick double- and triple-digit profit opportunities.

These companies are changing the world – and owning their stocks could transform your portfolio in 2019 and beyond. Recent trades from this sector have generated +98%, +119% and +164% gains in as little as 1 month.

Click here to see these breakthrough stocks now >>
Want the latest recommendations from Zacks Investment Research? Today, you can download 7 Best Stocks for the Next 30 Days.
Click to get this free report
TOTAL S.A. (TOT): Free Stock Analysis Report
Chevron Corporation (CVX): Free Stock Analysis Report
Anadarko Petroleum Corporation (APC): Free Stock Analysis Report
Occidental Petroleum Corporation (OXY): Free Stock Analysis Report
To read this article on Zacks.com click here.
Zacks Investment Research