Enphase Energy-Natura Living JV Builds Solar Plant in Thailand
Enphase Energy, Inc. ENPH recently announced its partnership with Thailand's solar installer Natura Living, under which they are jointly constructing commercial solar installation projects for PepsiCo Thailand. Notably, Natura Living is currently installing a 60 kilowatt (kW) solar array using Enphase IQ 7+ microinverters on PepsiCo Thailand's agronomy division building.
However, this is not the first joint venture project between Enphase Energy and Natura Living. In fact, the solar installer had earlier installed another 60 kW solar array using Enphase IQ 7+ microinverters on PepsiCo Thailand's snack division building.
Solar Demand in Southeast Asia & IQ 7+
Lately, Southeast Asia emerged as one of the world's fastest-growing economic regions, a global hub for international trade, manufacturing and financial services. Consequently, energy consumption is expected to double in this region.
Per an International Renewable Energy Agency (IRENA) report, total investment worth $290 billion in renewable energy capacity will be needed in the region to achieve 23% of primary energy from renewable sources by 2025. This reflects ample room for growth of renewable energy in Southeast Asia wherein Thailand has been so far the leader in promoting solar power.
Naturally, Enphase Energy's joint venture with Natura Living can be expected to offer the former with substantial growth opportunities in Thailand's solar market. To this end, it is imperative to mention that Enphase Energy's IQ 7+ microinverters are subject to rigorous reliability and a quality testing regime with more than one million cumulative hours of power-on testing. This made these microinverters all the more a desirable choice for installers like Natura Living with IQ 7+ ensuring exceptional performance and compatibility with operating in hot, humid and coastal conditions found in Thailand.
Global Solar Boom Boosting Partnerships
Per the International Renewable Energy Agency (IRENA), global electricity generation from solar energy is expected to increase to nearly 360 GW per year by 2050 from the current level of 109 GW. As a result, solar players like Enphase Energy are collaborating with other companies for a sizable global expansion to make the most of the available opportunities.
For instance, in September 2020, Sunrun RUN entered into a business tie-up with France-based fashion house CHANEL to offer an extended solar access for low-income communities. Per this partnership, Sunrun and CHANEL will install approximately 30 megawatts (MW) of solar energy systems across California.
In August 2020, JinkoSolar JKS entered into a strategic partnership with engineering, procurement and construction firm Shanghai Electric for supplying 1 gigawatt of its bifacial modules.
Earlier, in July 2020, Enphase Energy announced a strategic partnership with SunPower SPWR to produce the new Enphase Energized Maxeon AC Module based on its seventh-generation IQ microinverters.
Price Performance & Zacks Rank
In a year's time, shares of Enphase Energy have gained 321.9% compared with the industry's rise of 169.4%.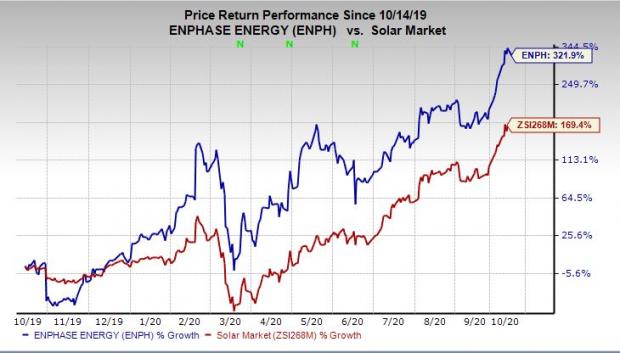 The company currently carries a Zacks Rank #3 (Hold). You can see the complete list of today's Zacks #1 Rank (Strong Buy) stocks here.
Looking for Stocks with Skyrocketing Upside?
Zacks has just released a Special Report on the booming investment opportunities of legal marijuana.

Ignited by referendums and legislation, this industry is expected to blast from an already robust $17.7 billion in 2019 to a staggering $73.6 billion by 2027. Early investors stand to make a killing, but you have to be ready to act and know just where to look.

See the pot stocks we're targeting >>



Want the latest recommendations from Zacks Investment Research? Today, you can download 7 Best Stocks for the Next 30 Days.
Click to get this free report
JinkoSolar Holding Company Limited (JKS): Free Stock Analysis Report
SunPower Corporation (SPWR): Free Stock Analysis Report
Enphase Energy, Inc. (ENPH): Free Stock Analysis Report
Sunrun Inc. (RUN): Free Stock Analysis Report
To read this article on Zacks.com click here.
Zacks Investment Research