Why this Cheap E-Commerce Stock Up 140% in a Year is a Strong Buy for 2020
Many investors know about Alibaba BABA, JD.com JD, and other Chinese e-commerce and internet giants. But the much smaller Vipshop Holdings VIPS has crushed the S&P 500 and Alibaba over the last year as the online discount retailer expands its customer base.
Vipshop's Pitch
Vipshop is a Guangzhou, China-based discount e-commerce retailer that was founded in 2008. The firm stands out in a crowded market by offering deep discounts on branded products from Nike NKE to name-brand watches, cosmetics, and more. Investors should also note that Tencent TCEHY and JD.com have invested in Vipshop.
Vipshop, which has a roughly $10 billion market cap, now outsources its delivery to third parties to focus on its core discount e-commerce business. The company announced in November that it landed a new partnership with SF Holding for delivery services in an effort to "optimize the efficiency" of its logistics business and lower its "fulfillment expenses."
Vipshop's active customers surged 21% during the third quarter to reach 32 million. This clearly gives the company plenty of room to grow given China's overall population. Plus, the firm's gross profit popped roughly 17% from the prior-year period. Meanwhile, gross merchandise volume jumped 17%, with total orders up 33% from 95.7 million in Q3 2018 to 127.6 million. This strength helped lift overall sales by 10% to $2.7 billion.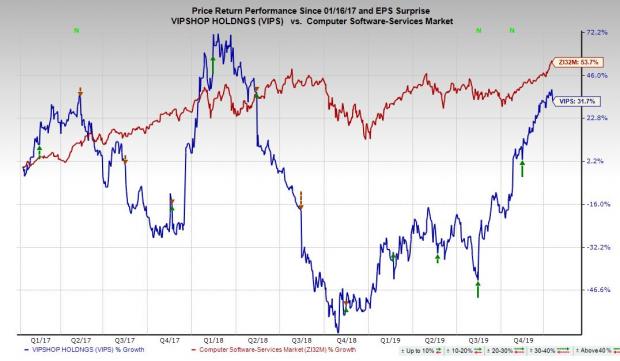 Other Fundamentals
VIPS went public in 2012 and eventually surged to nearly $30 per share in 2015. The stock has fallen since then and been somewhat volatile. With this in mind, Vipshop shares have soared over 120% since it reported its second quarter results in August 2019 and are up roughly 140% in the last year. This crushes its industry's 25% climb, BABA's 45%, and Amazon's AMZN 11%.
VIPS shares have also surged over 50% in the past three months from under $10 per share to their current price of around $14.50. Despite this climb, which has cooled off recently—up 5% in the last month—the stock clearly still has room to run before it hits its early 2018 highs, much less its all-time heights.
Along with its cheap price point, well under $20 per share, VIPS is trading at 14.8X forward 12-month Zacks earnings estimates. This marks a significant discount against the S&P 500's 18.9X, its industry's 30.7X, and BABA's 32.5X. Plus, Vipshop has traded as high as 18.9X in the last year alone.
Vipshop is part of an industry that rests in the top 32% of our more than 250 Zacks industries. Plus, the stock currently boasts "B" grades for Value and Momentum and an "A" for Growth in our Style Scores system.

Bottom Line
Vipshop's longer-term positive earnings estimate revision activity helps it earn a Zacks Ranks #1 (Strong Buy) at the moment. VIPS' 2020 EPS estimate has climbed 21% since it last reported, with 2019's consensus estimate up 16%, which means analysts are more confident in Vipshop's bottom-line expansion.
The Chinese e-commerce company has also crushed our earnings estimates in the trailing two periods by 40%. And VIPS' adjusted 2019 earnings are projected to soar 64% to reach $0.95 per share, with 2020 expected to climb another 27% higher.
Biggest Tech Breakthrough in a Generation

Be among the early investors in the new type of device that experts say could impact society as much as the discovery of electricity. Current technology will soon be outdated and replaced by these new devices. In the process, it's expected to create 22 million jobs and generate $12.3 trillion in activity.

A select few stocks could skyrocket the most as rollout accelerates for this new tech. Early investors could see gains similar to buying Microsoft in the 1990s. Zacks' just-released special report reveals 8 stocks to watch. The report is only available for a limited time.

See 8 breakthrough stocks now>>
Want the latest recommendations from Zacks Investment Research? Today, you can download 7 Best Stocks for the Next 30 Days.
Click to get this free report
Alibaba Group Holding Limited (BABA): Free Stock Analysis Report
Amazon.com, Inc. (AMZN): Free Stock Analysis Report
JD.com, Inc. (JD): Free Stock Analysis Report
Tencent Holding Ltd. (TCEHY): Free Stock Analysis Report
Vipshop Holdings Limited (VIPS): Free Stock Analysis Report
NIKE, Inc. (NKE): Free Stock Analysis Report
To read this article on Zacks.com click here.
Zacks Investment Research