Teva Shares Fall Further as Morgan Stanley Downgrades Rating
Shares of Teva Pharmaceutical Industries Ltd. TEVA fell almost 7.5% on Jul 15, following media reports of a rating downgrade by an analyst at Morgan Stanley MS. The analyst downgraded the company on risk of increasing litigation costs related to opioid epidemic.
In May, the company had settled a litigation with the state of Oklahoma related to abuse of opioids. Teva agreed to pay $85 million to resolve Oklahoma's claim that the company was among the entities responsible for opioid epidemic in the state.
Per the United States Department of Health and Human Services, pharmaceutical companies encouraged use of opioid pain relievers by assuring that patients will not get addicted to the drugs. However, this led to widespread misuse of both prescription and non-prescription opioids. In 2017, 47,600 people died due to overdose of opioid. This resulted in filing of more than 2000 litigations against pharma companies in multiple states, holding them responsible for the opioid epidemic and deaths due to opioid overdose.
Teva also has a large number of pending litigations in multiple states related to opioid abuse. The analyst believes that similar settlements will significantly impact the company's margin going forward. Moreover, the analyst is also concerned about the impact of rising pressure from the Trump administration on drug pricing and increased competition in generic drug market. In May, an analyst at UBS Group AG UBS had also downgraded the company immediately after the Oklahoma settlement. However, Teva has denied its involvement in opioid epidemic.
Media reports also stated that Morgan Stanley has downgraded other generic drugmakers, anticipating a similar risk. These include Endo International ENDP, Mylan and Amneal Pharmaceuticals. The analyst is also concerned about high debt-levels of these companies.
Per Reuters, Johnson & Johnson JNJ is also facing rising pressure from lawyers for the state of Oklahoma in a similar litigation related to opioid epidemic. The article states that Oklahoma has demanded $17 billion to be paid by J&J over 30 years. A win for the state will likely increase pressure on companies involved in opioid litigation cases pending in several states for settlements running into billions of dollars.
Teva's shares have declined 44.4% so far this year compared with the industry's decline of 0.8%.

In a separate press release, Teva announced that it has received FDA approval for AirDuo Digihaler as a treatment for asthma in patients aged 12 years and older. The therapy is a sensor-enabled inhaler, which will enable patients to track inhaler use through a companion mobile application. The product is the second FDA-approved sensor-enabled inhaler in the company's portfolio.
AirDuo is a combination of an inhaled corticosteroid ("ICS") and a long-acting beta-agonist bronchodilator ("LABA"). The FDA approved AirDuo RespiClick in 2017 for a similar indication delivered through Teva's RespiClick technology, a multi-dose dry powder inhaler.
Teva Pharmaceutical Industries Ltd. Price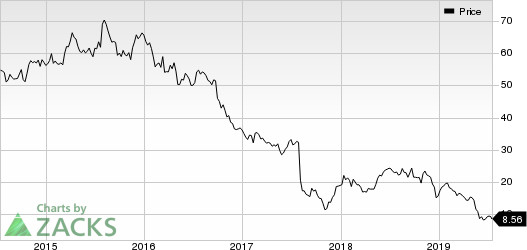 Teva Pharmaceutical Industries Ltd. price | Teva Pharmaceutical Industries Ltd. Quote
Zacks Rank
Teva currently carries a Zacks Rank #3 (Hold). You can see the complete list of today's Zacks #1 Rank (Strong Buy) stocks here.
Radical New Technology Creates $12.3 Trillion Opportunity
Imagine buying Microsoft stock in the early days of personal computers… or Motorola after it released the world's first cell phone. These technologies changed our lives and created massive profits for investors.
Today, we're on the brink of the next quantum leap in technology. 7 innovative companies are leading this "4th Industrial Revolution" - and early investors stand to earn the biggest profits.
See the 7 breakthrough stocks now>>
Want the latest recommendations from Zacks Investment Research? Today, you can download 7 Best Stocks for the Next 30 Days.
Click to get this free report
UBS Group AG (UBS): Free Stock Analysis Report
Morgan Stanley (MS): Free Stock Analysis Report
Endo International plc (ENDP): Free Stock Analysis Report
Teva Pharmaceutical Industries Ltd. (TEVA): Free Stock Analysis Report
To read this article on Zacks.com click here.
Zacks Investment Research