Can Ford's (F) Q2 Earnings Drive Up Its Stock Price?
Ford Motor Company F is in the middle of a very strong year, with its stock price up 35.1% YTD. This year has helped Ford recover from a very disappointing 2018, yet it has only regained about half of its losses so far.
Now, let's see what investors should expect from this quarter's earnings report and what growth opportunities Ford has in the future.
Overview
Ford, with a Q1 2019 market share of 14.6%, is second largest automaker in the U.S. market, trailing only General Motors' GM 16.7%. The auto company currently offers 22 vehicles in the U.S., excluding commercial and limited release performance vehicles. The Ford F-Series pickup truck (F-150, F-250, F-350) has been the best-selling automobile in the U.S. since 1986, bringing in $41 billion in revenue for Ford in 2018. This makes the F-Series truck a more valuable brand by revenue than Nike NKE and Coca-Cola KO, says Jim Farley, head of global markets.
Ford and Volkswagen AG VWAGY announced last Friday an agreement that recognizes the need to improve driverless and electric vehicle technologies, and therefore agreed to split the workload, according to their respective strengths. Under the agreement, Volkswagen will invest $2.6 billion in cash and other resources into Ford's self-driving startup, Argo AI. Meanwhile, Volkswagen will be able to use this tech for a variety of planned applications. And Ford will gain access to motors and batteries that Volkswagen has developed.
In consumer news, the American auto giant announced a recall last Tuesday on 60,000 Focus models due to a software issue that could lead to a deformed fuel tank. Recalls are always a blow to auto manufacturers because of the costs associated to fix the issues, not to mention the bad press. As a result, shares dropped about 1% after the announcement.
Outlook
Ford's revenues have been relatively stable in recent history, moving up and down the past 3 years, but never by more than 8%. Revenues this quarter are predicted to drop 2.9% from a year ago to $34.86 billion. However, revenue next quarter is projected to pop back up by 2.72%.
One of the reasons Ford is experiencing a revenue downtrend is because the overall U.S. market for automobiles in changing. In Q1 of this year, sales of cars under $20,000 were down 25% from last year, while sales of cars over $40,000 were up 7%. This means that Americans are buying more expensive cars this year so far, which is not good for Ford, as it is not a luxury manufacturer.
Earnings per share are projected to come in at $0.33 per share, a 22.22% increase over this quarter last year. This sounds like positive growth, but last year's Q2 fell 51.8% from 2017 Q2 earnings. Full year EPS is projected at $1.38, a 6.15% increase from last year. Looking further back, this year's projected EPS number is significantly lower than 2015-2017 EPS numbers.
Analysts raised their earnings estimates about 2 months ago, which was a good sign heading into earnings season. However, estimates have remained constant since then until they were lowered this week across the board.
Ford has outperformed the market YTD, while also strongly outperforming the domestic auto manufacturers. This group consists of companies like General Motors, Tesla TSLA, and Paccar PCAR.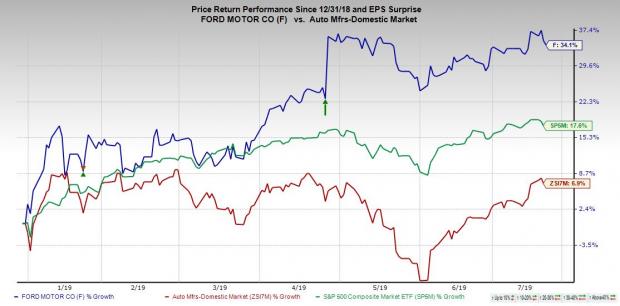 Bottom Line
Ford's most recent earnings estimate revisions brought it down to a Zacks Rank #3 (Hold) from a Zacks Rank #1 (Strong Buy) that it held earlier this week. When Ford's quarterly report is released Wednesday the 24th after the market closes, the company may take another revenue hit this quarter due to lower demand for less expensive cars and a recall. But, with strong investment in the future of electric and driverless vehicles, keep an eye on future revenue estimates when these investments start to pay off.
More Stock News: This Is Bigger than the iPhone!

It could become the mother of all technological revolutions. Apple sold a mere 1 billion iPhones in 10 years but a new breakthrough is expected to generate more than 27 billion devices in just 3 years, creating a $1.7 trillion market.

Zacks has just released a Special Report that spotlights this fast-emerging phenomenon and 6 tickers for taking advantage of it. If you don't buy now, you may kick yourself in 2020.

Click here for the 6 trades >>

Want the latest recommendations from Zacks Investment Research? Today, you can download 7 Best Stocks for the Next 30 Days.
Click to get this free report
Tesla, Inc. (TSLA): Free Stock Analysis Report
General Motors Company (GM): Free Stock Analysis Report
Ford Motor Company (F): Free Stock Analysis Report
PACCAR Inc. (PCAR): Free Stock Analysis Report
Coca-Cola Company (The) (KO): Free Stock Analysis Report
NIKE, Inc. (NKE): Free Stock Analysis Report
Volkswagen AG (VWAGY): Free Stock Analysis Report
To read this article on Zacks.com click here.
Zacks Investment Research