AstraZeneca (AZN) COVID-19 Antibody Meets Goal in TACKLE Study
AstraZeneca PLC AZN announced positive data from the phase III TACKLE study that evaluated its long-acting antibody combination, AZD7442, in non-hospitalized patients with mild-to-moderate symptomatic COVID-19.
Data from the study showed that treatment with AZD7442 led to a statistically significant reduction in severe COVID-19 or death as compared to placebo for treating mild-to-moderate COVID-19 in the outpatient setting.
In the TACKLE study, AZD7442 (600 mg) administered by intramuscular injection, reduced the risk of developing severe COVID-19 infection or death by 50% versus placebo in the given patient population – the primary endpoint. AZD7442 was generally well tolerated in the study.
Per the company, AZD7442 is the first and only long-acting antibody combination to both prevent and treat COVID-19 infection. Full data from the TACKLE study will be presented at an upcoming medical conference.
Shares of AstraZeneca have rallied 21.2% so far this year compared with the industry's increase of 9%.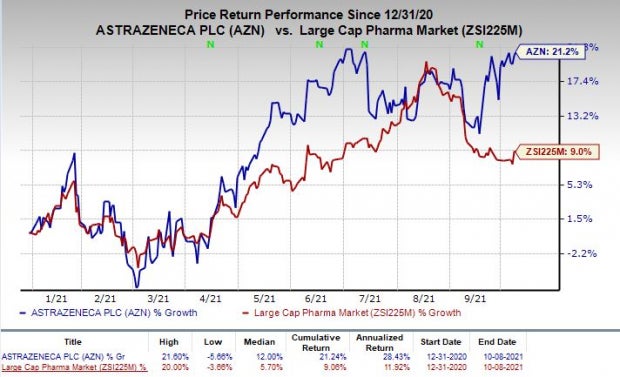 Image Source: Zacks Investment Research
AZD7442 is a combo of two monoclonal antibodies — tixagevimab (AZD8895) and cilgavimab (AZD1061). Another study, PROVENT, is also ongoing on AZD7442. It is a pre-exposure prevention study for symptomatic COVID-19.
Earlier this month, AstraZeneca filed an application seeking Emergency Use Authorization for AZD7442 for the prophylaxis of symptomatic COVID-19. If authorized by the FDA, AZD7442 would be the first such cocktail antibody drug approved for COVID-19 prevention. The application was based on data from the PROVENT phase III pre-exposure prophylaxis study.
At present, monoclonal antibody medicines of Regeneron Pharmaceuticals, Eli Lilly, and Vir Biotech VIR /GlaxoSmithKline GSK are available in the United States to treat COVID-19.
Please note that AstraZeneca's COVID-19 vaccine is not yet approved in the United States though it is available in several other countries, including the European Union.
In a separate press release, AstraZeneca announced that the FDA has granted Orphan Drug designation to its monoclonal antibody, tezepelumab, for the treatment of eosinophilic esophagitis — a rare, chronic, inflammatory disease.
The FDA's orphan drug designation is granted to drugs capable of treating rare diseases that affect less than 200,000 people in the United States.
AstraZeneca is developing tezepelumab in partnership with Amgen AMGN. In July 2021, the FDA accepted and granted priority review to the biologics license application for tezepelumab for the treatment of asthma. A decision from the regulatory body is expected in the first quarter of 2022.
Tezepelumab is also under regulatory review in Europe and Japan for the treatment of asthma.
Zacks Rank
AstraZeneca currently carries a Zacks Rank #3 (Hold). You can see the complete list of today's Zacks #1 Rank (Strong Buy) stocks here.
Tech IPOs With Massive Profit Potential
In the past few years, many popular platforms and like Uber and Airbnb finally made their way to the public markets. But the biggest paydays came from lesser-known names.
For example, electric carmaker X Peng shot up +299.4% in just 2 months. Think of it this way…
If you had put $5,000 into XPEV at its IPO in September 2020, you could have cashed out with $19,970 in November.
With record amounts of cash flooding into IPOs and a record-setting stock market, this year's lineup could be even more lucrative.
See Zacks Hottest Tech IPOs Now >>
Want the latest recommendations from Zacks Investment Research? Today, you can download 7 Best Stocks for the Next 30 Days.
Click to get this free report
AstraZeneca PLC (AZN): Free Stock Analysis Report
GlaxoSmithKline plc (GSK): Free Stock Analysis Report
Amgen Inc. (AMGN): Free Stock Analysis Report
Vir Biotechnology, Inc. (VIR): Free Stock Analysis Report
To read this article on Zacks.com click here.