Nvidia Q3 Earnings Preview: Buy Surging NVDA Stock Amid Chip Comeback?
Nvidia NVDA stock has soared 35% in the past three months as Wall Street continues to jump back in the previously high-flying chip stock amid signs that growth will soon return. The third quarter has already proven positive for industry giant Intel INTC, so is now the time for investors to buy Nvidia stock?
What's Going On?
Nvidia is subject to the cyclical nature of the broader semiconductor market that no one in the industry is safe from. The company also fell under the weight of its own outsized success in recent years that helped lead to the GPU firm's three straight quarters of declining revenue.
Looking back to the Santa Clara, California-headquarter company's fourth quarter of last year, which its CEO called "an extraordinary, unusually turbulent, and disappointing quarter," revenue fell 24%. Along with cyclical impacts and other broader headwinds, NVDA has been hurt by lower demand from cryptocurrency miners.
Nvidia's quarterly revenue fell roughly 31% and 17%, respectively, in the first two periods of its fiscal 2020. Despite this downturn, Nvidia stock has bounced back from its December 2018 lows, mostly because it was "on sale," alongside other tech giants such as Apple AAPL and Microsoft MSFT—and much of the broader market.
More recently, the S&P 500, Dow Jones Industrial Average, and NASDAQ Composite all hit new highs to start November on the back of supposed U.S.-China trade war progress, a third Fed interest rate cut, and better-than-feared quarterly earnings results. All of this has helped NVDA stock.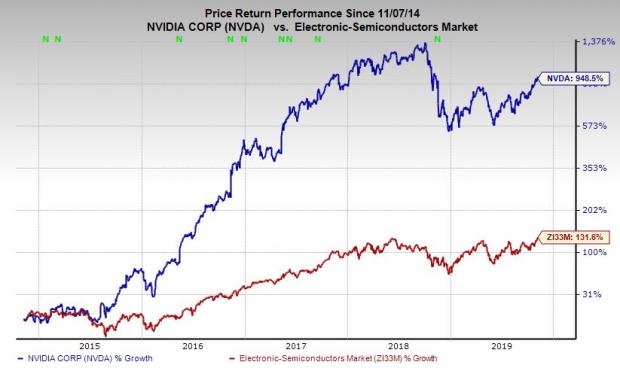 The recent earnings positivity includes the largest chipmaker in the U.S. by revenue. Intel posted solid Q3 financial results on October 24, driven by record sales for products used in data centers. The company's data-centric unit popped 6% from the year-ago period, which is a good sign for Nvidia since its data center business has expanded in recent years.
Nvidia is a GPU powerhouse, loved by gamers, that has rolled out its next-generation ray tracing technology that allows for more realistic gameplay. The company's chips have also become key components in the artificial intelligence revolution and more. "Nvidia accelerated computing momentum continues to build as the industry races to enable the next frontier in artificial intelligence, conversational AI, as well as autonomous systems like self-driving vehicles and delivery robots," founder and CEO Jensen Huang said in prepared remarks last quarter.
Other Fundamentals
NVDA stock is up 55% in 2019 to outpace its industry's 34% climb, the S&P's 22%, and Intel's 23%. Fellow growth-focused chip stocks, Micron MU and Advanced Micro Devices AMD, have surged 51% and 95%, respectively.
Jumping back a bit, shares of Nvidia are down 3% in the last 52 weeks and 2% in the past two years—thanks to the aforementioned selloff. However, as we can see in the chart above, Nvidia stock has been on a strong run over the last five years.
NVDA closed regular trading Wednesday at $207.63 per share, down just 4.5% from its 52-week highs. And it is worth pointing out that Nvidia stock has over 25% more room to run before it would bump up against its early-October 2018 highs of over $280 per share.
Along with NVDA's 2019 climb has come a somewhat stretched valuation picture. NVDA is trading at 38.9X forward 12-month Zacks Consensus Earnings Estimates, which comes in far above its industry's 16.1X average. But that is not the problem here, as this has been the case for all of the last five years and much of the past decade.
Instead, Nvidia is trading right near its brand new 52-week high and far above its 32.5X median and 19X low over this stretch. Clearly, NVDA has traded at a higher forward earnings multiple over the last several years, as high as 57.4X in early 2018.
Meanwhile, NVDA's forward sales multiple comes in a 10.3X, above its 9.7X median over a three-year stretch, which is once again far below its 15.4X high. Simply put, Nvidia's valuation picture has been more stretched than it is right now, though it is trending in the wrong direction—but growth does appear to be just around the bend.

Q3 Outlook & Beyond
Our current Zacks Consensus Estimates call for NVDA's Q3 revenue to slip 8.8% from the year-ago period to come in at $2.90 billion. This would represent the slowest quarterly decline over the past four periods, with Q2 down 17.4%, Q1 down 31%, and Q4 down 24.3%.
Looking ahead, the GPU giant's Q4 fiscal 2020 sales are projected to soar roughly 38% above the year-ago period to $3.04 billion and come in higher than Q4 FY18's $2.91 billion. Overall, the company's full-year fiscal 2020 sales are projected to dip 8.4% from $11.72 billion in 2019 to $10.73 billion.
But the comeback seems to be on, with fiscal 2021's full-year revenue projected to jump 21% above our current year estimate to reach just under $13 billion.
Nvidia's adjusted Q3 earnings are projected to slip 14.7% to $1.57 per share, with FY20 expected to fall 19.6%. Then, as one might guess, NVDA's Q4 EPS figure is projected to skyrocket 108% from $0.80 per share to reach $1.67 per share, with full-year fiscal 2021's earnings projected to climb 33% above our current-year estimate—to once again top 2019's total.

Bottom Line
All in said, Nvidia is expected to post its fourth straight period of declining quarterly revenue and earnings (Q4 2019 – Q3 2020) when it releases its Q3 fiscal 2020 financial results on Thursday, November 14. Clearly, Nvidia stock is already up big this year, so investors might want to wait to see how Wall Street reacts, as a pullback might be in order.
In the end, though, Nvidia appears to be set to return to its growth days as it capitalizes on everything from the $150 billion global video game market to AI, autonomous vehicles, and much more.
Just Released: Zacks' 7 Best Stocks for Today

Experts extracted 7 stocks from the list of 220 Zacks Rank #1 Strong Buys that has beaten the market more than 2X over with a stunning average gain of +24.5% per year.

These 7 were selected because of their superior potential for immediate breakout.

See these time-sensitive tickers now >>
Want the latest recommendations from Zacks Investment Research? Today, you can download 7 Best Stocks for the Next 30 Days.
Click to get this free report
Apple Inc. (AAPL): Free Stock Analysis Report
Microsoft Corporation (MSFT): Free Stock Analysis Report
Advanced Micro Devices, Inc. (AMD): Free Stock Analysis Report
Intel Corporation (INTC): Free Stock Analysis Report
NVIDIA Corporation (NVDA): Free Stock Analysis Report
Micron Technology, Inc. (MU): Free Stock Analysis Report
To read this article on Zacks.com click here.
Zacks Investment Research