Reata (RETA) Stock Up Following Q3 Earnings & Sales Beat
Reata Pharmaceuticals Inc. RETA reported third-quarter 2021 loss of $1.97 per share, narrower than the Zacks Consensus Estimate of a loss of $2.32.
However, the above loss included stock-based compensation and a non-cash interest expense. Adjusted loss for the quarter was $1.27 per share, narrower than $1.31 per share recorded in the year-ago period.
Total revenues, comprising collaboration revenues, were $7.4 million compared with $1.4 million in the year-ago quarter. The top line also beat the Zacks Consensus Estimate of $1.4 million.
Shares of Reata were up 1.7% on Monday, following better-than-expected results. However, the company's shares have declined 13.5% so far this year compared with the industry's decrease of 12.5%.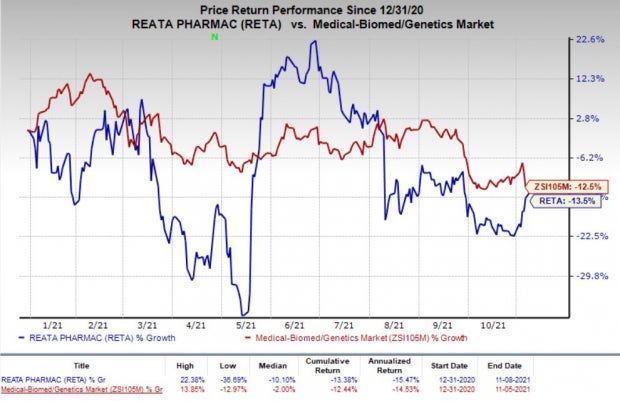 Image Source: Zacks Investment Research
Operating Expenses & Cash Position
Adjusted research and development expenses rose 3.3% year over year to $34 million.
General and administrative expenses were $25.7 million, up 40.4% from the year-ago period due to increased commercial launch readiness activities and higher personnel costs.
The company had cash and cash equivalents of $713.2 million as of Sep 30, 2021, compared with $755.7 million as of Jun 30, 2021. The company expects its cash resources to fund operations through mid-2024.
Pipeline Update
Reata has developed its lead pipeline candidates — bardoxolone methyl (bardoxolone) and omaveloxolone — for rare forms of chronic kidney disease ("CKD") and neurological diseases, respectively. Please note that Reata re-acquired the development, manufacturing and commercialization rights related to omaveloxolone and bardoxolone from AbbVie ABBV last year.
In April, Reata's new drug application ("NDA") seeking approval for bardoxolone as a potential treatment for CKD caused by Alport syndrome was accepted by the FDA. An Advisory Committee meeting is scheduled on Dec 8 for discussing the NDA. A final decision from the FDA is expected by Feb 25, 2022. The company has also submitted a regulatory application in Europe seeking approval for bardoxolone for the same indication last month.
In September, Reata successfully completed a pre-NDA meeting with the FDA, discussing a planned NDA submission for another pipeline candidate, omaveloxolone. Following the meeting, the company is planning to submit an NDA for the same in the first quarter of 2022.
Reata is also developing bardoxolone for treating autosomal dominant polycystic kidney disease ("ADPKD") in the phase III FALCON study. The company is currently preparing protocol amendments to the FALCON study. The primary endpoint now will be Year 2 off-treatment analysis. The company has decided not to unblind the study until after its completion. The study's patient enrollment sample size will also be increased from 550 to 700 patients. The company expects to reach the increased enrollment target by mid-2022.
The candidate is also being evaluated in a phase II study (MERLIN) in patients with CKD at risk of rapid progression to end-stage kidney disease. Data from the study is expected in the first quarter of 2022.
Reata Pharmaceuticals, Inc. Price, Consensus and EPS Surprise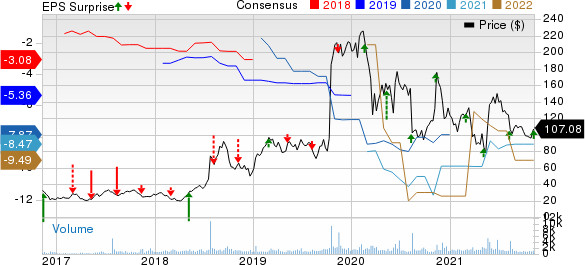 Reata Pharmaceuticals, Inc. price-consensus-eps-surprise-chart | Reata Pharmaceuticals, Inc. Quote
Zacks Rank & Stocks to Consider
Reata currently carries a Zacks Rank #3 (Hold).
A couple of better-ranked stocks from the same sector include Fulcrum Therapeutics FULC and Gritstone bio GRTS, both carrying a Zacks Rank #2 (Buy). You can see the complete list of today's Zacks #1 Rank (Strong Buy) stocks here.
Estimates for Fulcrum have narrowed from a loss per share of $2.68 to $2.62 for 2021 and from $2.77 to $2.70 for 2022 in the past 30 days. The company beat estimates in the last four quarters, with the average earnings surprise being 12.29%. The stock is up 73.3% so far this year.
Estimates for Gritstone have improved from a loss per share of $1.02 to 98 cents for 2021 and from $1.22 to $1.15 for 2022 in the past 30 days. The company delivered an earnings surprise in each of the last four quarters, with the average beat being 44.42%. The stock has risen 183% so far this year.
Infrastructure Stock Boom to Sweep America
A massive push to rebuild the crumbling U.S. infrastructure will soon be underway. It's bipartisan, urgent, and inevitable. Trillions will be spent. Fortunes will be made.
The only question is "Will you get into the right stocks early when their growth potential is greatest?"
Zacks has released a Special Report to help you do just that, and today it's free. Discover 7 special companies that look to gain the most from construction and repair to roads, bridges, and buildings, plus cargo hauling and energy transformation on an almost unimaginable scale.
Download FREE: How to Profit from Trillions on Spending for Infrastructure >>
Want the latest recommendations from Zacks Investment Research? Today, you can download 7 Best Stocks for the Next 30 Days.
Click to get this free report
AbbVie Inc. (ABBV): Free Stock Analysis Report
Reata Pharmaceuticals, Inc. (RETA): Free Stock Analysis Report
Gritstone bio Inc. (GRTS): Free Stock Analysis Report
Fulcrum Therapeutics, Inc. (FULC): Free Stock Analysis Report
To read this article on Zacks.com click here.
Zacks Investment Research