Why Should You Hold ProAssurance (PRA) in Your Portfolio?
ProAssurance Corporation PRA has been gaining momentum on the back of its growing revenues, cost-cutting initiatives and strategic measures. Operational and investment excellence also drive the stock.

Over the past 30 days, PRA has witnessed its 2023 earnings estimate move 4.2% north.

Last month, PRA reported fourth-quarter 2021 operating earnings of 62 cents per share, beating the Zacks Consensus Estimate of 19 cents. Its bottom line also surged from 6 cents per share a year ago.

Quarterly revenues of ProAssurance increased 36.4% from the prior-year level to $313.1 million. The top line also beat the Zacks Consensus Estimate of $270 million. The strong fourth-quarter results were supported mainly by higher premiums, improved underwriting results in the Specialty P&C unit and solid investments in multiple LPs and LLCs. The NORCAL acquisition also aided PRA's results.

Here we discuss the reasons for retaining this currently Zacks Rank #3 (Hold) ProAssurance in your investment portfolio. You can see the complete list of today's Zacks #1 Rank (Strong Buy) stocks here.

ProAssurance achieved significant inorganic growth via successful acquisitions and integrations of companies owing to its financial size and strength.

PRA's May buyout of NORCAL boosted its focus on the Medical Professional Liability Insurance (MPLI) space and enhanced its size and scale in the same. This makes the combined entity the nation's third-largest specialty writer of liability insurance for healthcare professionals and facilities.

The insurer witnessed solid gross premiums over a period, evident from its 2015-2019 revenue stream. Although the metric declined in 2020 due to lower premiums across the Specialty P&C segment, Workers' Compensation Insurance segment and the Segregated Portfolio Cell Reinsurance segment, the same was up 12.4% from the prior-year comparable period's level.

PRA is making various efforts to reduce its overall costs. In 2021, total expenses declined 3.6% year over year. The expense ratio fell in all segments barring the Segregated Portfolio Cell Reinsurance in 2021.

ProAssurance is poised well for growth owing to solid volumes and a diversified footprint.

PRA boasts consistent cash inflows. In the trailing 12-month period, its free cash flow after dividends improved 22.7% to $74 million. Strong cash flows enable it to deploy capital, thereby optimizing its shareholder value.
However, its poor investment portfolio remains a concern.

Shares of PRA have shed 7.8% in a year's time against its industry's growth of 11.8%.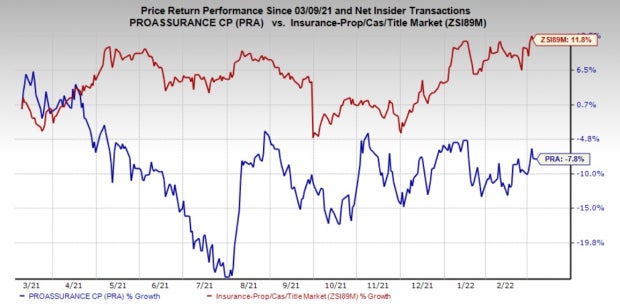 Image Source: Zacks Investment Research
Better-ranked stocks in the insurance space include RLI Corp. RLI, Kinsale Capital Group KNSL and Arch Capital Group Ltd. ACGL. While Kinsale Capital and RLI Corp. currently have a Zacks Rank #2 (Buy), Arch Capital Group sports a Zacks Rank #1 (Strong Buy).

RLI Corp. is a specialty property-casualty (P&C) underwriter that caters primarily to the niche markets through its main operating subsidiary RLI Insurance Company. RLI's shares have shed 7.8% of value in the past year. Its earnings managed to surpass estimates in all the trailing four quarters, the average being 40.23%.

Kinsale Capital offers various insurance and reinsurance products across all 50 states of the United States, the District of Columbia, the Commonwealth of Puerto Rico and the U.S. Virgin Islands. KNSL came up with a trailing four-quarter surprise of 32.04%, on average, and the stock has rallied 26.3% in a year's time.

Arch Capital offers insurance, reinsurance and mortgage insurance across the world. ACGL delivered a trailing four-quarter earnings surprise of 35.84%, on average. In a year's time, the stock has gained 18.9%.
Zacks Names "Single Best Pick to Double"
From thousands of stocks, 5 Zacks experts each have chosen their favorite to skyrocket +100% or more in months to come. From those 5, Director of Research Sheraz Mian hand-picks one to have the most explosive upside of all.
It's a little-known chemical company that's up 65% over last year, yet still dirt cheap. With unrelenting demand, soaring 2022 earnings estimates, and $1.5 billion for repurchasing shares, retail investors could jump in at any time.
This company could rival or surpass other recent Zacks' Stocks Set to Double like Boston Beer Company which shot up +143.0% in little more than 9 months and NVIDIA which boomed +175.9% in one year.
Free: See Our Top Stock and 4 Runners Up >>
Want the latest recommendations from Zacks Investment Research? Today, you can download 7 Best Stocks for the Next 30 Days.
Click to get this free report
RLI Corp. (RLI): Free Stock Analysis Report
ProAssurance Corporation (PRA): Free Stock Analysis Report
Arch Capital Group Ltd. (ACGL): Free Stock Analysis Report
Kinsale Capital Group, Inc. (KNSL): Free Stock Analysis Report
To read this article on Zacks.com click here.
Zacks Investment Research