Diageo (DEO) Witnesses Growth Amid Pandemic and Cost Headwinds
Diageo Plc DEO stock has been trending up the charts despite the doldrums due to disruptions in the Travel Retail and on-trade businesses. Gains are mainly driven by efforts to quickly respond to increased demand in the off-trade channel and changes in consumer occasions as well as investments in new opportunities. Further, fast recovery in certain markets, particularly North America and Greater China, has been key contributors to growth. Also, investment in e-commerce and digital channels has been aiding the company's performance.

Notably, the Zacks Rank #3 (Hold) company has a market capitalization of $101.1 billion. In the year-to-date period, the stock has rallied 9.3% against the industry's decline of 1.1%. Moreover, it has comfortably outpaced the Consumer Staples sector's growth of 2.8% during the said period.

Additionally, the company's expected long-term earnings growth rate of 8.1% and VGM Score of A indicate that the stock is likely to retain positive momentum in the days ahead.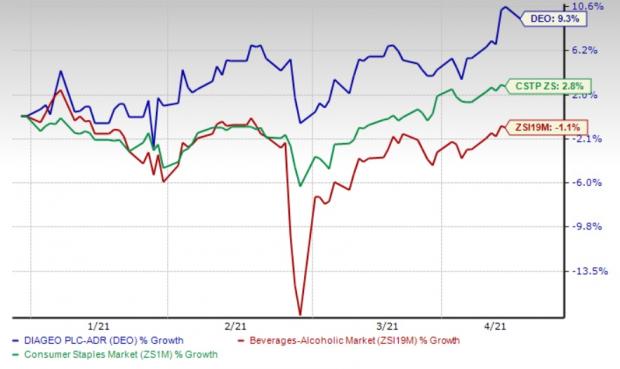 Factors Driving the Rally
Diageo reported significant sequential gains in the first half of fiscal 2021, ended Dec 31, 2020, with sequential gains in organic sales and operating margin compared with the second half of fiscal 2020. Notably, organic net sales were up 1%, while organic operating profit declined 3.4% year over year. Organic sales returned to growth in the first half of fiscal 2021, backed by efforts to meet the rising off-trade channel demand as well as investments in new opportunities.

Growth in organic sales was also driven by organic volume growth in North America and Latin America as well as positive price/mix.

In North America, which is Diageo's largest market, sales accelerated 12.3%, offset by a decline in other regions, except for Africa that reported flat revenues. Sales growth in North America was backed by strong consumer demand, market share growth in the spirits category, positive category mix, and uninterrupted stock replenishments by distributors and retailers. Also, all three key markets in North America witnessed growth.

Notably, net sales for the U.S. Spirits business improved 15%, with growth across all categories. Net sales for Diageo Beer Company USA and Canada grew 7% each. Meanwhile, sales across all other regions reflected marked improvement from the second half of fiscal 2020. The sequential gains were mainly driven by improved market share on excellent off-trade channel execution and partial reopening of the on-trade channel in some markets.

On the other hand, Diageo is relentlessly working to leverage its existing e-commerce capabilities and accelerate investments in the online platform to cater to the pandemic-driven shift in consumer shopping behavior. The company has diverted its efforts to connect with consumers and maintain brand relevance, by responding to increased opportunities of at-home consumption occasions. This included new occasions like wanting to enjoy bar-quality drinks at home.

Further, the company has inspired consumers with cocktail recipes, new serves and ways to enjoy its brands with food. It also rapidly responded to increased demand for home delivery.

Additionally, the company is positioned to capitalize on the shift in consumption trends to ready-to-drink (RTDs) bar-quality cocktails through the launch of its Crown Royal ready-to-drink canned cocktail line. This will mark the Crown Royal Whiskey brand's debut in the ready-to-drink cocktail space. Also, it intends to expand its manufacturing capability for RTDs by installing two can lines at a new facility in Plainfield, IL. This facility, which will be worth roughly $80 million, comes with the capacity to produce more than 25 million cans of RTDs and will be ready for commercial production by the summer of 2021.

Currently, the company has Smirnoff seltzers along with Crown Royal and Ketel One Botanicals in the RTDs cocktail category.
Possible Headwinds
Despite the positives, Diageo continues to witness headwinds related to the disruptions in Travel Retail and on-trade businesses. Continued customer destocking in Travel Retail is hurting the top line. Driven by continued international travel restrictions, the Travel Retail business's net sales declined 72% in Europe, 100% Latin America and Caribbean and 81% Asia and Middle East segments.

Notably, the on-trade segment accounts for nearly 40-50% of Diageo's revenues. High exposure and restrictions in the on-trade channel impacted sales in Ireland, Southern Europe, Eastern Europe, Kenya, India, Caribbean and Central America, and Mexico in the first half.

Though trends in the on-trade channel are picking up due to the re-opening of restaurants and bars, the company expects the level of restrictions to vary regionally. Moreover, it expects the Travel Retail business to be largely impacted by lesser travelers in the second half of fiscal 2021.

Also, Diageo's margin performance has been hurt by continued pressures from cost inflation, thanks to the pandemic. Notably, everyday cost efficiencies led to productivity gains in the first half of fiscal 2021, which was partly offset by inflation in the cost of goods sold. The company's gross margin contracted 174 basis points (bps) in the first half of fiscal 2021 on an adverse channel and product mix, particularly in the Guinness beer business as well as declines in the high-margin Travel Retail business. It also witnessed inflationary pressures from commodity costs.

Further, organic operating margin contracted 153 bps, owing to soft gross margin and on-time costs, partially negated by overhead efficiencies. The company expects organic operating margin in the second half to be pressured by channel and product mix due to the impacts on Travel Retail and restrictions on on-trade.
Better-Ranked Stocks to Consider
Sanderson Farms, Inc. SAFM has an expected long-term earnings growth rate of 43.6%. It currently sports a Zacks Rank #1 (Strong Buy). You can see the complete list of today's Zacks #1 Rank stocks here.

The Estee Lauder Companies Inc. EL currently has a Zacks Rank #2 (Buy). The company has an expected long-term earnings growth rate of 10.7%.

The J. M. Smucker Company SJM, also a Zacks Rank #2 stock, has an expected long-term earnings growth rate of 1.7%.
5 Stocks Set to Double
Each was hand-picked by a Zacks expert as the #1 favorite stock to gain +100% or more in 2020. Each comes from a different sector and has unique qualities and catalysts that could fuel exceptional growth.

Most of the stocks in this report are flying under Wall Street radar, which provides a great opportunity to get in on the ground floor.

Today, See These 5 Potential Home Runs >>
Want the latest recommendations from Zacks Investment Research? Today, you can download 7 Best Stocks for the Next 30 Days.
Click to get this free report
The Estee Lauder Companies Inc. (EL): Free Stock Analysis Report
The J. M. Smucker Company (SJM): Free Stock Analysis Report
Diageo plc (DEO): Free Stock Analysis Report
Sanderson Farms, Inc. (SAFM): Free Stock Analysis Report
To read this article on Zacks.com click here.
Zacks Investment Research