Ericsson (ERIC) to Boost 5G Capabilities in American Samoa
Ericsson ERIC recently inked a contract with Bluesky Communications for an undisclosed amount to bring 5G network connectivity to the United States Territory of American Samoa. The deal is in sync with President Biden's initiative to offer broadband access to all Americans by enabling carriers to expand and improve network coverage in areas that lack high-quality Internet service.

Operating since 1999, Bluesky is a leading telecommunications and network service provider of mobile, cable TV and broadband connectivity in American Samoa. This premier wireless services provider currently aims to leverage Ericsson Radio Access Network (RAN) solutions for improved 5G connectivity in the region.

Ericsson radio solutions will enable Bluesky to offer high-speed 5G capabilities to help bridge the digital divide. This, in turn, will likely ensure low latency and high bandwidth services for superfast data transfer. The deployment of the network equipment is likely to commence later this year.

Ericsson Radio System comprises hardware, software and services for radio, RAN Compute, antenna system, transport, power and site solutions. It enables smooth and cost-effective migration from 4G to 5G, aiding communication service providers to launch the avant-garde technology and grow 5G coverage fast. The company's 5G radio access technologies provide the infrastructure required to meet the growing demand for high-bandwidth connections and support real-time, high-reliability communication requirements of mission-critical applications.

The company is focusing on 5G system development and has undertaken many notable endeavors to position itself as a market leader. It believes that the standardization of 5G is the cornerstone for digitizing industries and broadband. Ericsson expects mainstream 4G offerings to give way to 5G technology in the future.

The deployment of 5G networks is expected to boost the adoption of IoT devices, with technologies like network slicing gaining more prominence. Ericsson currently has 130 live 5G networks across the globe spanning 56 countries.

The stock has lost 48.9% over the past year compared with the industry's decline of 16.6%. Ericsson currently carries a Zacks Rank #4 (Sell).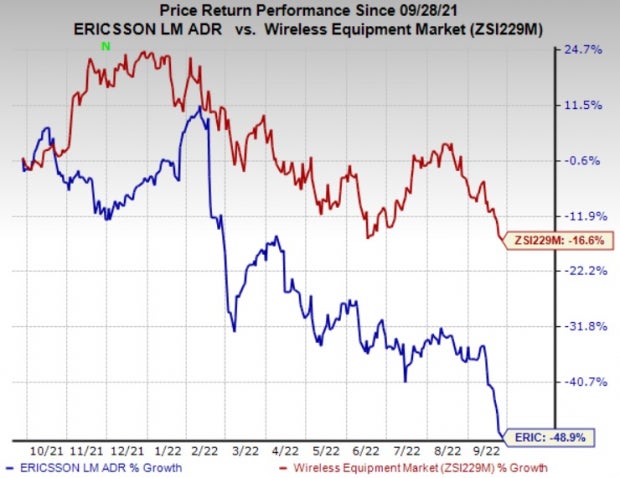 Image Source: Zacks Investment Research
A better-ranked stock in the industry is Clearfield, Inc. CLFD, sporting a Zacks Rank #1 (Strong Buy). You can see the complete list of today's Zacks #1 Rank stocks here.

Clearfield delivered an earnings surprise of 33.9%, on average, in the trailing four quarters. Earnings estimates for the company's current year have moved up 101.9% since September 2021. Over the past year, Clearfield has gained a solid 97.5%.

Aviat Networks, Inc. AVNW carries a Zacks Rank #2 (Buy). The Zacks Consensus Estimate for its current-year earnings has been revised 13.8% upward since September 2021.

Aviat Networks pulled off a trailing four-quarter earnings surprise of 15.9%, on average. It has soared 168.1% in the past two years.

Qualcomm Incorporated QCOM, carrying a Zacks Rank #2, is another solid pick for investors. It has a long-term earnings growth expectation of 15.8% and delivered an earnings surprise of 8.5%, on average, in the trailing four quarters.

Earnings estimates for the current year for the stock have moved up 30% over the past year. Qualcomm is likely to benefit in the long run from solid 5G traction and a surge in demand for essential products that are the building blocks for digital transformation in the cloud economy.
Just Released: Zacks Unveils the Top 5 EV Stocks for 2022
For several months now, electric vehicles have been disrupting the $82 billion automotive industry. And that disruption is only getting bigger thanks to sky-high gas prices. Even titans in the financial industry including George Soros, Jeff Bezos, and Ray Dalio have invested in this unstoppable wave. You don't want to be sitting on your hands while EV stocks break out and climb to new highs. In a new free report, Zacks is revealing the top 5 EV stocks for investors. Next year, don't look back on today wishing you had taken advantage of this opportunity.
>>Send me my free report revealing the top 5 EV stocks
Want the latest recommendations from Zacks Investment Research? Today, you can download 7 Best Stocks for the Next 30 Days.
Click to get this free report
QUALCOMM Incorporated (QCOM): Free Stock Analysis Report
Ericsson (ERIC): Free Stock Analysis Report
Aviat Networks, Inc. (AVNW): Free Stock Analysis Report
Clearfield, Inc. (CLFD): Free Stock Analysis Report
To read this article on Zacks.com click here.
Zacks Investment Research