Here's Why Investors are Optimistic on Crocs' (CROX) Prospects
Crocs Inc. CROX has been a favored stock, owing to its robust product portfolio, and focus on expanding digital and omnichannel capabilities. Solid demand for its products as well as continued business momentum has kept the stock going in a tough market environment. The factors have also been boons for Crocs' overall performance.

The company retained investors' bullish sentiments by maintaining its earnings beat streak in all of the last four quarters, the average being 43.6%. The top line has surpassed estimates in the past four quarters. This underlines Crocs' operational excellence.

In the past 30 days, the company's estimates for fiscal 2021 and 2022 earnings per share have been unchanged. For fiscal 2021, its earnings estimates are pegged at $6.78 per share, suggesting growth of 110.6% from the year-ago reported figure.

The Zacks Rank #2 (Buy) stock has gained 24.5% in the past three months compared with the industry's growth of 5.8%. The stock also comfortably outpaced the Consumer Discretionary sector's fall of 1.6% and the S&P 500's growth of 5.3% in the same period.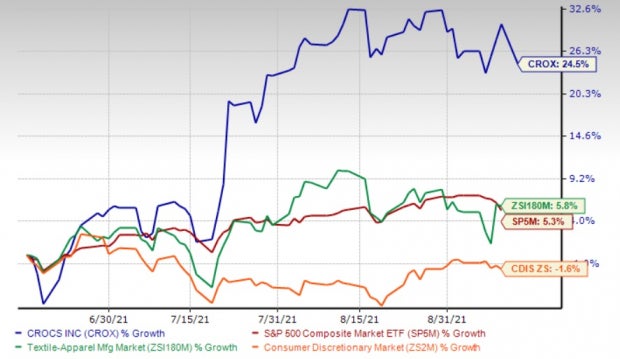 Image Source: Zacks Investment Research
Now let us discuss at length what makes the leading footwear company an investor favorite.

Crocs' overall performance has been benefiting from robust demand and a solid online show. Both top and bottom lines beat estimates and improved year over year in the second quarter of 2021. Revenues skyrocketed 93.3% year over year, with wholesale and retail revenues improving 112.1% and 78.6%, respectively. The metric also surged 79% from second-quarter 2019. Solid performance in all regions along with healthy demand in its key products, including Clogs, Sandals and Jibbitz, drove the top line. Earnings benefited from robust sales, improved margins and a lower SG&A expense rate.

The company continued to witness a robust online show in the second quarter, delivering the 17th successive quarter of double-digit e-commerce growth. Crocs is making significant progress in expanding digital and omnichannel capabilities. Gains from collaborations, influencer campaigns, and digital and social marketing efforts mainly aided digital sales in the second quarter. Management expects growth in the digital platform to continue in the days ahead as consumers' shift to online shopping is likely to outlast the pandemic.

In the second quarter, Crocs' adjusted gross profit advanced 116.4% year over year, whereas the adjusted gross margin expanded 660 basis points (bps) to 61.8%. This was driven by price increases and fewer promotional activities, which more than offset higher freight costs. Gross margin was also aided by favorable currency impacts of roughly 90 bps.

Adjusted operating income was $196.4 million, up from $73.8 million in the prior-year quarter. Adjusted operating margin expanded significantly to 30.7% from the prior-year quarter's 22.3%. The uptick can be attributable to lower SG&A costs, as a percentage of sales, robust sales and improved gross margins.

Management lifted its 2021 view and issued guidance for the third quarter of 2021. It expects revenue growth of 60-65% for 2021, up from the earlier mentioned 40-50% growth. For 2021, management expects an adjusted operating margin of 25%, marking an improvement from the previously stated 22-24%. For third-quarter 2021, the adjusted operating margin is projected to be 24-26%. For third-quarter 2021, revenues are expected to grow 60-70%.
Conclusion
Backed by the strong business momentum, driven by strong in-store and online sales, and the progress on its growth initiatives, we expect the company to retain its upbeat performance in the near term. Its Growth Score of A and a long-term earnings growth rate of 15% further indicate that the stock is well poised.
Other Stocks to Watch
Columbia Sportswear Company COLM has a long-term earnings growth rate of 33.5%. It currently sports a Zacks Rank #1 (Strong Buy). You can see the complete list of today's Zacks #1 Rank stocks here.

PVH Corp. PVH, also a Zacks Rank #1 stock, has a long-term earnings growth rate of 38.5%.

Ralph Lauren Corporation RL has an expected long-term earnings growth rate of 15%. It currently flaunts a Zacks Rank #1.
Tech IPOs With Massive Profit Potential
In the past few years, many popular platforms and like Uber and Airbnb finally made their way to the public markets. But the biggest paydays came from lesser-known names.
For example, electric carmaker X Peng shot up +299.4% in just 2 months. Think of it this way…
If you had put $5,000 into XPEV at its IPO in September 2020, you could have cashed out with $19,970 in November.
With record amounts of cash flooding into IPOs and a record-setting stock market, this year's lineup could be even more lucrative.
See Zacks Hottest Tech IPOs Now >>
Want the latest recommendations from Zacks Investment Research? Today, you can download 7 Best Stocks for the Next 30 Days.
Click to get this free report
Columbia Sportswear Company (COLM): Free Stock Analysis Report
Ralph Lauren Corporation (RL): Free Stock Analysis Report
PVH Corp. (PVH): Free Stock Analysis Report
Crocs, Inc. (CROX): Free Stock Analysis Report
To read this article on Zacks.com click here.
Zacks Investment Research