Tech Daily Roundup: Apple Protection & More
As the New Year winds through its first month, there's news and views galore on what tech companies are up to. Here's some of the action-

Apple's Position on Florida Terrorist Attack Cooperation

U.S. Attorney General William Barr isn't pleased with Apple AAPL because the company is apparently not cooperating with authorities with respect to the Dec. 6 terrorist attack at the Pensacola Naval Air Station base in Florida. Mohammed Saeed Alshamrani, the shooter, had two iPhones and successfully shot at one of the phones and managed to damage the other. While both phones were subsequently retrieved and fixed in the confrontation in which Alshamrani lost his life, they still couldn't be searched on account of their being password protected.

Then began the usual to-and-fro between the FBI and Apple, with the government agency asking it to create a backdoor and Apple maintaining that a back door could be just as easily used by hackers, etc and therefore not a desirable thing to have.

Barr said, "We have asked Apple for their help in unlocking the shooters iPhones. So far Apple has not given us any substantive assistance."

Apple said it has provided information about the shooter's Apple accounts, iCloud backups and transaction information, running into "many gigabytes" of data to investigators. Moreover, it has provided "all of the information" it has.

D.A. Davidson on Apple

Analyst Tom Forte reiterated his buy rating on Apple shares while raising his price target from $300 to $375.

The analyst gave a number of reasons for his continued optimism, the primary of which was the 5G wireless upgrade cycle and Apple's own handset launch in Fall 2020 that he expects will drive iPhone sales over the next two years.

Additionally, since the telecom upgrade by wireless carriers is increasing carrier costs on both the spectrum auction and the infrastructure buildout, they will be eager to drive sales through any means including "greater incentives to consumers to upgrade their devices and leverage their 5G networks." This will help Apple.

With $79 billion remaining on its current stock repurchase authorization, the possibility for increased share buybacks remains according to the analyst.

And finally, the Apple Card credit card and other emerging businesses like AppleCare, iCloud, Apple Music, Apple TV+ and Apple Arcade that will grow in line with the growth in the installed base, will remain a strong driver.

It's interesting that wearables aren't mentioned, especially since Apple is a leading player here.

Needham Roots for Roku, JP Morgan Thumbs Up to Netflix

The Needham team led by analyst Lara Martin is raising Roku's ROKU active account estimates for the end of 2019, as they expect positive impact from Disney+ adoption. They also expect the company to benefit from increased ad spending from Walt Disney DIS, Netflix NFLX, Apple and others as the "DTC Customer Acquisition War" heats up.

Last week, J.P. Morgan turned bullish on Netflix subscribers: "Net-net, we come away with increased confidence in Netflix's multi-year international growth potential, and we are raising our longer term global paid streaming subscriber estimates… We now project 300 (million) global streaming subs in 2024."

Both analysts were commenting on CES takeaways.

PC Shipment Numbers

Since a picture is supposed to tell more than words, let me start with one-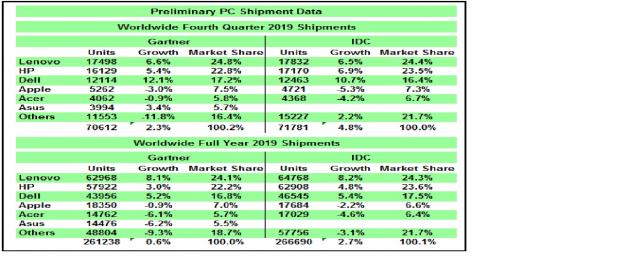 As seen from the above, fourth quarter and 2019 PC shipment estimates from both Gartner and IDC are encouraging. It appears that the market has grown for the first time in years with the fourth quarter being particularly strong.
The main driver of this growth has been the end of life for Windows 7 that prompted many enterprises to upgrade to Windows 10 devices. Component shortages created difficulties but what Intel INTC couldn't deliver, Advanced Micro Devices AMD made up in some cases.

The next twelve to eighteen months are however expected to be challenging as Windows 10 driven updates are more or less over while component concerns remain. A trade deal is also not done yet. On the positive side, there could be some momentum from 5G, dual and folding screen devices and gaming PCs in the back half.

Google Leases Office Space in Sunnyvale

Bizjournals reports that Alphabet GOOGL-owned Google has signed new leases at 1020 (317,166 square feet) and 1050 (317,166 square feet) Enterprise Way in North Sunnyvale. The office spaces, part of a seven-building office campus called Moffett Towers developed by San Francisco-based developer Jay Paul Co., were previously occupied by Microsoft MSFT, GoDaddy GDDY, Baidu BIDU, Edelman Financial Engines and Rambus. The deal was signed In November 2019.

You can see the complete list of today's Zacks #1 Rank (Strong Buy) stocks here.

Breakout Biotech Stocks with Triple-Digit Profit Potential

The biotech sector is projected to surge beyond $775 billion by 2024 as scientists develop treatments for thousands of diseases. They're also finding ways to edit the human genome to literally erase our vulnerability to these diseases.

Zacks has just released Century of Biology: 7 Biotech Stocks to Buy Right Now to help investors profit from 7 stocks poised for outperformance. Our recent biotech recommendations have produced gains of +50%, +83% and +164% in as little as 2 months. The stocks in this report could perform even better.

See these 7 breakthrough stocks now>>
Want the latest recommendations from Zacks Investment Research? Today, you can download 7 Best Stocks for the Next 30 Days.
Click to get this free report
The Walt Disney Company (DIS): Free Stock Analysis Report
Netflix, Inc. (NFLX): Free Stock Analysis Report
Baidu, Inc. (BIDU): Free Stock Analysis Report
Alphabet Inc. (GOOGL): Free Stock Analysis Report
GoDaddy Inc. (GDDY): Free Stock Analysis Report
Apple Inc. (AAPL): Free Stock Analysis Report
Microsoft Corporation (MSFT): Free Stock Analysis Report
Advanced Micro Devices, Inc. (AMD): Free Stock Analysis Report
Intel Corporation (INTC): Free Stock Analysis Report
Roku, Inc. (ROKU): Free Stock Analysis Report
To read this article on Zacks.com click here.
Zacks Investment Research