Airline Stock Roundup: 5G Rollout Scare, UAL & DAL's Q4 Earnings Grab Headlines
In the past week, U.S. airlines, including Delta Air Lines DAL and American Airlines AAL, raised safety-related concerns over the expected deployment of 5G wireless service near many U.S. airports.
On the earnings front, Delta kicked off the fourth-quarter 2021 earnings season for the airline stocks on a bright note. DAL reported better-than-expected earnings per share and revenues for the same period. Results were aided by optimistic air traffic during the holidays. United Airlines UAL reported narrower-than-expected loss per share for fourth-quarter 2021. UAL's performance on the revenue front was encouraging, again owing to strong air-travel demand during the holiday period.
On the traffic front, Allegiant Travel Company ALGT reported impressive traffic numbers for December as air-travel demand in the United States continues to improve, despite the threat posed by the omicron variant. Latin American carrier Copa Holdings' CPA December traffic improved 11.5% from the November data.
Read the last Airline stock Roundup here.
Recap of the Latest Top Stories
1. Delta's fourth-quarter 2021 earnings (excluding 86 cents from non-recurring items) of 22 cents per share outpaced the Zacks Consensus Estimate of 15 cents. Delta's revenues came in at $9,470 million, which not only beat the Zacks Consensus Estimate of $9,232.1 million but also soared in excess of 100% from the year-ago reported figure as people resorted to air travel during the holidays. Due to the omicron-induced operational disruptions, DAL expects to incur a loss in first-quarter 2022.
Per Delta president Glen Hauenstein, "The recent rise in COVID cases associated with the omicron variant is expected to impact the pace of demand recovery early in the quarter, with recovery momentum resuming from President's Day weekend forward. Factoring this in to our outlook, we expect total March quarter revenue to recover to 72 to 76% of 2019 levels, compared to 74% in the December quarter." For the first quarter of 2022, DAL, currently carrying a Zacks Rank #4 (Sell), expects to operate at a capacity that is in the 83-85% range of first-quarter 2019 levels.
You can see the complete list of today's Zacks #1 Rank (Strong Buy) stocks here.
2. United Airlines incurred a loss (excluding 39 cents from non-recurring items) of $1.60 per share in the fourth quarter of 2021, narrower than the Zacks Consensus Estimate of a loss of $2.23. Operating revenues of $8,192 million also outperformed the Zacks Consensus Estimate of $7,930.9 million. The top line surged more than 100% year over year with passenger revenues, accounting for 84% of the top line, soaring 185.4% to $6,878 million. This reflects the improvement in air-travel demand from the pandemic-induced lows in 2020. UAL's management said that its bookings for spring and summer travel remain strong.
Nevertheless, with air-travel demand continuing to be below the pre-pandemic levels, total revenues declined 24.8% from the fourth-quarter 2019 (pre-pandemic) level. Passenger revenues dropped 30.87% from the 2019 level, while cargo revenues jumped more than 100% to $727 million. Revenues from other sources decreased 8.1% from the level in the fourth quarter of 2019 to $587 million.
United Airlines expects first-quarter 2022 capacity to decline 16-18% from the first-quarter 2019 level. UAL anticipates 2022 capacity to decline from the 2019 reading. Previously, the airline expected the same to increase 5% from the 2019 level. UAL now forecasts 2022 adjusted CASM, excluding fuel, to increase from the 2019 level (earlier, the same was anticipated to decline from the 2019 level).
3. Per a Reuters report, CEOs of major U.S. airlines warned of catastrophic aviation crisis in the event of 5G 'C-Band' service being rolled out by the telecom companies. Evidently, Delta warned that some flights could be affected if 5G signals cause limited interference with altitude instruments under certain weather conditions. Aviation companies are mainly concerned about the 5G rollout causing wrong readings by altimeters (devices that use radio frequencies to measure the distance between aircraft and the ground, and help planes land in bad weather).
4. At Allegiant, scheduled traffic (measured in revenue passenger miles) surged 100.5% in December 2021 from the year-ago levels. Capacity (measured in available seat miles) for scheduled service increased 37.9% from the December 2020 reading. With the traffic surge outweighing capacity expansion, the load factor (% of seats filled by passengers) in December expanded 24.6 points to 78.8% from the year-ago period's levels. For the total system (including scheduled service and fixed fee contract), Allegiant carried 95.4% more passengers in December 2021 from the year-ago period's level.
5. Copa Holdings' traffic, measured in revenue passenger miles (RPMs), declined 13.5% to 1.57 billion in December 2021 from the comparable period's level in 2019. The downside was primarily due to coronavirus-led lower air-travel demand from the pre-pandemic levels (2019). Due to tepid demand, capacity, measured in available seat miles (ASMs), fell 11.8% from the 2019 level to 1.87 billion. With traffic declining more than the amount of capacity contraction, load factor (percentage of seats filled with passengers) deteriorated 160 basis points to 83.8% in December.
Performance
The following table shows the price movement of the major airline players over the past week and during the last six months.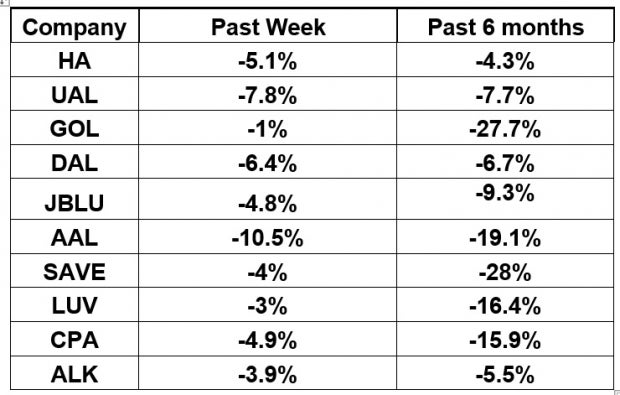 Image Source: Zacks Investment Research
The table above shows that all airline stocks have traded in the red over the past week. Consequently, the NYSE ARCA Airline Index decreased 2.6% to $82.51 as headwinds like multiple flight cancellations and 5G-related concerns weighed on investors' sentiments. Over the past six months, the NYSE ARCA Airline Index has depreciated 13.5%.
What's Next in the Airline Space?
Fourth-quarter earnings reports from some more carriers are expected in the coming days.
Zacks Names "Single Best Pick to Double"
From thousands of stocks, 5 Zacks experts each have chosen their favorite to skyrocket +100% or more in months to come. From those 5, Director of Research Sheraz Mian hand-picks one to have the most explosive upside of all.
As one investor put it, "curing and preventing hundreds of diseases…what should that market be worth?" This company could rival or surpass other recent Zacks' Stocks Set to Double like Boston Beer Company which shot up +143.0% in little more than 9 months and NVIDIA which boomed +175.9% in one year.
Free: See Our Top Stock and 4 Runners Up >>
Want the latest recommendations from Zacks Investment Research? Today, you can download 7 Best Stocks for the Next 30 Days.
Click to get this free report
Delta Air Lines, Inc. (DAL): Free Stock Analysis Report
United Airlines Holdings Inc (UAL): Free Stock Analysis Report
Copa Holdings, S.A. (CPA): Free Stock Analysis Report
American Airlines Group Inc. (AAL): Free Stock Analysis Report
Allegiant Travel Company (ALGT): Free Stock Analysis Report
To read this article on Zacks.com click here.
Zacks Investment Research