Asure Reveals Fresh Logo and Website to Reflect New Identity
Asure ASUR is benefitting from the increased focus on developing its HCM business. Notably, shares of Asure have returned 41.4% in the past year, compared with the industry's rally of 15.3%.
The company recently revealed its new corporate brand identity with the launch of a redesigned website and logo.

These changes are intended to reflect the company's announcement to become a pure-play SaaS Human Capital Management (HCM) company after the successful sale of its Workspace Management business to FM: Systems.

The redesigned website highlights the complete Asure HCM platform, including Asure Payroll & Tax, Asure HR, and Asure Time & Attendance, while the new logo conveys a feeling of motivation, pride and energy, with its diagonally, upward-pointing line signifying growth, drive and results.

Asure Software Inc Price and Consensus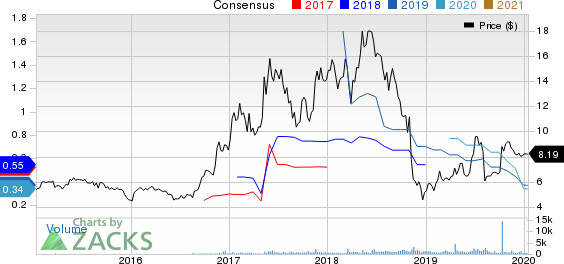 Asure Software Inc price-consensus-chart | Asure Software Inc Quote
New Strategic Focus to Aid Growth

The sale of Asure's Workspace Management business has freed up resources that can now be used to focus on its HCM business, which has been witnessing growth in the past few quarters.

Notably, HCM revenues represented 73% of revenues in third-quarter 2019, compared with 71% in the year-ago quarter. Conversely, Workspace shrunk to 27% of revenues from 29% in the prior-year quarter.

Moreover, HCM revenues grew 8% from the year-ago quarter to $17.9 million in third-quarter 2019, whereas workspace revenues fell 4% on a year-over-year basis. Increased number of small and medium sized HCM clients drove growth.

Asure secured wins across a number of companies including Megha Alliance, Startkleen Legacy and Florence Freedom, among others. It also added 16 new reseller organizations to its small business payroll portfolio.

The company's decision to become a pure SaaS HCM company is likely to aid its top line over the long haul. Going forward, Asure expects recurring revenues to exceed 90% of total revenues, while focusing on organic growth with the help of upsell and cross-sell initiatives.

Strengthened Competitive Position

Asure's focus on driving innovation for its HCM solutions is likely to expand its footprint in the HCM market. Moreover, it is well poised to counter competition in the market, which is currently dominated by the likes of SAP SE SAP, Oracle ORCL and Workday, among others.

Notably, SAP introduced cloud-based HXM or Human Experience Management to revolutionize the HCM category, while Oracle's HCM cloud used AI and machine learning to innovate its HCM solutions.

Zacks Rank

Currently, Asure carries a Zacks Rank #3 (Hold).

A better-ranked stock that can be considered in the broader technology sector is Fortinet, Inc. FTNT which sports a Zacks Rank #1 (Strong Buy). You can see the complete list of today's Zacks #1 Rank (Strong Buy) stocks here.

Long-term earnings growth rate for Fortinet is pegged at 14%.

Free: Zacks' Single Best Stock Set to Double

Today you are invited to download our latest Special Report that reveals 5 stocks with the most potential to gain +100% or more in 2020. From those 5, Zacks Director of Research, Sheraz Mian hand-picks one to have the most explosive upside of all.

This pioneering tech ticker had soared to all-time highs and then subsided to a price that is irresistible. Now a pending acquisition could super-charge the company's drive past competitors in the development of true Artificial Intelligence. The earlier you get in to this stock, the greater your potential gain.

See 5 Stocks Set to Double>>
Want the latest recommendations from Zacks Investment Research? Today, you can download 7 Best Stocks for the Next 30 Days.
Click to get this free report
Fortinet, Inc. (FTNT): Free Stock Analysis Report
Asure Software Inc (ASUR): Free Stock Analysis Report
Oracle Corporation (ORCL): Free Stock Analysis Report
SAP SE (SAP): Free Stock Analysis Report
To read this article on Zacks.com click here.
Zacks Investment Research