Louisiana-Pacific (LPX) Down 22.5% in YTD: High Inflation Ails
Louisiana-Pacific Corporation LPX or LP's shares have declined 22.5% this year, compared with the Zacks Building Products – Wood industry and the Construction sector's 21% and 18.3% fall, respectively.

The leading wood products manufacturer has been witnessing intense inflationary pressure, particularly raw material and freight, persistent supply chain woes and project delays. Also, increased discretionary investments, including siding mill conversions and sales and marketing costs, are additional headwinds.

In second-quarter 2022, its top and the bottom line fell 3% and 9.5%, respectively, year over year. OSB segment's net sales declined 14% year over year. The gross margin contracted 1,280 basis points and adjusted EBITDA declined 26.2% from the prior year period.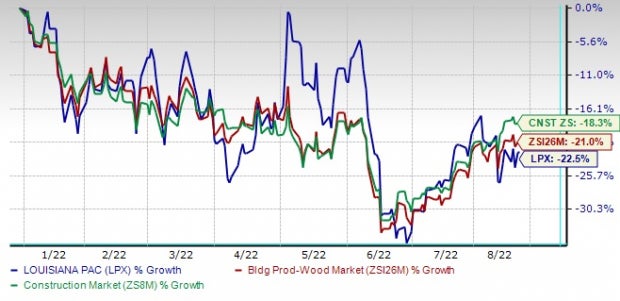 Image Source: Zacks Investment Research
Let's discuss the factors impacting the performance of this Zacks Rank #5 (Strong Sell) company.

You can see the complete list of today's Zacks #1 Rank (Strong Buy) stocks here.
Factors Impacting Performance
Tepid Views & Prospect: Owing to the ongoing macro economic headwinds, LP has provided tepid third-quarter views. It expects OSB revenues to be sequentially low by 40% (based on Random Lengths' report published on Aug 5, 2022). In second-quarter 2022 and third-quarter 2021, it reported OSB net sales of $673 million and $600 million, respectively.

It anticipates a consolidated adjusted EBITDA of $200 million, significantly down from $491 million posted in the previous quarter and $522 million reported a year ago.

For the third quarter, the Zacks Consensus Estimates for net sales and earnings is pegged at $851.95 million and $1.83 per share, reflecting a year-over-year decline of 30.1% and 52.7%, respectively.

The same for 2022 net sales and earnings reflect a 12.3% and 7% year-over-year decline, respectively. Again for 2023, the consensus mark depicts a 19.3% and 55.4% fall from the year-ago period's levels, respectively.

Year's High Inflation Ails Profitability: Louisiana-Pacific and other Wood industry players like Weyerhaeuser Company WY, Boise Cascade Company BCC and Rayonier Inc. RYN have been witnessing significant inflationary pressure, primarily for material and labor. Wood fiber is the primary raw material used by Louisiana-Pacific. The cost of different varieties of wood fiber is subject to volatility owing to governmental, economic or industry conditions.

One of the major cost components of goods sold is the cost of lumber products. The company has no control over the costs of imported lumber products, which are dependent on factors like government policies, environmental regulations, weather conditions, economic conditions and natural disasters. The lumber market is highly volatile and the market swings have had a negative impact on various operations that are primarily focused on variable price products.

The company also uses a significant quantity of various resins in the manufacturing processes. Resin product costs are influenced by changes in the prices or availability of raw materials used to produce resins, primarily petroleum products and the demand for and availability of resin products.

Supply Chain Headwinds & Project Delays: the company has been facing supply chain issues in the past several quarters. Although raw material availability has improved recently, it has taken downtime in the first quarter and early in the second quarter due to the inability to get railcars/trucks in some of the Canadian facilities to deliver finished goods inventory. Also, it has been experiencing delays in various projects.

Higher Costs: Increased marketing investments associated with accelerating repair and remodel channel penetration along with new product introductions have been putting pressure on the company's performance over the last few quarters. During the first half of 2022, the company's adjusted EBITDA declined 2.7% year over year. In the first half, the company incurred $19 million of discretionary investments in support of future growth, including siding mill and sales and marketing costs.

Dependence on Housing Market: Demand for the company's products has a strong relationship to the level of new home construction activity in North America, which historically has been characterized by significant cyclicality. The housing industry is cyclical and is affected by consumer confidence levels, prevailing economic conditions and interest rates. Any untoward situation influencing the construction and housing sectors will impact the company's financials.

The federal government's actions related to economic stimulus, taxation and borrowing limits can affect consumer confidence and spending levels, which in turn can hurt the economy and the housing market.

The company has started facing slowness in demand of its products, especially for a more specialized and higher value-added offerings.
Discussion of Above-Mentioned Stocks
Weyerhaeuser is one of the leading U.S. forest product companies. The company has been benefiting from solid new residential construction activity, which in turn is leading to improved demand. Also, its focus on operational excellence has been advantageous over time.

The Zacks Consensus Estimate for WY's 2022 earnings has moved up to $3.14 per share from $3.05 in the past 30 days.

Boise, ID-based Boise Cascade is aided by favorable commodity wood products, pricing and robust construction activity.

BCC's earnings estimate for 2022 has moved north to $20.06 per share from $18.17 in the past 30 days.

Jacksonville, FL-based Rayonier is well-positioned to capitalize on robust domestic demand trends, with a solid portfolio of timberlands in some of the most productive timber-growing regions of the Southern United States, Pacific Northwest and New Zealand. This will help the company improve the export market conditions and create a favorable pricing environment. RYN is also focused on adding high-quality timberlands to its portfolio through acquisitions.

The consensus estimate for RYN's 2022 earnings has witnessed a downward revision from 65 cents per share to 64 cents in the past 30 days.
How to Profit from the Hot Electric Vehicle Industry
Global electric car sales in 2021 more than doubled their 2020 numbers. And today, the electric vehicle (EV) technology and very nature of the business is changing quickly. The next push for future technologies is happening now and investors who get in early could see exceptional profits.
See Zacks' Top Stocks to Profit from the EV Revolution >>
Want the latest recommendations from Zacks Investment Research? Today, you can download 7 Best Stocks for the Next 30 Days.
Click to get this free report
Weyerhaeuser Company (WY): Free Stock Analysis Report
LouisianaPacific Corporation (LPX): Free Stock Analysis Report
Rayonier Inc. (RYN): Free Stock Analysis Report
Boise Cascade, L.L.C. (BCC): Free Stock Analysis Report
To read this article on Zacks.com click here.
Zacks Investment Research