BancorpSouth (BXS) Closes National United, FNS Bancshares Deals
BancorpSouth Bank BXS has completed the previously announced mergers with National United Bancshares (the parent company of National United) and FNS Bancshares (the parent company of FNB Bank) effective May 1, 2021.

The deal with FNS Bancshares was announced in January 2021, whereas the one with National United was announced in December 2020.

The chairman and CEO of BancorpSouth, Dan Rollins, stated, "We're pleased to announce the completion of these two mergers, which represent positive steps forward in our growth strategy. Both National United and FNB Bank are excellent complements to our existing company. By combining with them, we're able to expand our presence in key markets and align with respected bankers who share our commitment to service."

Notably, as of Dec 31, 2021, National United and FNS Bancshares collectively reported assets worth $1.5 billion, loans of $930 million and deposits of $1.4 billion.

At the time of the deal announcement, it was agreed that BancorpSouth will issue 2.98 million shares of common stock and distribute $18 million in cash for all outstanding shares of FNS Bancshares. For the National United merger, BancorpSouth agreed to pay $33.25 million in cash and 3.11 million of its shares.

BancorpSouth's area chairman and former president and CEO of National United, Eugene Worthington, said, "We're pleased to join BancorpSouth's team and have the ability to provide expanded banking services to our customers in Central Texas and additional growth opportunities for our employees. This has been a positive experience for everyone involved and will provide significant long-term value for our stakeholders."

Similarly, Steve Rownd, the president of BancorpSouth Tennessee Valley division and former CEO of FNS Bancshares, said, "The completion of this merger is a great accomplishment for our organization. We're pleased to be partnering with a strong, growing company like BancorpSouth and feel confident that this combination will be beneficial to our employees, customers and communities across Alabama, Georgia and Tennessee."
Our Take
Supported by a solid liquidity position, BancorpSouth has been continuously making strategic investments through which it will further expand customer base and geographical presence.

Last month, the bank entered a merger agreement with Cadence Bancorporation CADE. The all-stock deal will create a leading Texas and Southeastern regional bank.

Also, in October 2020, BancorpSouth acquired Alexander & Sanders Insurance Agency, Inc., whereas, in January, it acquired Texas First Bancshares. The buyouts have enabled BancorpSouth to expand its insurance-related operations in Louisiana and strengthen its footprint in Texas.

So far this year, shares of BancorpSouth have gained 10.4% compared with the industry's growth of 33.5%.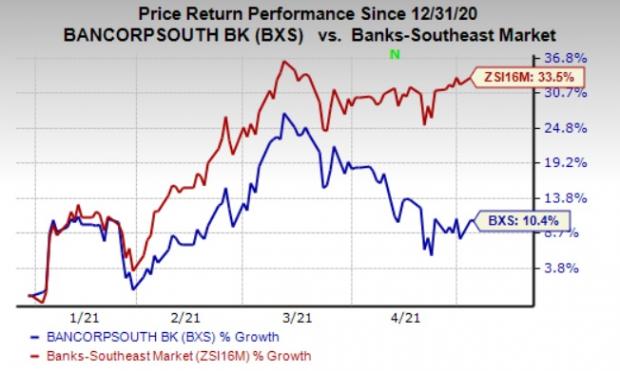 Currently, the company carries a Zacks Rank #3 (Hold). You can see the complete list of today's Zacks #1 Rank (Strong Buy) stocks here.

Similar to BancorpSouth, several other financial firms have been undertaking efforts to expand operations. M&T Bank Corporation MTB and People's United Financial Inc. PBCT announced a merger deal earlier in 2021. The all-stock deal worth $7.6 billion is expected to close in the fourth quarter of 2021, subject to necessary approvals.
Infrastructure Stock Boom to Sweep America
A massive push to rebuild the crumbling U.S. infrastructure will soon be underway. It's bipartisan, urgent, and inevitable. Trillions will be spent. Fortunes will be made.

The only question is "Will you get into the right stocks early when their growth potential is greatest?"

Zacks has released a Special Report to help you do just that, and today it's free. Discover 7 special companies that look to gain the most from construction and repair to roads, bridges, and buildings, plus cargo hauling and energy transformation on an almost unimaginable scale.

Download FREE: How to Profit from Trillions on Spending for Infrastructure >>
Want the latest recommendations from Zacks Investment Research? Today, you can download 7 Best Stocks for the Next 30 Days.
Click to get this free report
M&T Bank Corporation (MTB): Free Stock Analysis Report
Peoples United Financial, Inc. (PBCT): Free Stock Analysis Report
BancorpSouth Bank (BXS): Free Stock Analysis Report
Cadence Bancorp (CADE): Free Stock Analysis Report
To read this article on Zacks.com click here.
Zacks Investment Research